It is a big deal. Millions of Dollars Made With Exactrix.
From $60 minimum and up to $150 more net income per acre on 50,000 acres in 5 years.
Maybe $5,000,000 more net income at ½ the typical fertilizer cost for Garden City, KS.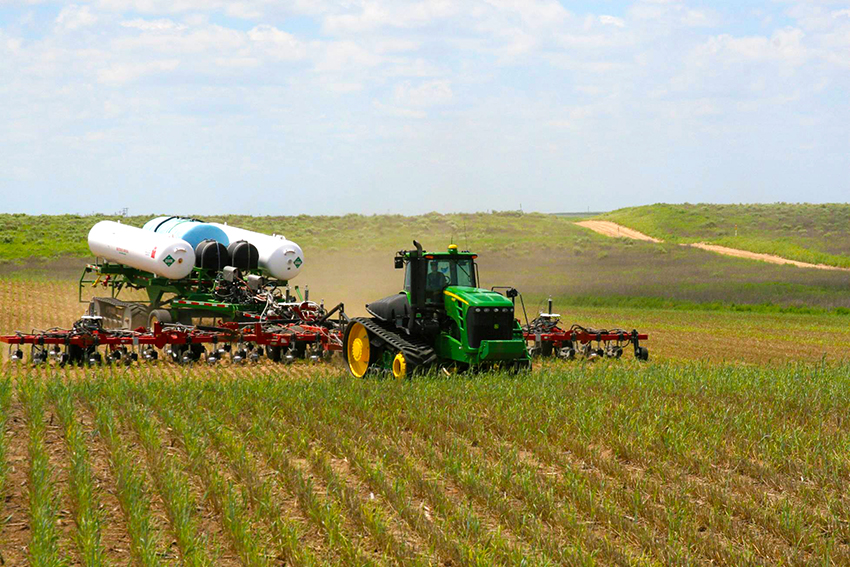 1

How come Exactrix works so well?
When Nutrient costs go up 300% to 800% above the cost of production.
When commodity prices don't go up and banker gets unfriendly.
When Oligarchs get their way with your bottom line as a producer or a fertilizer dealer.
It takes free enterprise, specialized engineers, and chemists to develop machines that make nutrients work as stimulants.
NH3 was developed by Shell and TVA Engineers, NH3e, high pressure injection (300 psi) NH3 is developed by Exactrix Engineers with the help of TVA chemists.
Exactrix® has application CV of 1% over all flow ranges and temperatures using good old NH3 as Primary Nitrogen.
Only stable NH3 or ammonium is used avoiding costly application of Nitrate based 32-0-0, nitrate is an environmental disaster annually.
Only 1 lb. of N is out of place in 100 lbs. applied compared to 25% to 50% CV application of dry fertilizer.
Liquid streaming flows are produced developing stimulants in lineal bands in No-tillage Rotational Band Loading.
The lineal bands are a polymer chain link of NPKS plus micros in a 7 to 8 inch deep band target for roots.
The terms, "Soil Builders" and "Plant Food" are marketing curve balls in eyes of Exactrix owners.
Exactrix owners build "Stimulant" and reduce the N application rate from 300 lbs. N to 150 lbs. N as NH3 under center pivots.
The Crop availability of Nitrogen as ammonium (82-0-0) is improved 200% as compared to application with a pivot.
The Crop availability of Phosphate (10-34-0) is improved 300% as compared to top dressed application of P.
Thio-sul® (12-0-0-26S) provides stability of the Nitrogen and makes N and P highly crop available.
Micro Nutrients, low cost Ammoniated Zinc, (16-0-0-20Zn) in a polymer Homogenous blend with NPKS assures uniform access and timing to the crop.
KTS(0-0-25-17S) is commonly applied with up to 20 times more efficiency than KCL (0-0-60K-40Cl) top dress applications.
Note:
The term Soil Builders is a trademark of J.R. Simplot Company.
The term Plant Food Center is a Cominco American trademark.
Environmental Disaster Annually. The pivot application rate of nitrate, 32-0-0 of 300 lbs. N per acre is common for 300 bushel per acre corn.
NH3 as 82-0-0 (82.4 N) is primary nitrogen and stabilized with Thio-Sul® at 120 to 140 lbs. N per acre. Primary Nitrogen is also Aqua Ammonia at 20-0-0 and stable.
Solution 32-0-0 and 28-0-0 are salvage and convenience nitrogen with no banding requirement with gigantic losses into the environment.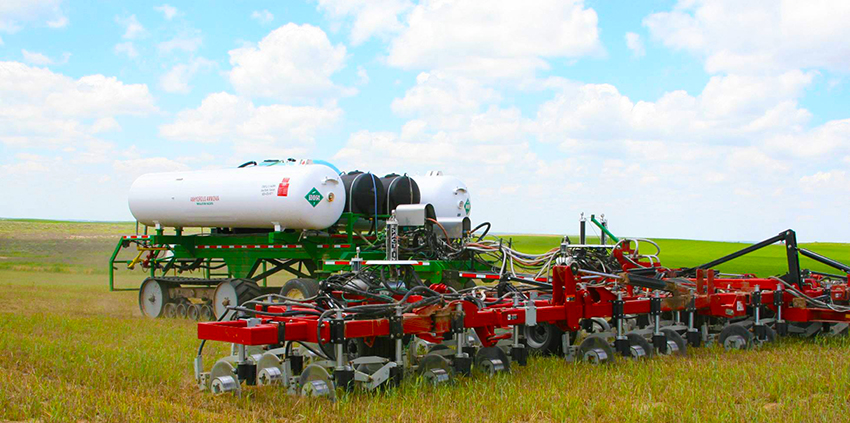 2

Yielder® Power, 7 to 8 inch deep bands, Every pound of steel is oriented to Yielder® designs of Exactrix.
Yielder® Power from the Yielder Drill, Manganese Steel Blades (up to 26.5 inch diameter) and Cat Duo Cone Sealed Timken Pinion bearing hubs.
Yielder Drills still after 38 years, are the highest yielding of all No-till drills.
Low operating cost.
Operating at high speeds in No-tillage.
Providing environmental punch that solves the $120 to $150 nutrient cost problem.
Stimulants raise big crops with large margins.
A beautiful seed bed at Garden City.
A testimonial to Mustang Openers at 8.1 mph or 1 acre per minute.
Swiveling Mustang Openers running deep leaves no soil disturbance.
Ideal for cover cropping systems where nutrients become stimulants.
Keep the moisture in the ground.
Line up on the 15 inch bands with your 30 inch planter with no root burn, total safety and high efficiency.
Fixed angle openers cannot compete for the 7 to 8 inch banding zone.
Deep vermiculated bands allows the planter to run right on top of the Mustang Band.
Make Phosphate more crop available. Cut the Phosphate bill to 1/3 of the university recommendation and still build soil test P.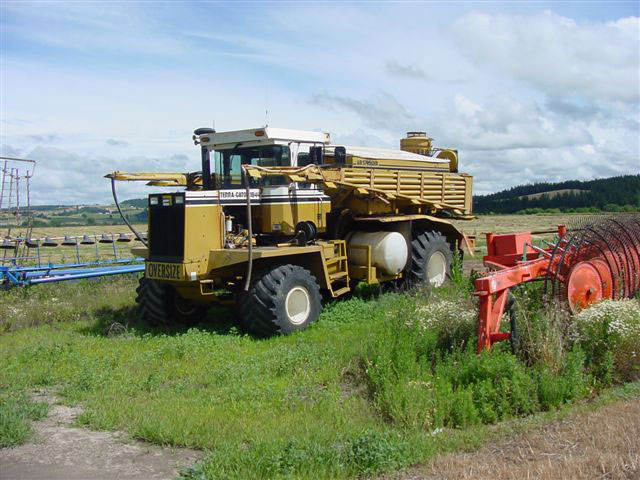 4.
An old fashioned way of applying fertilizer.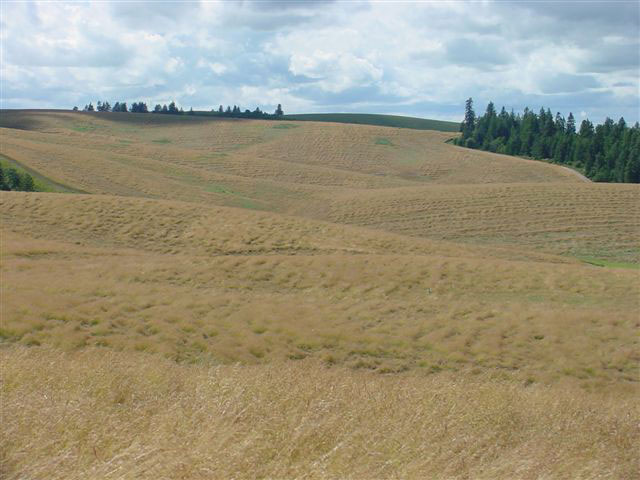 5.
Wasted Fertilizer.
A Low Yielding Perennial Crop, Everybody including the fertilizer dealer losses. Cominico/Agrium/Potash wins.
There is no chance to be profitable when the nutrients are applied with high variability.
· In some cases double applied as shown in the checker board at the top of the hill.
· Draining right next to the Palouse River in a 40 inch rainfall and into the Snake and the Columbia.
· Top Dress Urea Fertilizer, The Third World of commercial fertilizer.
· Annual Corn or perennial Bluegrass it makes no difference every pound of N must go to work and into the crop.
· Right to point of diminishing returns and never over-applied.
· Every second pound of N applied is lost to the environment at Princeton, Idaho.
46°54'20.69" N 116°50'54.12" W View location.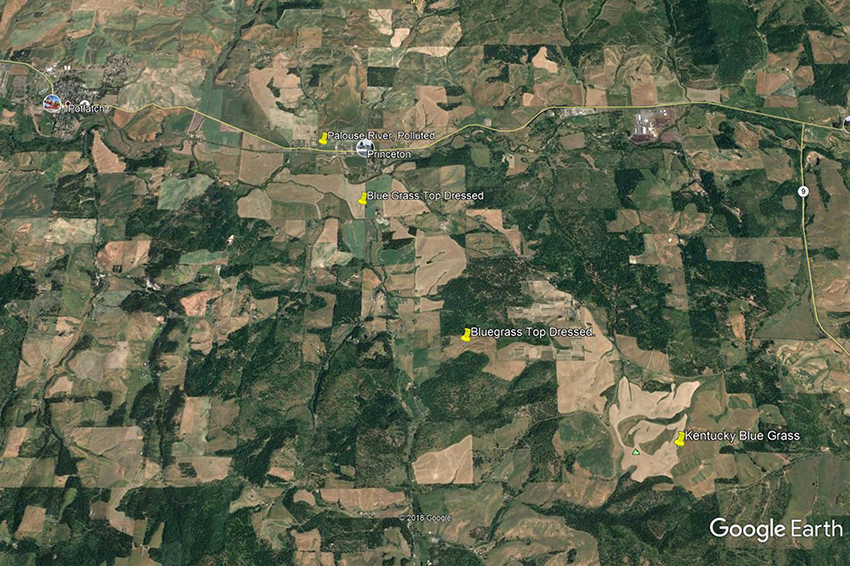 5.1
---
From Idaho To Nebraska, Producers Make More Money When They Park The Floater.

In 2019 Exactrix offers 70 to 80 foot single disc application with high speed tool bars at 1.5 acres per minute.
Location: Shelton, Nebraska.
Date April 11, 18.
System: Tillage
Application: Top Dressing.
Crop?, Beans, Corn or Seed Corn.
Truly Variable Rate without a prescription. Mostly a non-site-specific application and only site specific with a little bit of luck.
A good waste of money….with the non- accurate end gun.
Technology of the past. Even though the dry fertilizer applicator has been recently produced.
Fluid lime application VRT-Site Specific requires about 1/3 to ½ as much material to be crop effective.
Tons Moved, Moving the fertilizer with the over application of NPK . Way over applied and the only benefactor is the manufacturer of the material. The fertilizer dealer has a customer that is not as profitable.
Millions of tons lost in the Salvage and Convenience mode. Gone to the environment of the lakes, streams and gulfs. About 30% to 50% the top dress applied nutrients are lost into the environment.
A tillage system is indicated with the next producer conclusion that tillage is uniform.
Does the end gun compete with the rest of the pivot?, no wonder a rainstorm is always better. The application must be uniform allowing a slow perk ( no runoff) into the soil.
One step above the Third World is the current dry fertilizer application techniques.
Every producer can afford an Exactrix Application whether TAPPS is custom applied or TAPPS is applied on their own land.
TAPPS has $60 to $150 per acre advantage and Exactrix No-tillage is environmentally on the mark.
Exactrix TAPPS is nitrogen stabilized with Thio-sul® in a deep band making all placed nutrients highly crop available.
Exactrix® Crystalline TAPPS and TAPPKTS winner of two national awards.
The crop prefers ammonium.
Anhydrous Ammonia and Snow go together hand and glove.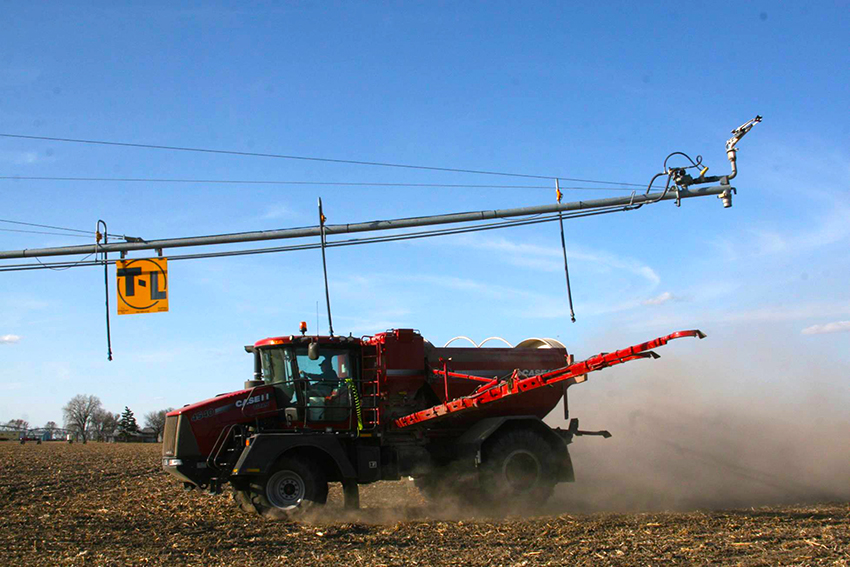 6.

Is it windy in Nebraska?
No wonder it only takes about 1/3 the phosphate with Exactrix TAPPS. 100 lbs. P vs. 30 lbs. P and building soil test with Rotational Band Loading.
The process of application determines how effective the fertilizer as applied becomes, they are all the same in the tank, the Exactrix® process determines the correct rate.
The enemy of the environment and the producer economics is top dressed fertilizer, liquid or dry.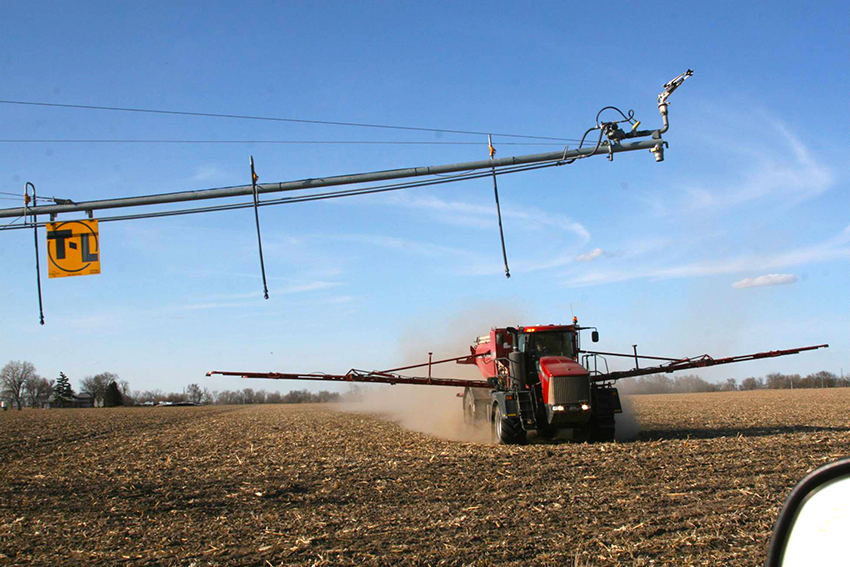 7
40°47'21.90" N 98°43'52.83" W View Location
Gravity application can never be accurate.
VRT-Site Specific becomes failure prone to the wind, the non homogenous blend or no chain link of the dry materials, and lack of positional available nutrients.
A windy day in Nebraska without a prescription assures and application that is variable rate with 50 to 100 unplanned zones.
Floater application matches the technology of the end gun.
Top Dressed Fertilizer is destroying our water quality and the gulf environment.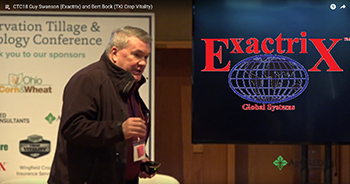 8
Click on above image to see and hear Guy Swanson and Bert Bock at the Ada, Ohio Seminar.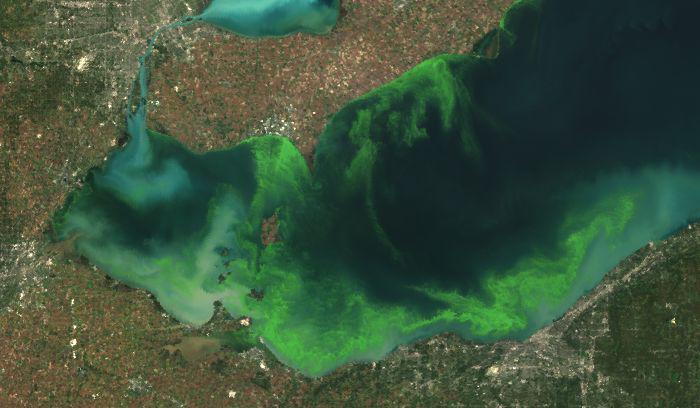 9

Lake Erie and The Palouse Clean Up. The Roots of No-tillage and Fertilizer
What is the answer?
Completely VRT-Site Specific in all flow ranges at 1% CV of application with a full rate change in 1 to 2 seconds.
Pressures to 300 psi, no gravity effect in the application. No wind interference, TAPPS is in the root zone at 7 to 8 inch depth.
And available for future crops without tillage.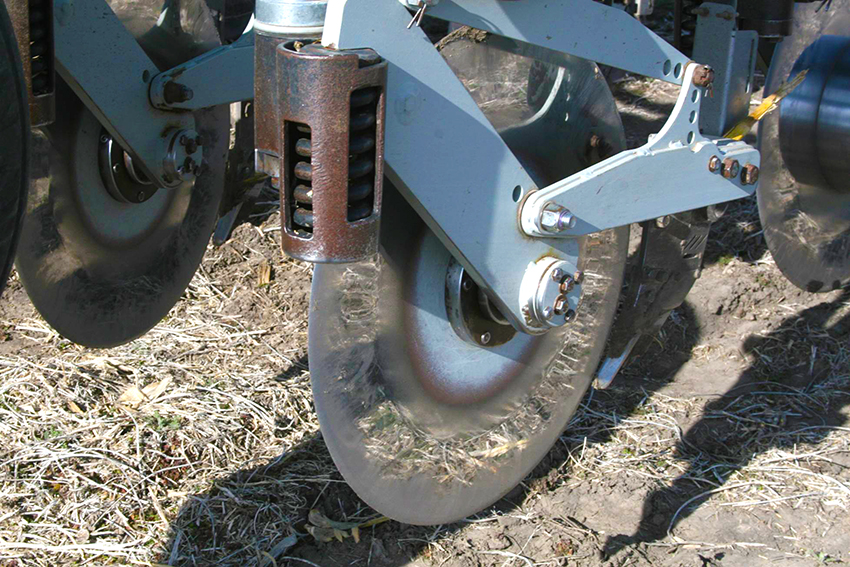 10

Extreme Double edge blades penetrate deep to 7 to 8 inches.
Yielder ® Manganese Steel Blades, show polish and the only significant wear part to be replaced.
Operating for about $1.25 to $1.65 per acre on 15 inch spacing.
Operating cost on 30 inch is less than a sprayer.
Beats a Deere 2510 by 5 times in lower operating cost.
Takes less horsepower and goes deeper. https://vimeo.com/bandbvideo/review/162609745/b8a4c47ab2 Running at 1%CV, Running Fast, Running Deep in No-till VRT, Site Specific.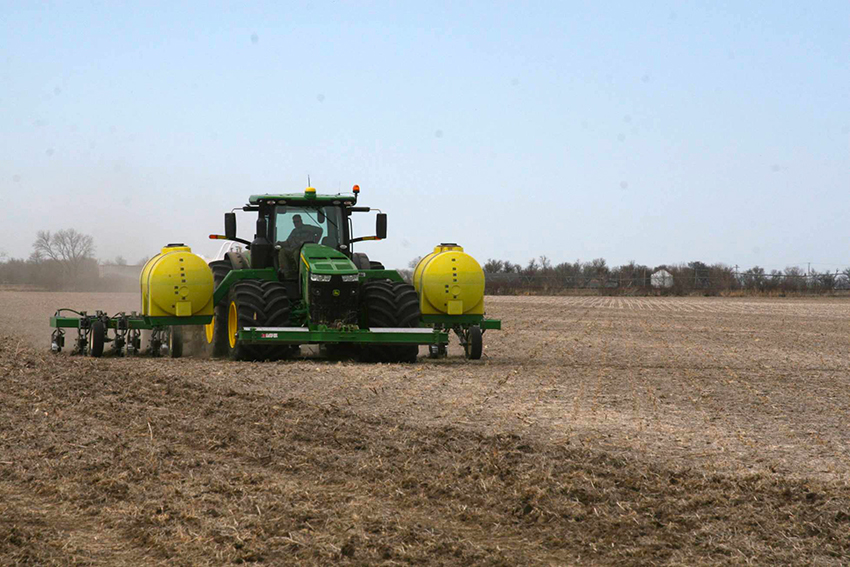 11

Low compaction, High speed performance, No-tillage TAPPS with Thio-sul® at 7 to 8 inch depths.
An adjoining field to the Floater dry fertilizer application.
Gangwish Seed Farm, applying Mustang TAPPS with a positive down pressure 3015 tool bar at 1% CV of application in liquid streaming flows.
Attention: TAPPS is applied at .7 to .8 of the university recommendation for N and 1/3 the rate for P. The Top rate is 160 to 170 lbs. N for a 300 bushel per acre crop at Shelton.
At this point 4,000 acres to go, with a jump start covering three pivots a day with three variable rate corn planters pushing the Mustang Tool Bar hard.
Some of the most valuable farmland in North America is No-tillage.
A great way to raise a big crop with $60 to $150 per acre more net margin. That margin increase will help pay the taxes on land worth $8,000 to $12,000 per acre.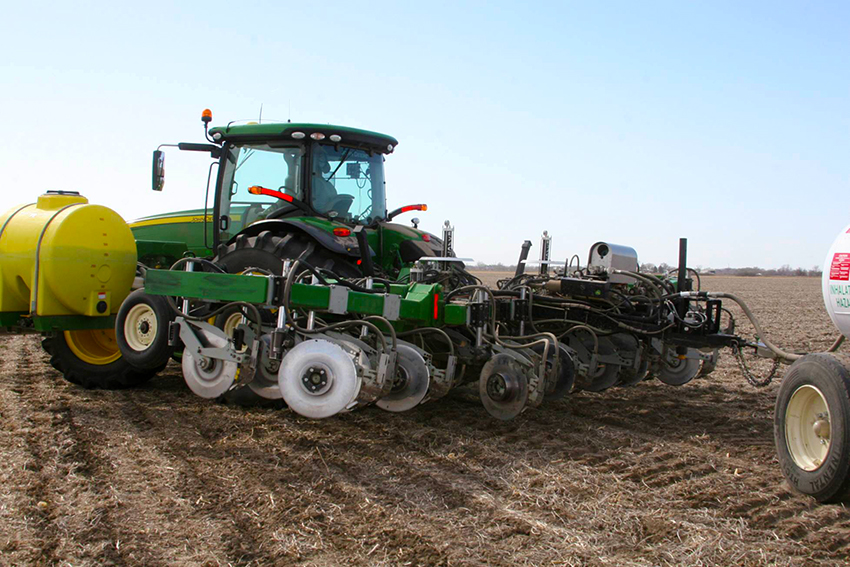 12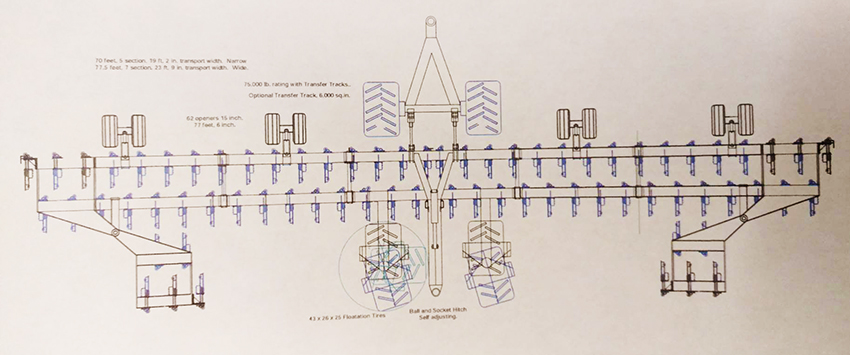 13.
Mustang Tool Bars at 70 to 80 feet in width, 7 section designs, allow applications at 1.5 to 1.9 acres per minute flowing up to 80 gallons per minute of NH3.
From www.exactrix.com/Sine.htm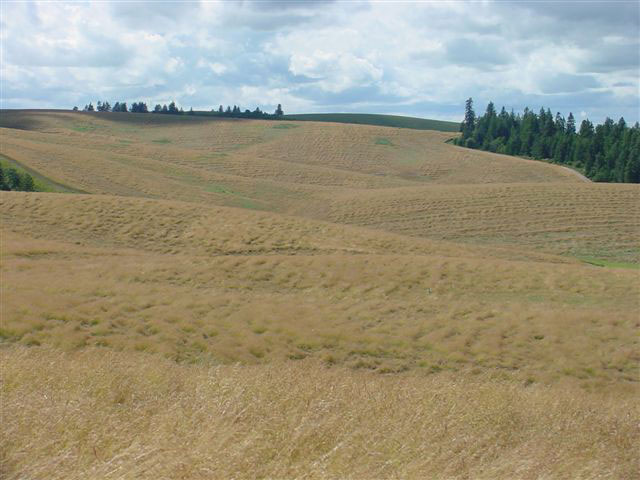 14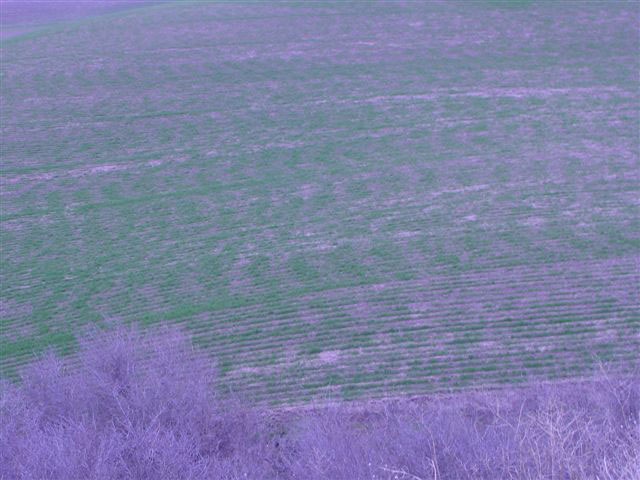 15.
Is it a tillage problem or an air seeder problem? www.exactrix.com/Sine.htm
Go to www.exactrix.com/Sine.htm.
Your Great Plains Reporter.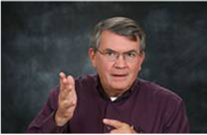 Guy J Swanson