Return To Main Page
See all our previous broadcasts
It takes less commercial fertilizer to raise more corn every time
In fact With Green Play Ammonia N costs drop again to 18 cents per lb N.
At 140 lbs. N/A. No more than $25.00 per acre N costs in 2025, Green Play Ammonia.
How Did He Get More With Less?
Rick Engelmeyer, Beemer, NE, April 19, 2019.
Exactrix® Mustang Tool Bar, Case 940 on 30 inch. TATS formulator.
Joel and Jay McClure at Hugoton, KS, TAPPS and TAPPKTS formulators.
TATS is Tri-Ammonium-Thio-Sulfate as NH3 at 82.4-0-0- and Thio-sul® 12-0-0-26S.
See The Drone Video With Rick Banding Click Here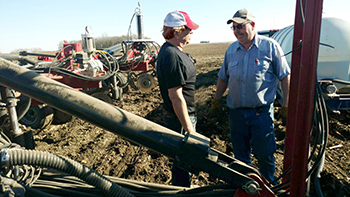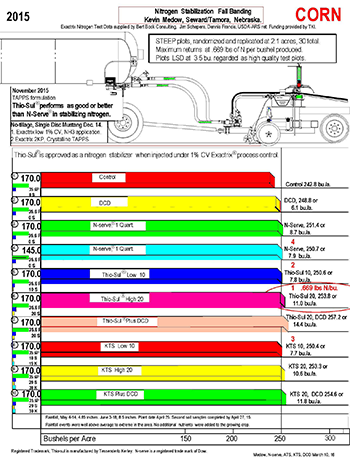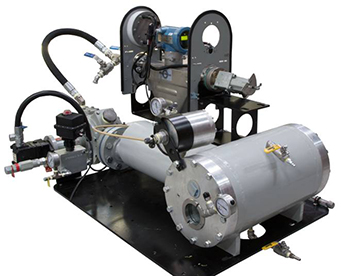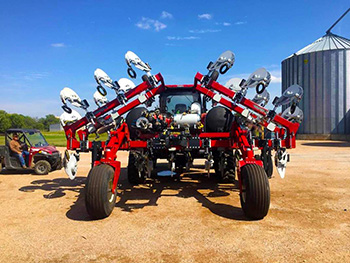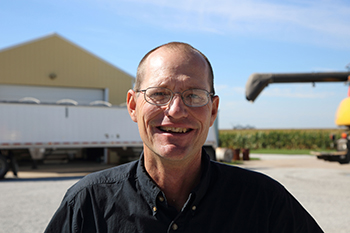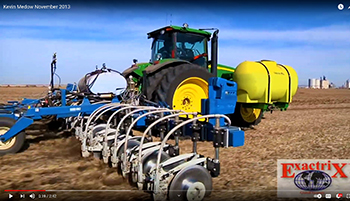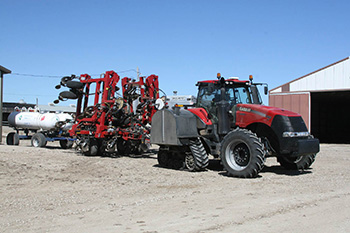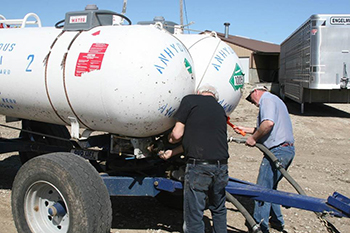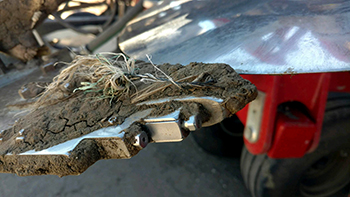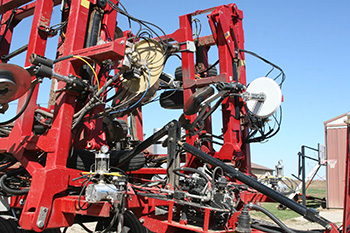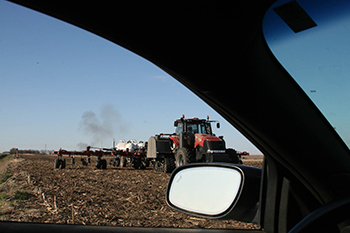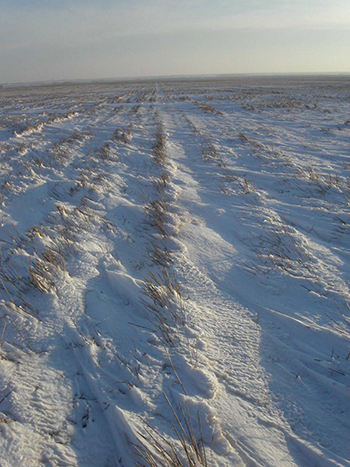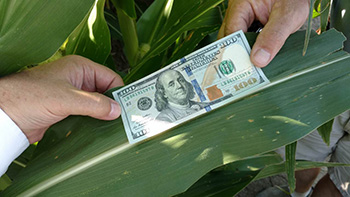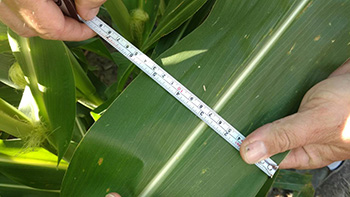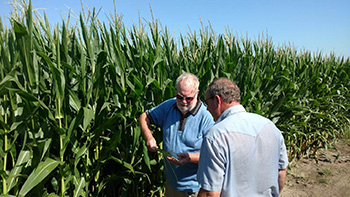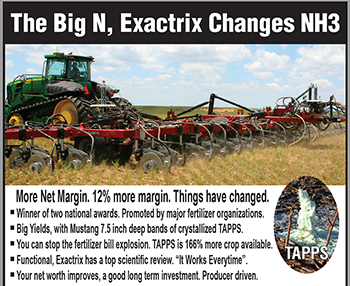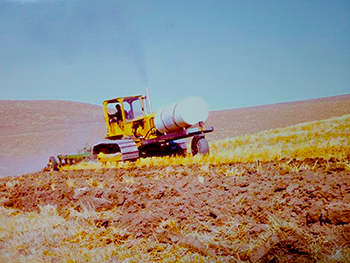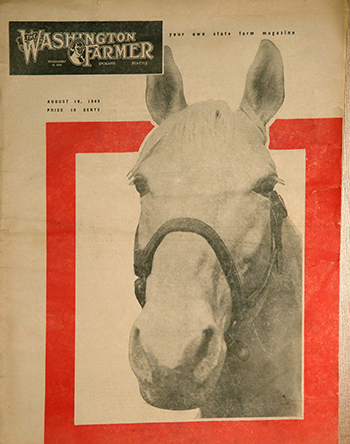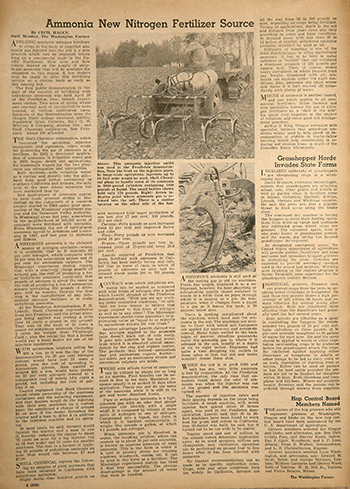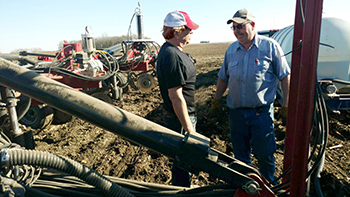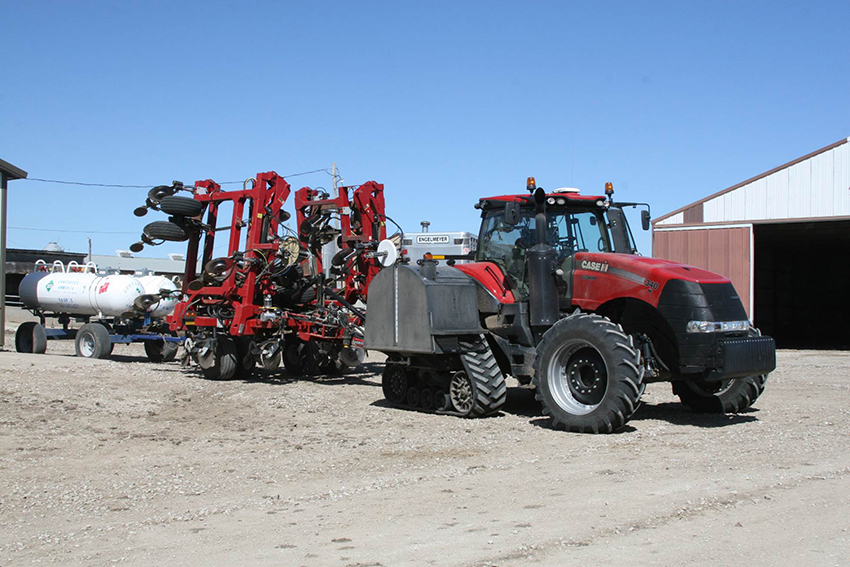 Rick Engelmeyer, April 19, 2019, Beemer, NE
How did they get More With Less? Bringing Down the cost per bushel produced using Thio-Sul®.
Tillage Manure System. With Exceptional High Soil Test P with High Organic Matter along the Elkhorn River Valley.
High Quality, High Value land at $12,000 per acre using Exactrix TATS to jump start a higher yield level…based on tissue testing and soil testing….sulfur is needed.
Dr. Jim Schepers UNL-ARS, Emeritus, reviewed Rick's practices to raise high yield Pioneer varieties…some Dekalb also.
Similar conclusions were made…Sulfur could be a limiting.
In 2019, Testing for 300 bushels per acre average yields using TATS and various rates of Thio-Sul®.
Extensive testing over 15 years with two types of Exactrix NH3 system discovered that 140 lbs. of Exactrix Processed N as NH3 will raise a good crop at 1% CV of application in Liquid streaming flows.
A major change and another $60,000 of investment including new Ag Leader control and guidance and 750 gallons of Thio-Sul on board with good operator visibility. Will sulfur give better and more consistent yields?
Note, Thio-sul® has been implemented for higher yields and better performance of placed ammonium. …This is a TATS formulator in manured soils of 3.5 OM, 6.8 pH to 6.5 pH, with soil P at 50 ppm and higher with 100 years of manure history. For the last 15 years, 2,500 cows and one hog barn supplying additional organic nutrients on 2,500 acres.
Mustang Deep Banding with the 2KC, Series 3 Weight Master, for the last 4 years along the Elkhorn River Valley in Cuming county.
At Beemer, West Point, NE….….In the last four years strictly NH3 with Mustangs on 30 inch centers….and Yield levels up to 289 bushels per acre average.
The goal is to head north of previous yields with the Hybrid corn 1197 Pioneer. Good yield levels at 289 to 295 bushels per acre with Pioneer. We are hoping to break 300 bushels per acre average by crystallizing 5 gallons of Thio-Sul® combined with 140 pounds N as NH3 at 1% CV of application.
Following testing this year….more testing with KTS® and Micros but no placed P to meet the environmental needs of excessive P from manuring. We suspect Zinc and possible some Copper will be next.
There is some testing at 7 and 10 gallons of Thio-Sul at 2.89 lbs. S per gallon. The Ammonium N rate remaining the same at 140 lbs. N.
The crystals of TATS will provide two types of sulfur, micronutrients in the exclusive pH swing of Thio-sul and stabilization of Ammonium N in warm and wet conditions of Beemer, NE.
Along the far eastern front of rolling Nebraska and close to the Missouri River valley. Almost always Thio-sul ®is economically efficient to 30 lbs. S or about 10.5 gallons of product.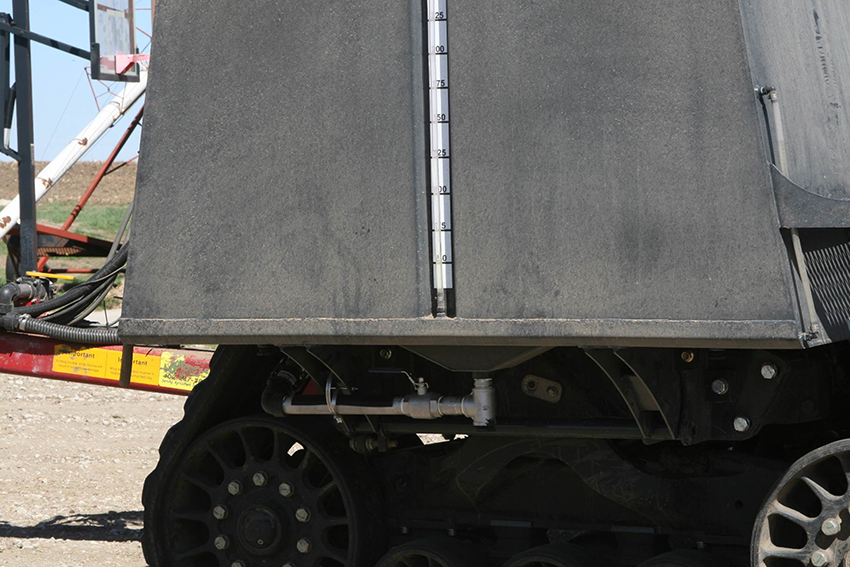 A major leap ahead with stainless steel saddle tanks at 375 gallons per tank. Good visibility, good machine balance, improved ride, heavy duty design.
The track mounted "Fender Tanks" have made this tractor more functional. The steering axle is also a front power axle and the powered feature is seldom kicked in to pull.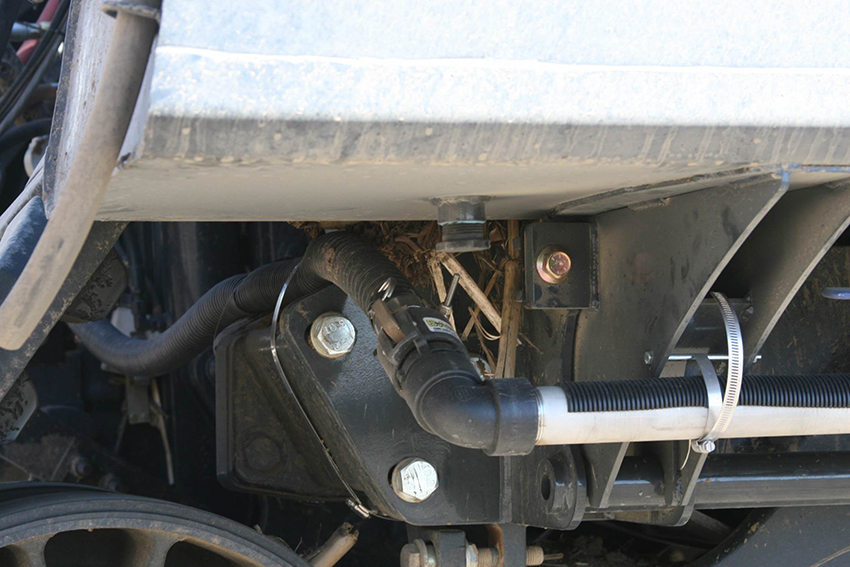 Clean mounting. http://ryanmfginc.com/ About $14,000 for 750 gallons and a great view with weight where it belongs, on the tracks.
You will note the impressive efforts and designs implemented…..The efforts to make a good mount by the manufacturer is impressive.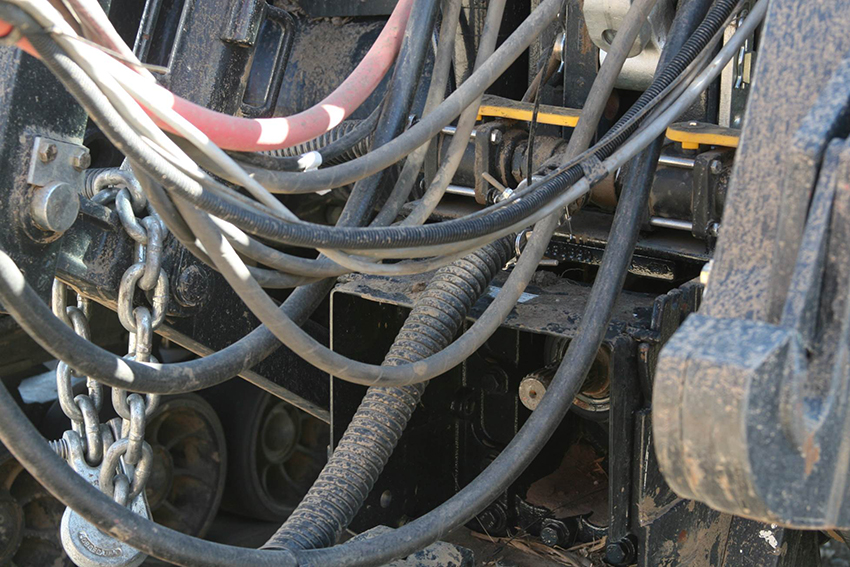 Flow consolidator. Each tank can be controlled at the tee.
2KP, TATS Formulator, with dual section Exactrix dual staging manifolds. Ag Leader control.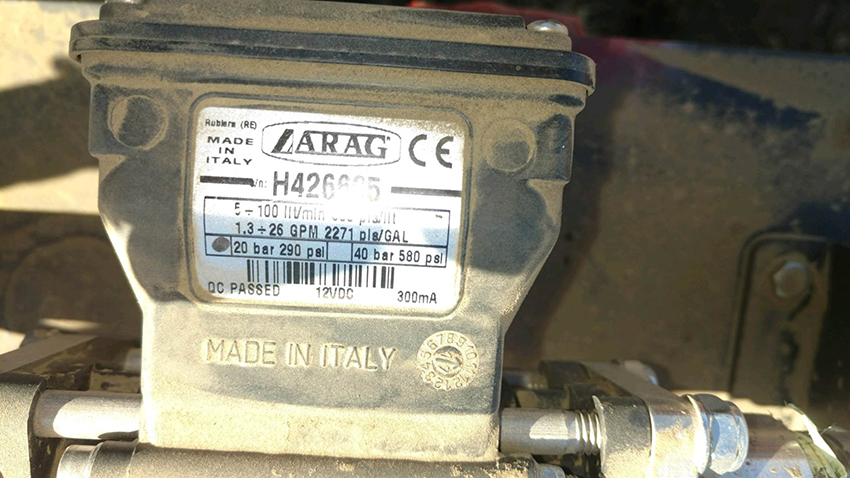 Magnetic Reluctance Flowmeter, Arag, Italian and an excellent full quality product. Repeatable in all flow ranges as tested.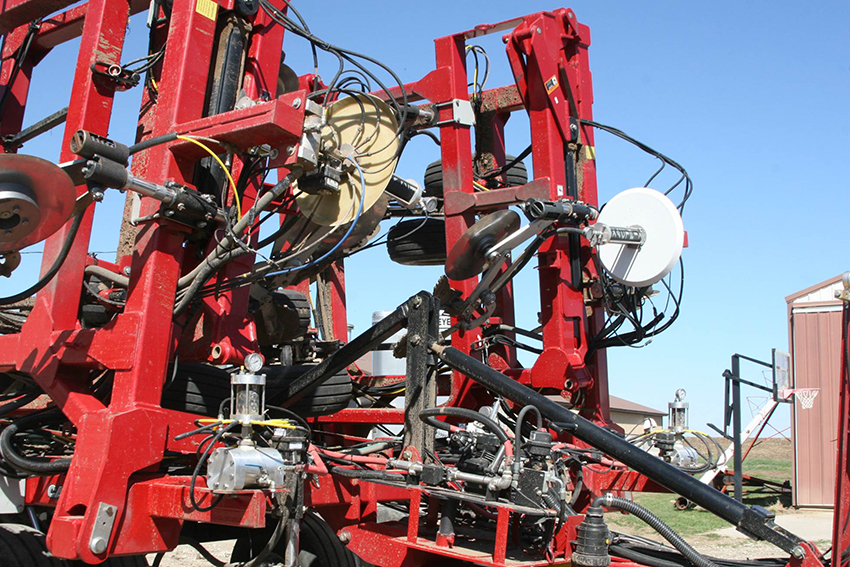 2KR, TATS Formulator, with dual section Exactrix dual staging manifolds. Ag Leader control.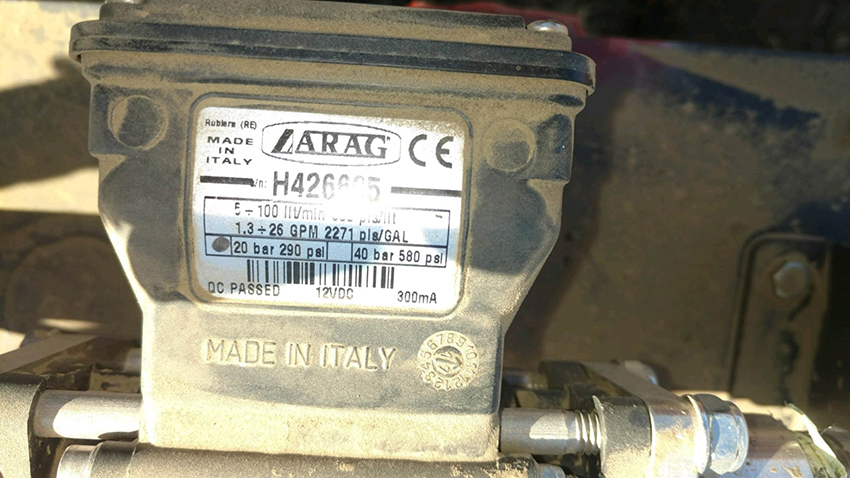 Magnetic Reluctance Flowmeter, Arag, Italian and an excellent full quality product. Repeatable in all flow ranges as tested.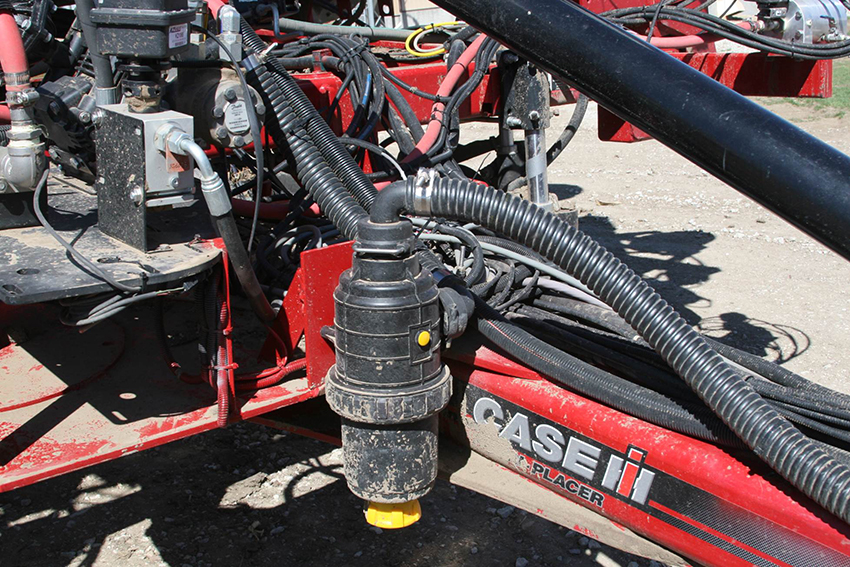 Arag Primary Filter at 50 mesh.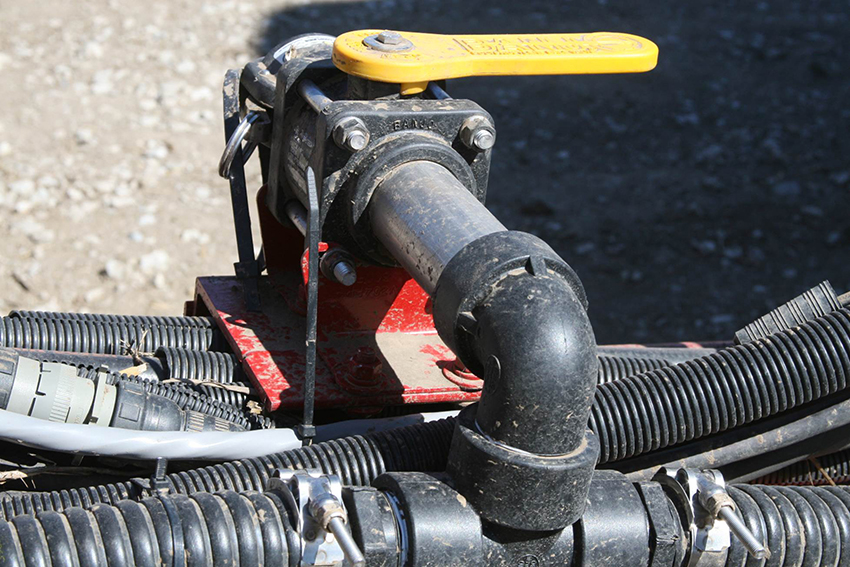 Fill station at the tongue.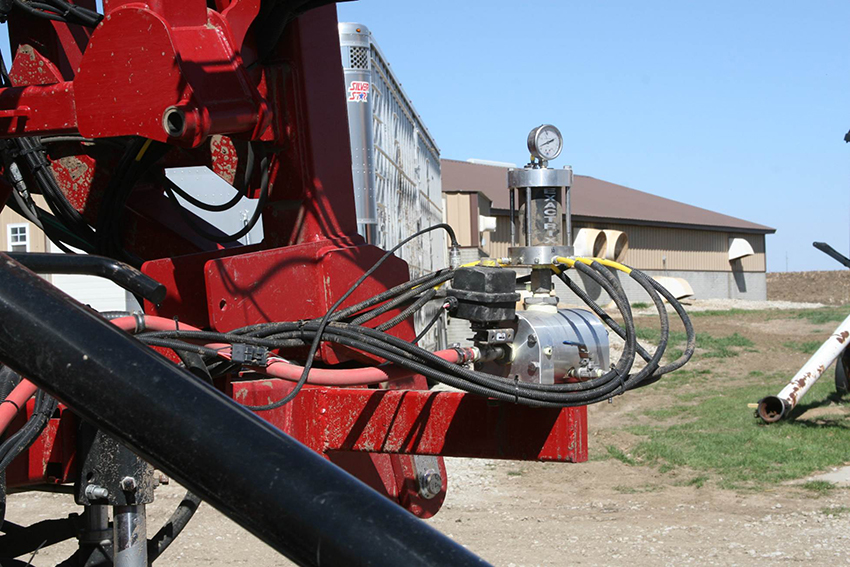 Exactrix High Pressure 300 psi final filters. Not well understood by most….the secret is the Exactrix filters.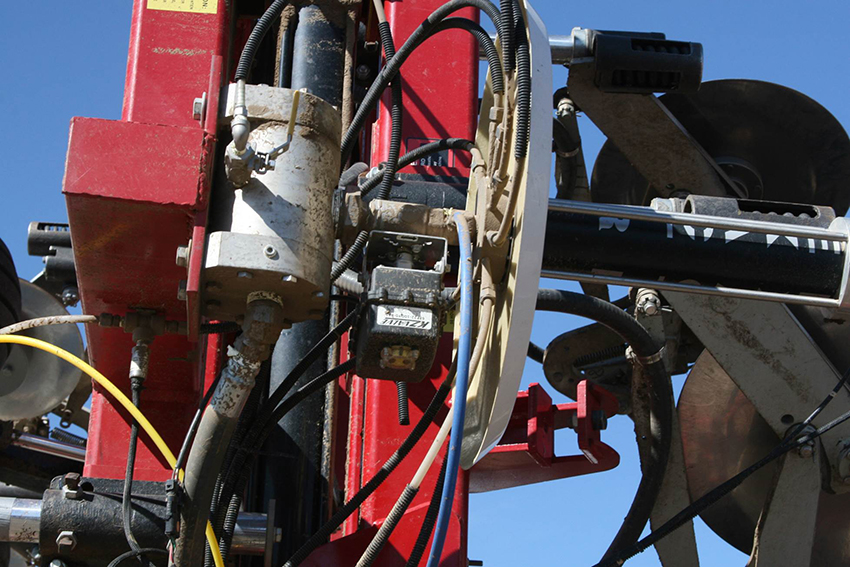 Exactrix Dual Stage NH3 manifolds at 300 psi plus injection pressures at speeds to 12 mph from 2 mph.
Unique to the industry. Final Filters add to quality time in the tractor.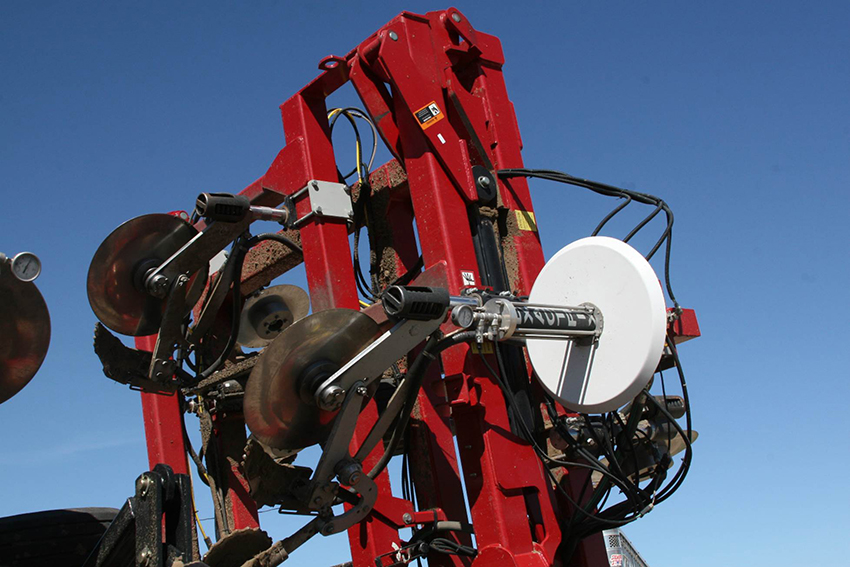 A five section fold 6 x 6 tool bar.
Also arranged down to 15 inch spacing which is the most popular. Available in 61.25 feet in 7 section fold.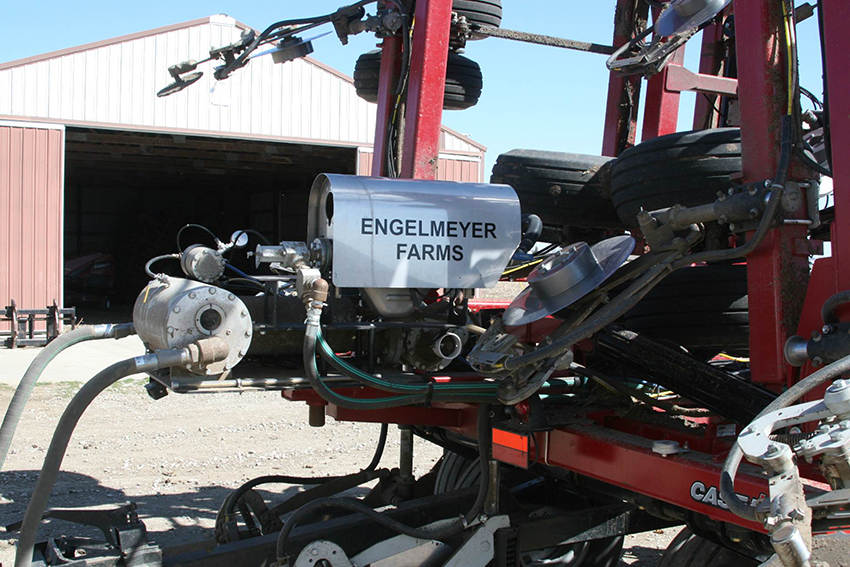 2KC Series 3 in Mass Flow…and current to the Ag Leader controller.
Meets or exceeds expectations in every case. The high quality high pressure injection at 1% CV…..Every pound of N goes to work…..only 1 pound in 100 is not crop available.
Time proven, 140 pounds of N applied with Exactrix 2KC Series 3 will raise a 300 bushel corn crop. 5 years in a row. It works every time.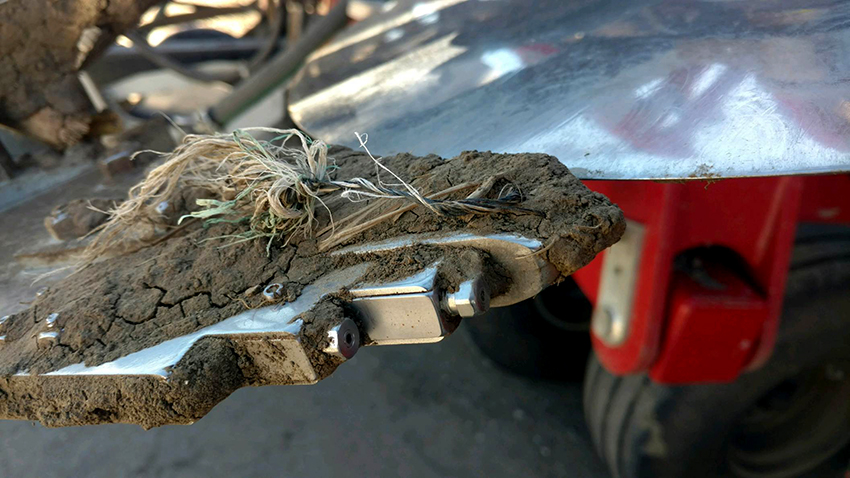 Replaceable Bit Injection. An upgrade for extra wear life. An option and valuable to big acres producers. The chrome bit has been improved in metallurgy, width, length, and is generation 2. "
Extra protection of the injectors is now implemented with Blue Tempered Spring Steel side plates at 600 acres on 50 feet. "Blue Tempered Spring Steel is ……Hard as Glass"…. at about 1% plus Carbon and heat treated to 70 to 80 RC.
Also an easy part to replace with the injector remaining on the machine.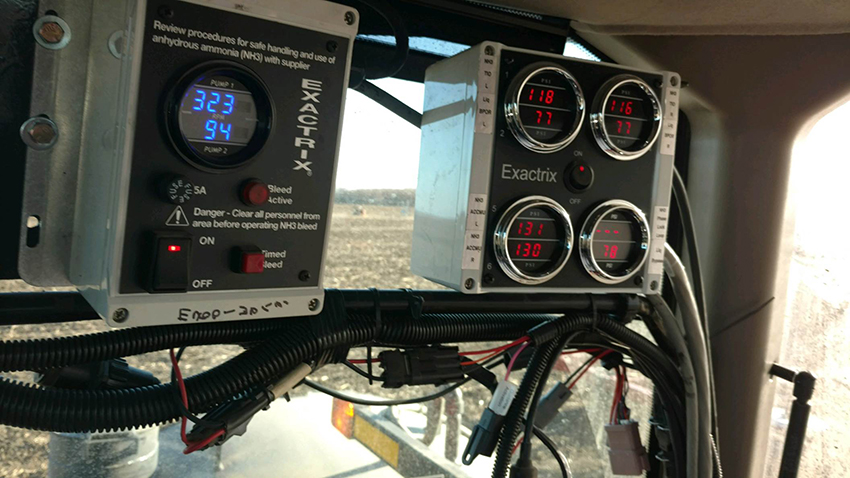 Required control is the pressure and tachometer control center to confirm balance and Exactrix positive displacement pumps are on the money.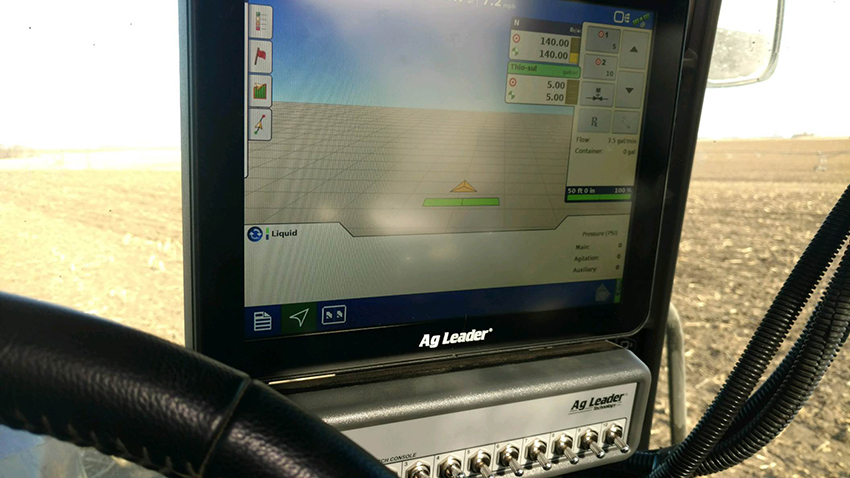 Ag Leader is current and provides the updated information at 7.2 mph.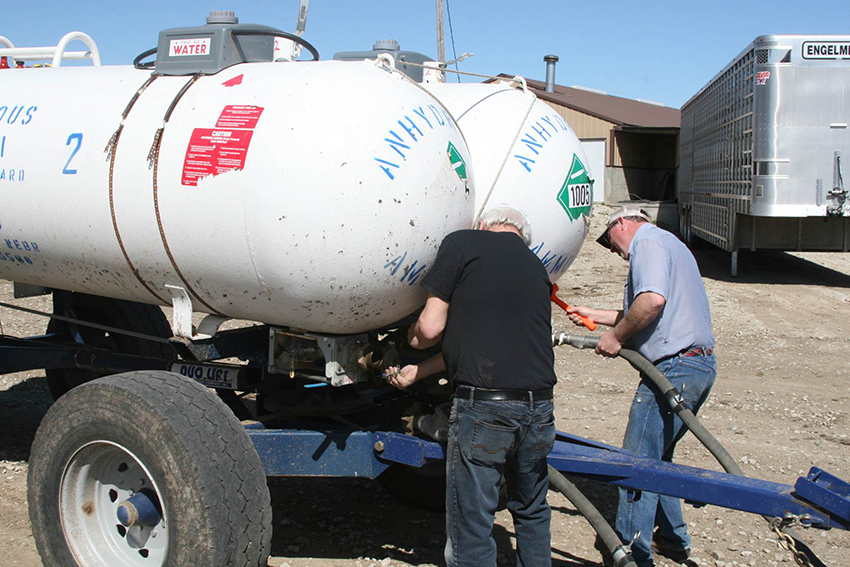 Setting the tank valves with Smarthose technology, passive technology and very safe for all involved.
Clint Morgan and Rick Engelmeyer head for the field about 2 miles away.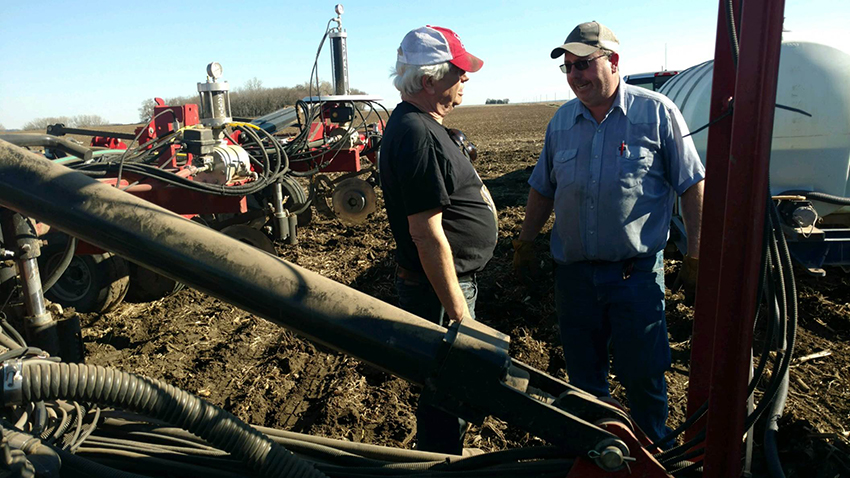 Clint and Rick discuss Exactrix technology and the next chapter.
Alert and anticipating some 300 bushel average per acre corn crops ahead.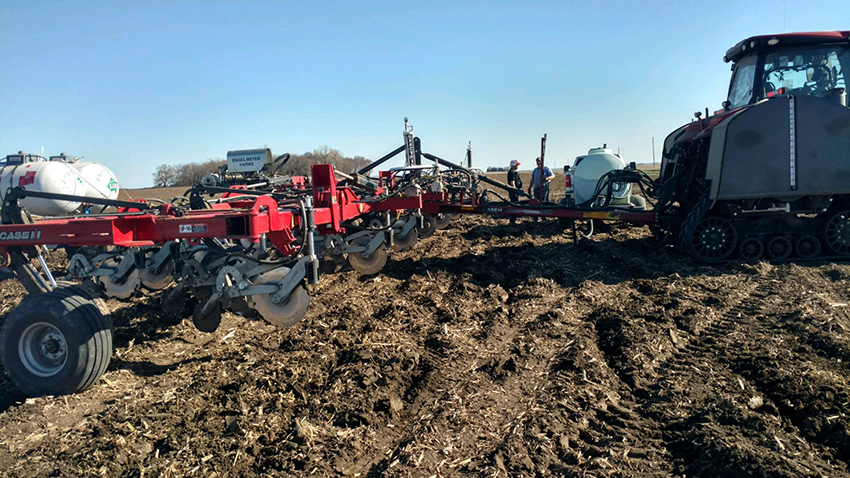 A major leap ahead on high OM manured soils. Highest quality soils in Nebraska. Ready to break the 300 bushel per acre mark on average.
Maybe Fumigant Mustard Cover Cropping in the spring 2020….there is a need to find a way for improved and advanced 100 bushel soybean production with Pacific Gold Mustard….that will work for sure in getting some problems covered with Nematodes.
For Sure, Soil testing coming up with Ag Nema Laboratories at Richland, Washington. About June we will start soil sampling for Nematodes and finding the rest of the story on the beans.
Potassium as KTS®, Sulfur, Zinc and Cooper will also help the beans with a small shot of NH3 at 30 pound to 50 pounds per acre….You can fertilize soybeans with Exactrix equipment.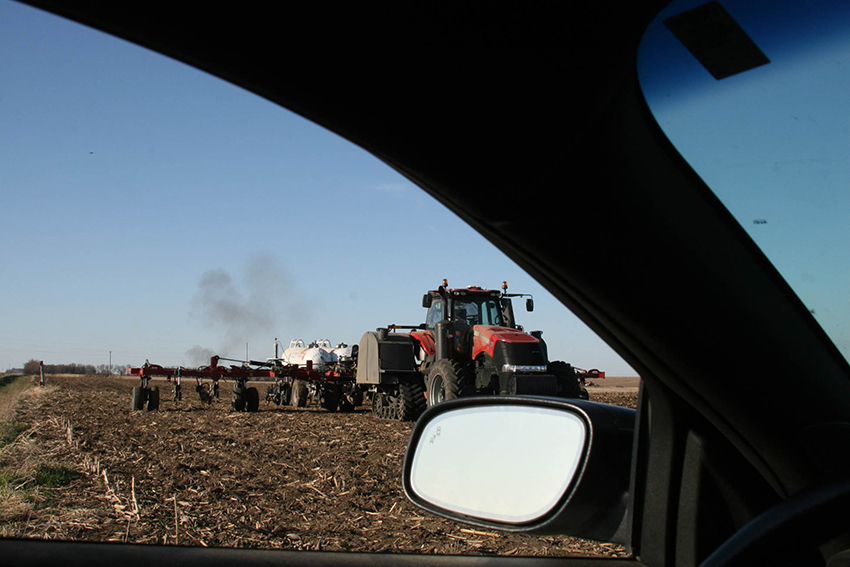 "It's not how you start that counts, It is how you finish that counts", Steve Mader.
As Rick Engelmeyer says, "This is a faith based business".
In Nebraska along the Platte River Road.
Bigger profit chances and successful betting with Binary Banding of TAPPKTS plus Zn.



Gangwish Seed Farm, Binary Banding Video

Binary Banding

TAPPKTS

Three Products Applied

4515 In Five Sections

Steering Track Cart




.

Matt Gangwish Video

: Gangwish Seed Farm, Shelton, NE. Banding TAPPS nutrients at high speed into
corn residue leaving a good No-tillage seedbed.

Applied Variable Rate Site Specific. Using Exactrix, 2KC Weigh Master and2K P TAPPS formulator.
The Exactrix Tool Bar will also side dress corn.


Paul Gangwish, Drone Video
---
Your Great Plains Reporter.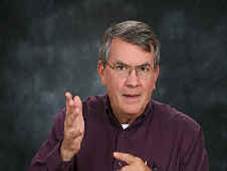 Guy J Swanson.