NH3 pricing, $245 per ton or about $147
per ton Exactrix Equivalent.

NH3 pricing, Exactrix Owners.
Exactrix Equivalent $147 per ton.

NH3 On Farm Storage.
Hugoton, KS, Kramer Seed Report
Ben McClure, Ag Economist, KSU.
In Kansas Markets with NH3 storage at the farm gate.
We need more NH3 storage tanks?

Ben says, "My classroom speaker was from Koch, 1992 with Farmland still producing the NH3, The retail price of NH3 should be 35 times the price of natural gas."

Ben's guest speaker from Koch says the price today with Natural Gas at $2.83 to $3.85 means there is still a lot of margin in retailing NH3 at $99.20 per ton to $120 per ton.
· July and August at $245 per ton, NH3 delivered.

· September and October, $255 per ton, NH3 delivered.
On Farm Storage Makes A Big Difference, and 166% more crop available N, 200% more crop available P.

Micro-Nutrient Application receives a big boost from Exactrix.

Exactrix TAPPS and TAPPKTS, about 8 to 12% of the Gross Income goes to NH3, APP/ATS/KTS/Zn with Exactrix Application and Mustang Banding.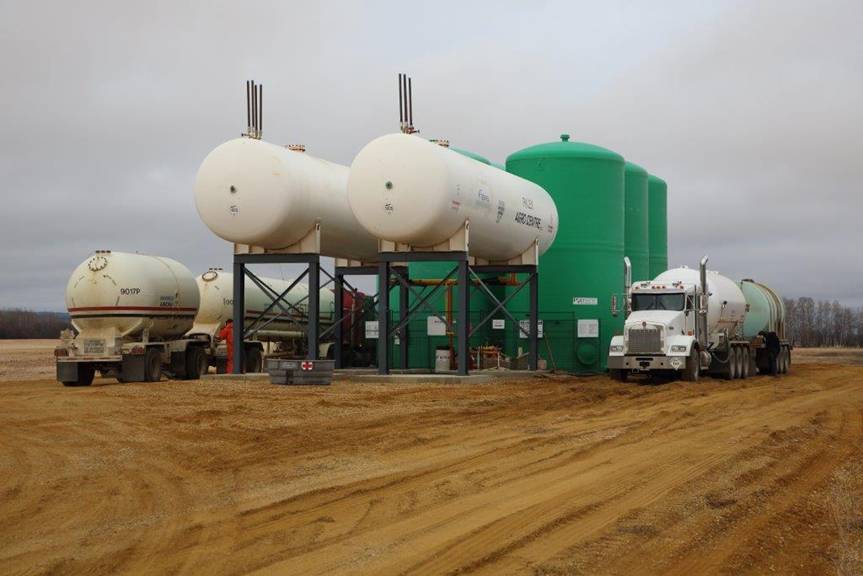 · The powerhouse competitor, large producers make big changes and get good long term returns with Exactrix NH3 1% uniformity of application.

· Legendary for top yields at low cost, TAPPS and TAPPKTS is the competitive edge.

· Irrigated Corn, Average Nutrient Costs 2018, $45 to $50 per acre at 141 lbs. N as NH3, 12 gallons (70%)10-34-0, (30%) 12-0-0-26S, .5 lb. AZn
· TAPPS Crystals work well in high pH soils.

· Liquid Streaming flows at 1% CV of application and absolute band width at constant dilution and even root access.

· No lineal band wave, or sine wave flow of nutrients with Exactrix P-51C Mustang openers.

· The band width is uniform and vermiculated.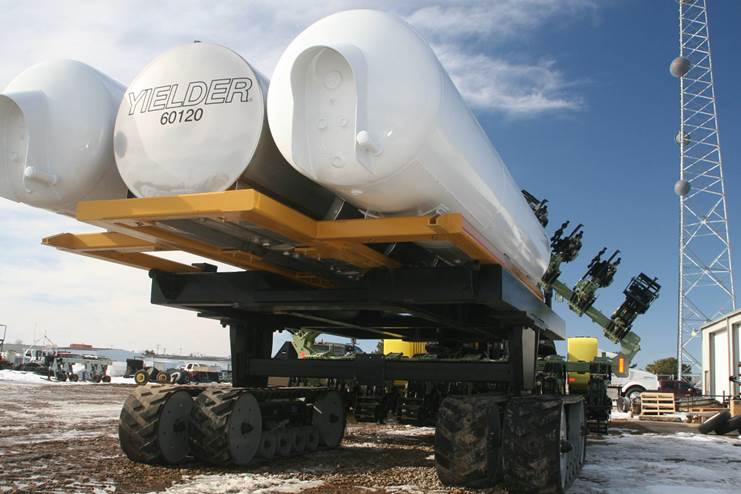 · Colby, KS. Exactrix® systems set up Yielder® Track Carrier at the highest level of NH3 application.

· Designed for machine application widths up to 120 feet.

· Rated 120,000 lbs load balancing slide table.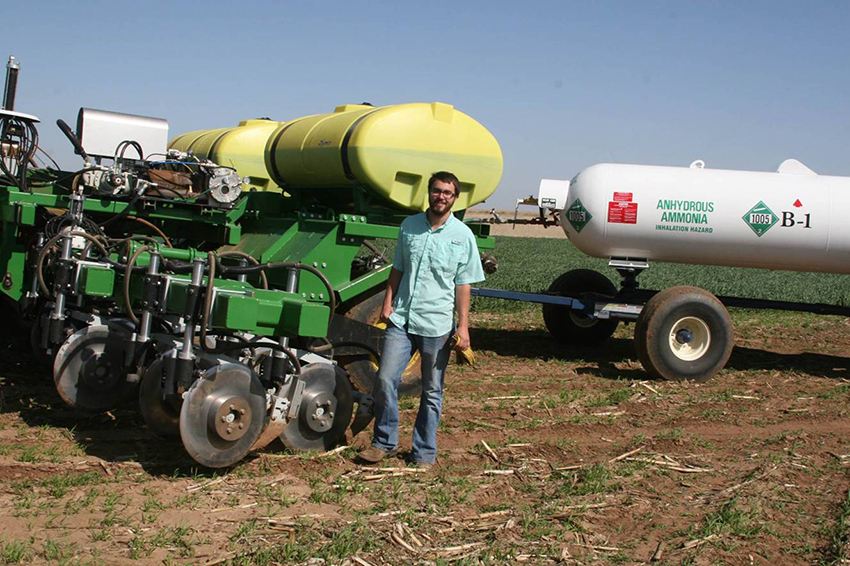 · The next generation gets the best possible start with NH3 as TAPPS and TAPPKTS at Dalhart, TX, Cody Cover.

· No since messing with tillage in Texas when the top yields are expected with Exactrix Uniformity and No-tillage.

· Mustang openers , P-51C, 3/8 x 24 with single edge meet or exceed expectations on the first 3,000 acres of irrigated production.

· Goodbye manure and hello to TAPPS, TAPPKTS and Micro, Nutrients in Site Specific application mode.

· Manganese and Boron has been selected out as a top addition to the TAPPS and TAPPKTS program in site specific application.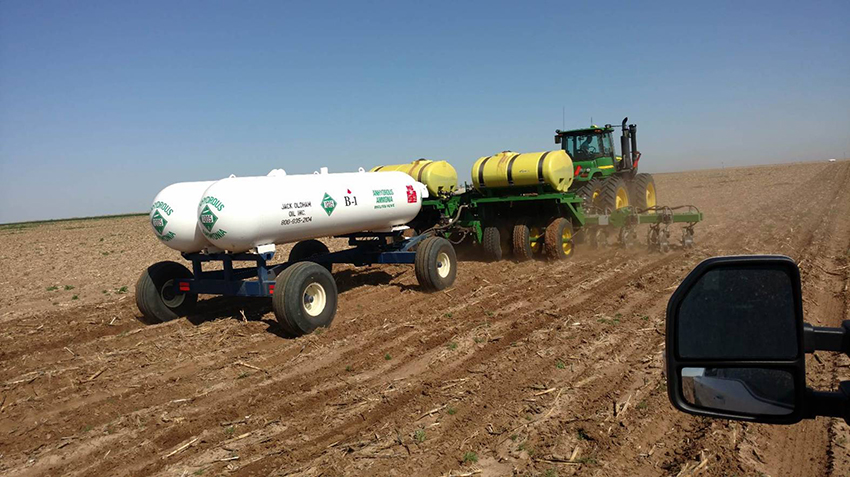 · Last of the tillage for Andy and Cody Cover. Moving to No-tillage with Exactrix high speed tool bar. Dalhart, TX close to the HQ of the XIT at Channing.

· This soil will produce 300 bushel per acre corn given the right nutrient formula and right variety.

· P-51C and P-51CUE, Mustang openers run deep at 7 to 8 inch depth on 15 inch centers and allow the planter to run in the field with the applicator.

· Timing nutrients to the maximum level of efficiency and better than side dressing.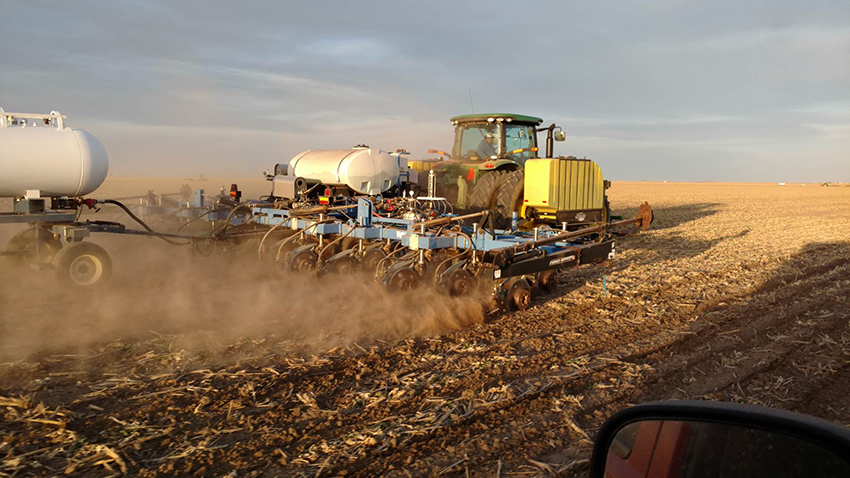 · Winter Canola requires P-51C, Mustang, side dressing to enhance winter survival and to produce highest possible yields with Micros Zn, Mn, Cu and B.

· Joel McClure banding Winter Canola in late February at Hugoton, KS, side dressing the new wonder crop of the Great Plains with Rubisco Hybrid Winter Canola varieties.

· Operating at speeds to 12 mph at low operating cost.

· NH3 at 82.4% Nitrogen, Mass Flow, The Big N, allows low cost nutrients to be formed up (acid base reaction) as TAPPS in high pH soils, Phosphate efficiency doubles with 1% CV of TAPPS application Exactrix style.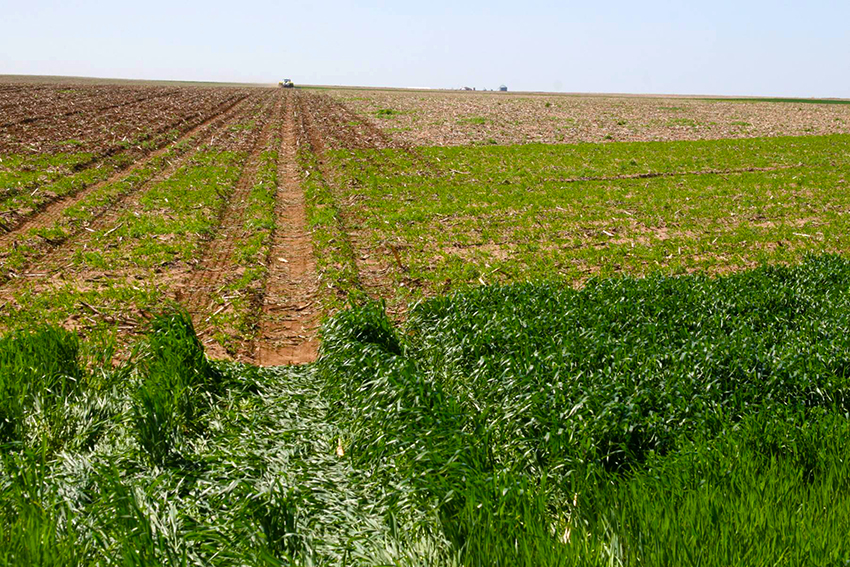 · An outstanding example of why cover cropping is used to hold the soil on the field margins at Dalhart, TX. April 15, 17.

· The outside tower radius and only a few corners are planted to winter wheat. The last tower radius lands are planted to Oats to allow for tillage of compacted lands.

· The cover crop selected has yet to be determined for 2018 but Dwarf Essex, Oats, and Turnips are in the running.

· This Exactrix applied field has a $150 per acre advantage over the old fashioned tillage system using pivot applied, 32-0-0 Salvage and Convenience Fertilizer.

· Exactrix TAPPS and TAPPKTS with Micro-Nutrients has the potential to forever change farming on the High Plains.

· This is some of the most difficult windblown soils of the Dust Bowl of the Dirty Thirties.

· A good chance that and Exactrix TAPPS No-tillage system with cover cropping is a money maker in continuous corn.

· Saving moisture and providing a high quality seed bed is the job of the Mustang P-51C openers.
How to feel good and still have a headache.
Dalhart, Texas on the XIT at Channing. Andy Cover, Cody Cover. May and early June of 2017.

3,000 acres of center pivot production on 2 different soil types of farms about 15 miles apart.

Irrigated production with Pioneer Products.

155 lbs. of N as Ammonium with Exactrix TAPPS and Ammoniated Zinc will raise a good crop.
Purple stripping of leaves.
Manganese Deficiency in emerging Corn at Dalhart, Texas, May 22, 17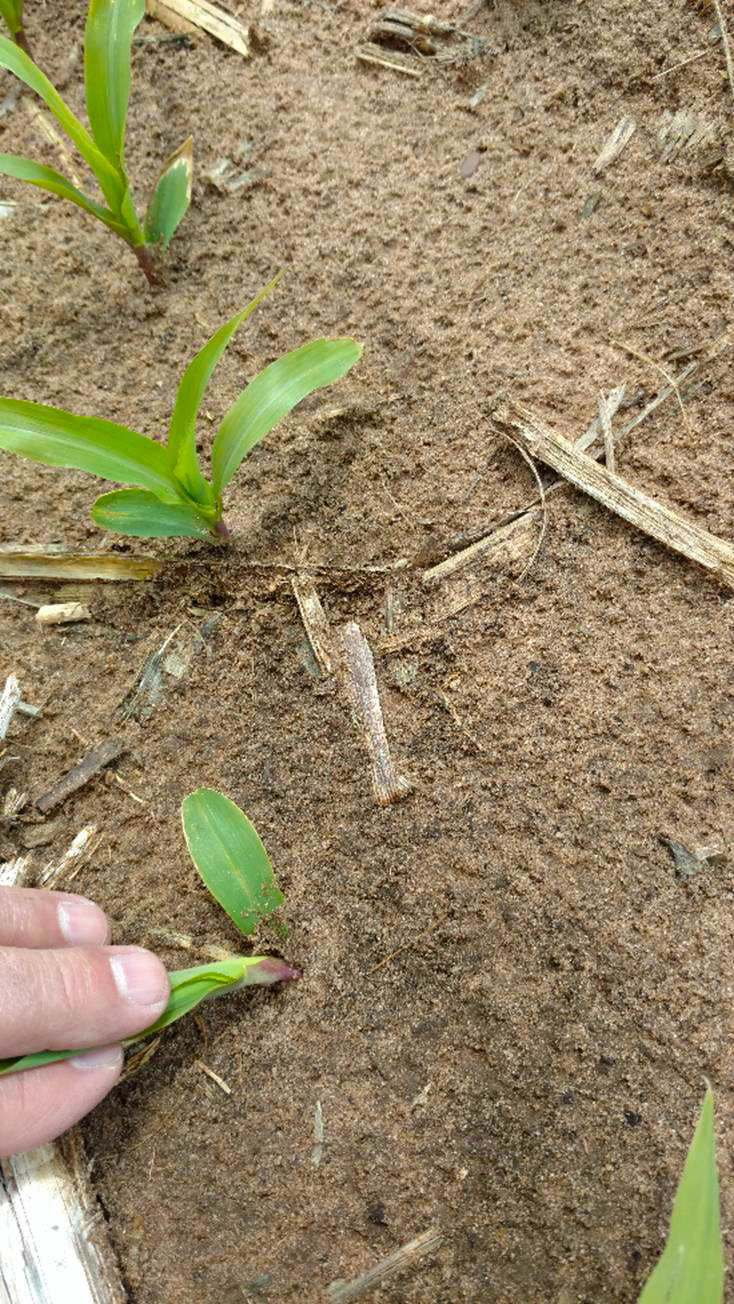 Boron deficiency, white freckles in veins of leaves.

Sandy low CEC soils of Dalhart, Texas on the XIT. May 22, 17, The Ursa year.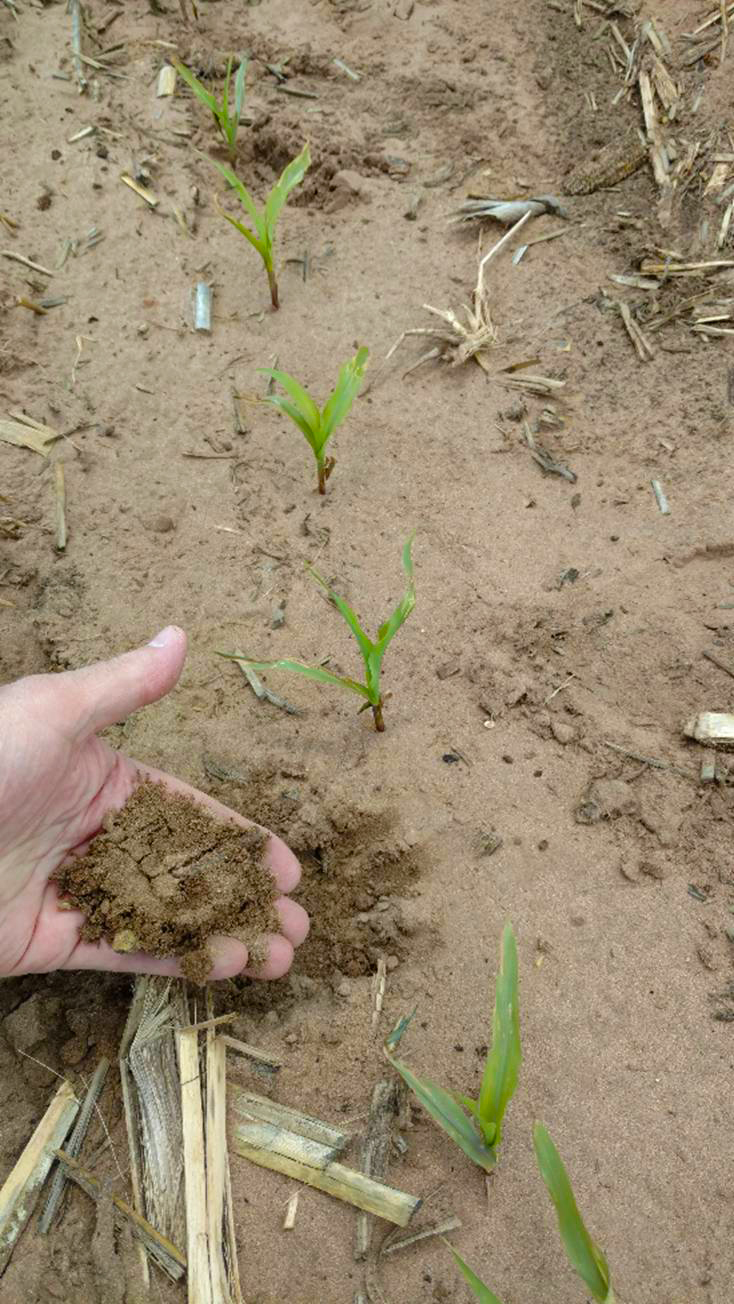 Manganese Purple Veining in leaves. White Freckles in Veins is Boron. Cold weather conditions. Dalhart, Texas.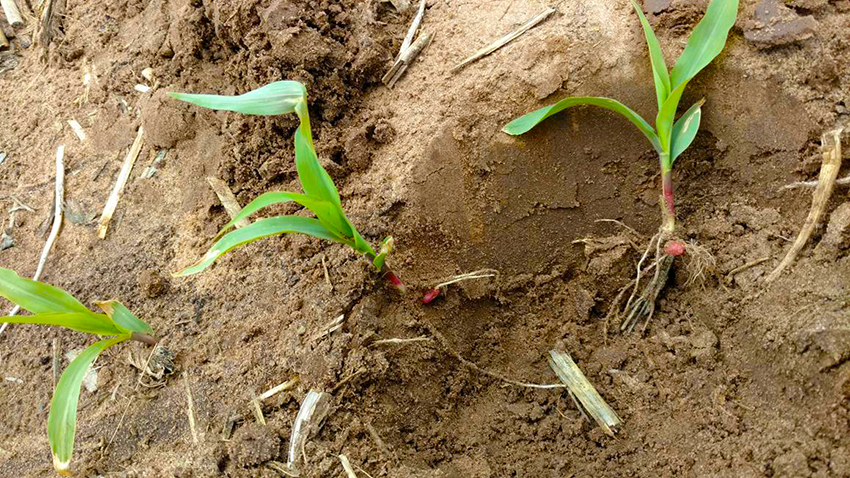 Corn planted directly on top of 15 inch band of Exactrix TAPPS with Zinc. 140 lbs. N as NH3, 8 gallons APP, 3 gallons ATS, .5 lb. AZn.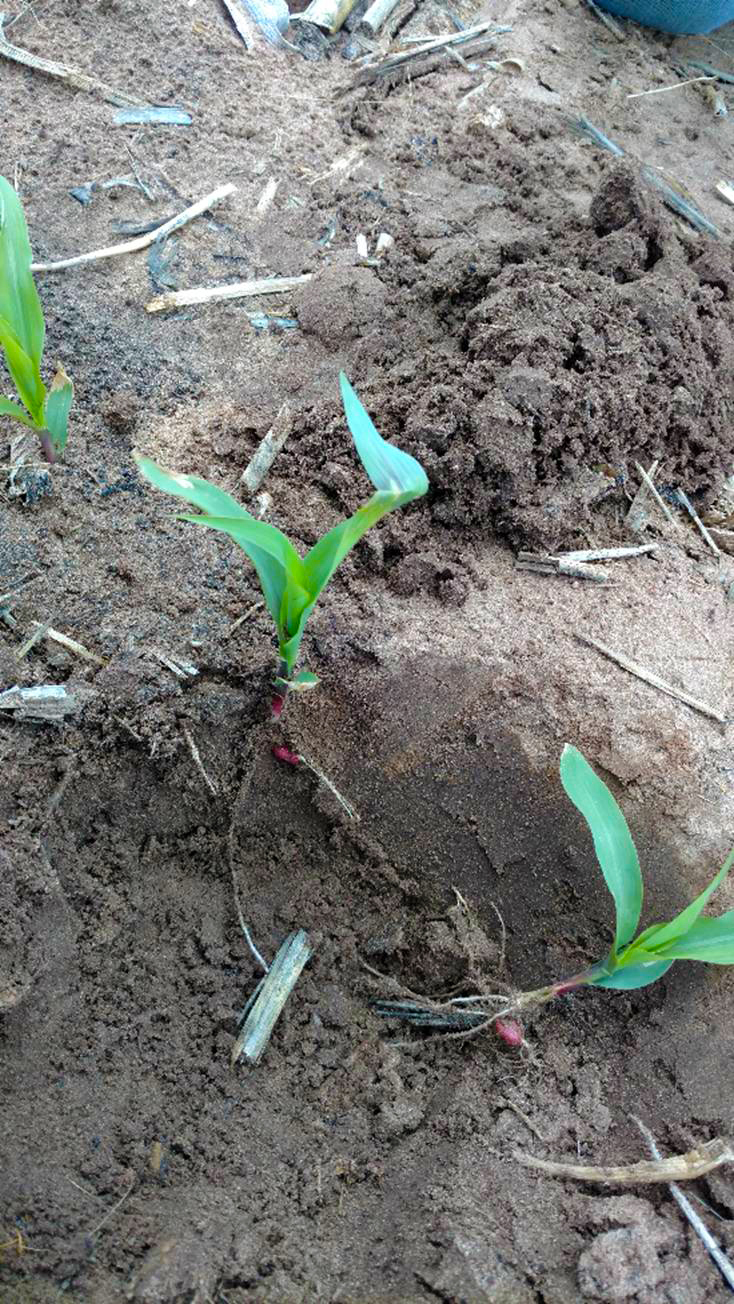 Good germination in cold conditions, band of TAPPS about 7 inch depth to 3 inch depth vermiculated.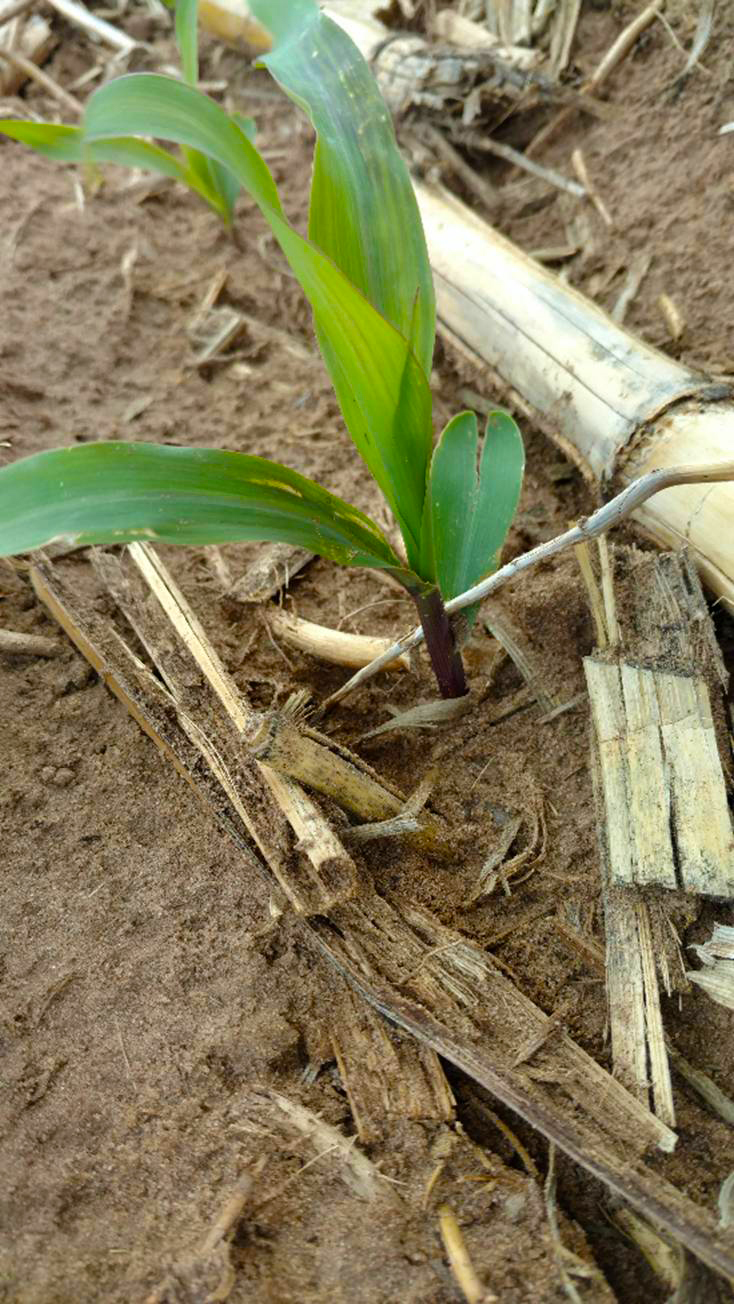 Purple Veins, Manganese, White Freckles, Boron. Cold weather emergence following late winter storm Ursa, April 28, 17

Problem soils and symptoms were determined to be in elevational pockets…about 25% to 30% of the irrigated pivot.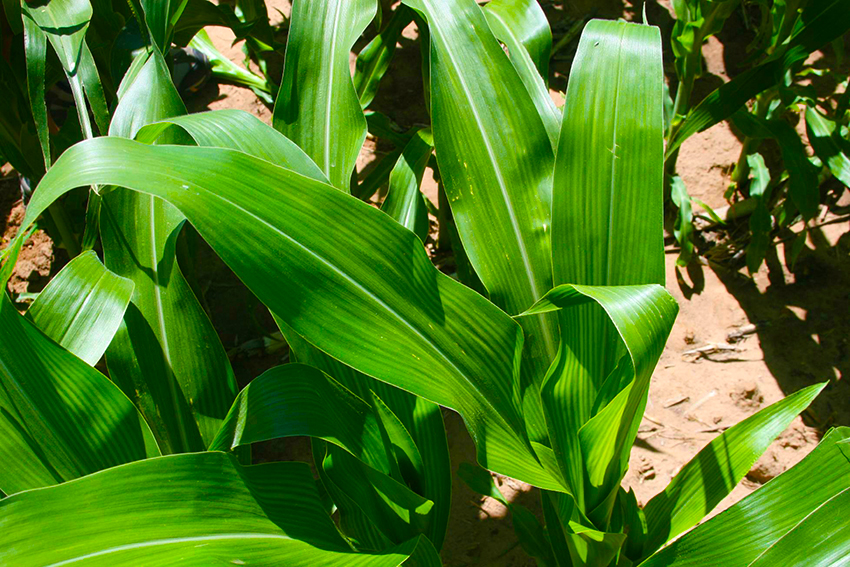 3 weeks later, tight whorls, Freckles and Veins. Boron and Manganese is limiting the Pioneer 1197.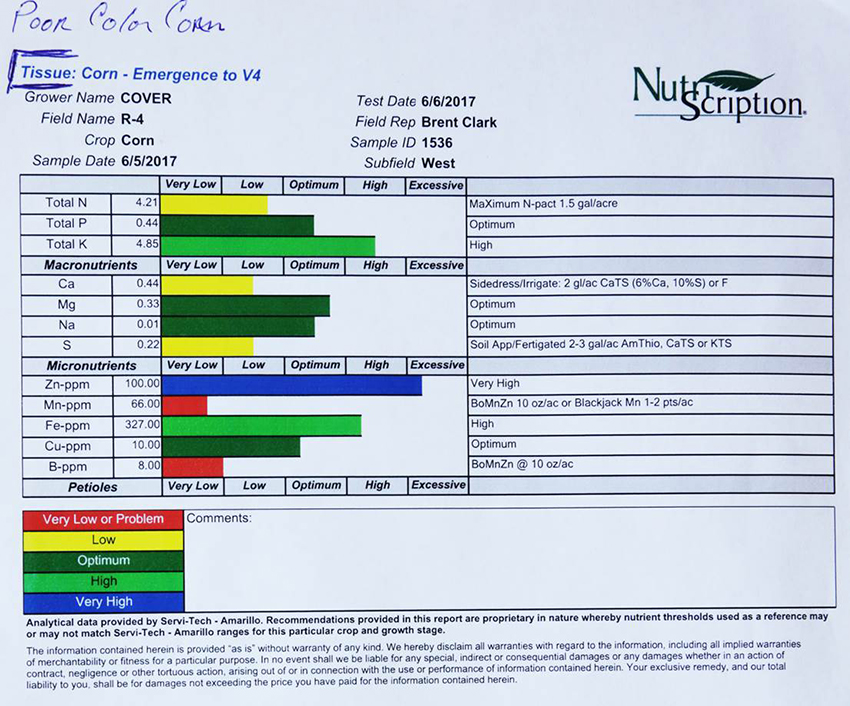 The Pioneer 1197, 30 inch Corn rows are located directly on top of one 15 inch band of TAPPS with AZn.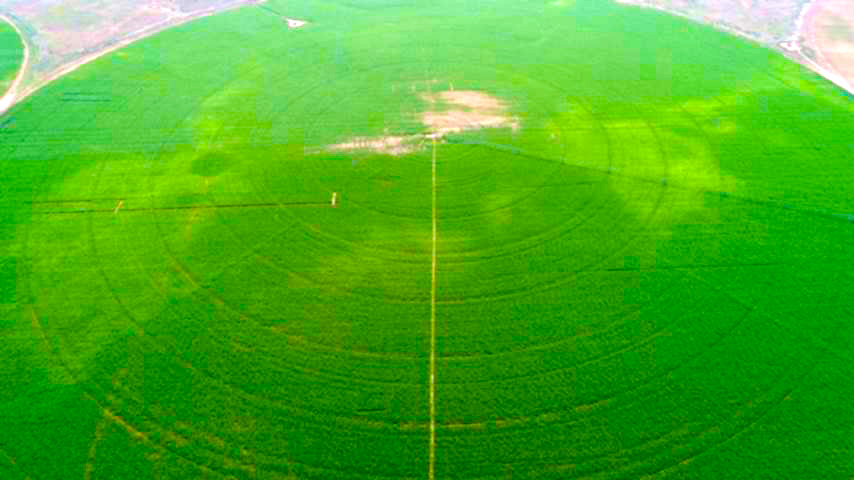 Sandy Soil, Blow Outs of the Great Depression, Dust Bowl Era of 1931 to 1939. Manure is not the solution, 80 plus years of problems unsolved.

1.2 million dollars of manure for 5 years on 3,000 acres, and still the problem was not identified.

Why? Commodity prices were too high recently allowing salvage and convenience fertilizer application (Manure, 32-0-0) masking the problem.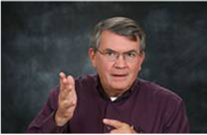 Guy J Swanson
Your Great Plains Reporter.
"Making Legendary Changes on the Great Plains"