Yields go up 13% in Canola.
Ursa environmental disaster, but Sulfur as Thio-Sul still made a big difference.
Just in, in time for the Hugoton Meeting, Dr. AJ Foster, KSU on the left and to the right Dr. Bert Bock TKI.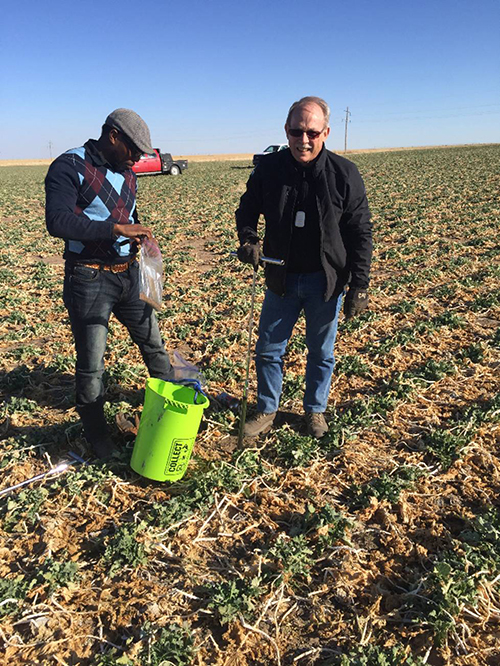 March 1, 2017, Soil Sampling Winter Canola prior to randomized and replicated plots of TAPPS and TAPPKTS at Hugoton, KS.

Tessenderlo Kerley Inc, TKI, sponsored plots carried out by AJ Foster of Kansas State University.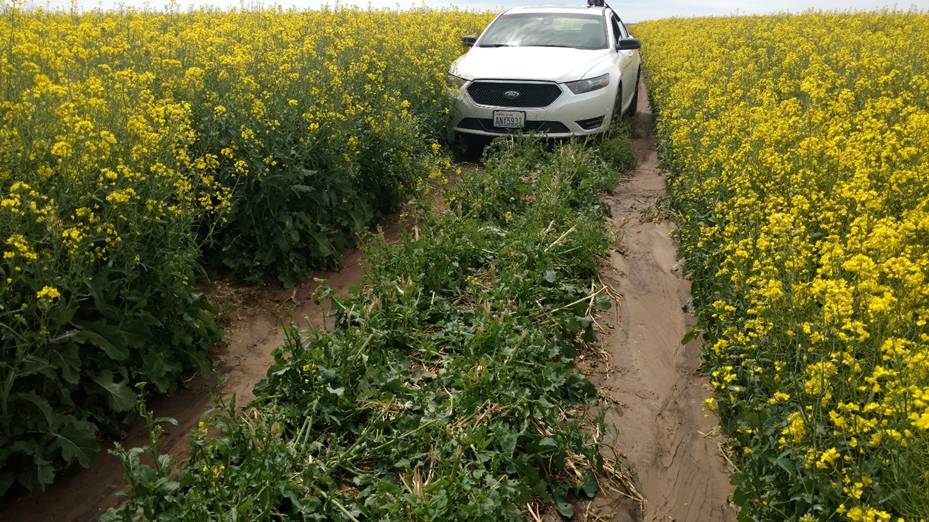 Barry Hittle and Joel McClure Hugoton Z road, Test Plot site on April 28th just prior to Winter Storm Ursa. Irrigated Production,

Potential set at 80 to 100 bushels per acre with Rubisco Hornet on the job. A great fall start.
TAPPS and TAPPKTS makes a difference when S is 30 lbs.

That is about 10.5 gallons of Thio-Sul. With about 4.8 gallons 10-34-0 or 18 P.

Total N in the plots was always 70 lbs. N and NH3 was adjusted between 51 to 65 lbs. N based on the N in the Thio-sul® and the APP.

Oil remained the same at 39%, Roundup Harvest Label, Cut Direct, Rubisco.

But yields jumped 13% from 23 bushels to 26 bushels when the rate of S was increased 150% from 20 lbs. S and 30 lbs. S.

Hugoton, Irrigated, Ursa Storm resulted in very low yields but, the discovery is still pretty simple.

It takes sulfur to make yields, and it may not be enough sulfur yet to get the protein to go up and get the oil premium.

We are reviewing additional Thio-sul® on the sandy soils of Hugoton, KS.
GJS.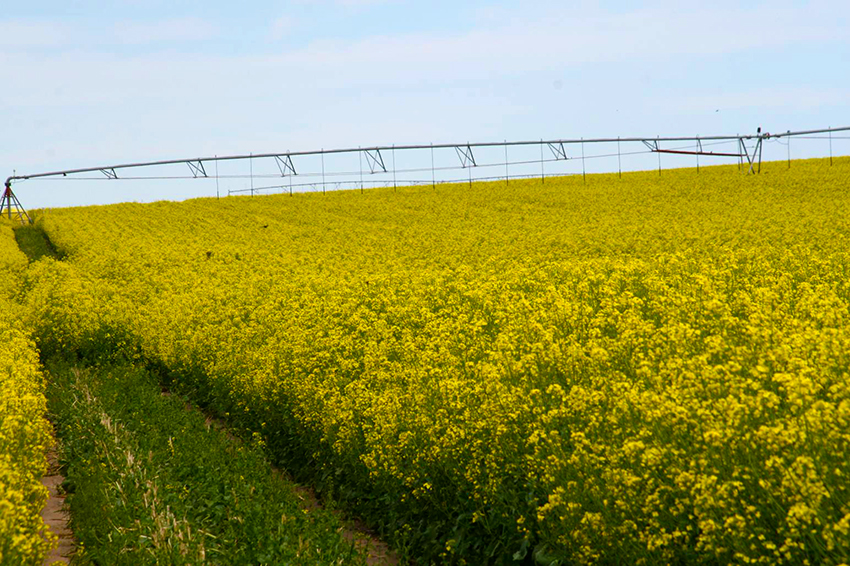 GJS, April 28, 17 just prior to Ursa and 15 inches of snow for 10 days. May 8th it began to grow again.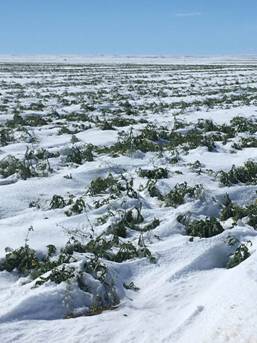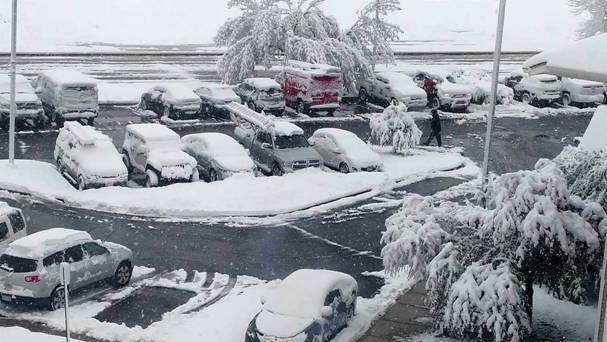 A seldom seen site, maybe a 100 year storm at Hugoton, KS all the way to Pueblo, Colorado.

By May 1, 2017 there were 20,000 dead cattle and producers were snowbound for 4 days. Only tractors went to town for supplies.

Low yields from Ursa. But applicable in randomized and replicated plots.

A ( 0 lb S)- 23.5 bu/ac

B (10 lb S) - 23 bu/ac

C (20 lb S) - 23 bu/ac

D (30 lb S) - 26 bu/ac

E (30 lb S + K2O) - 25 bu/ac

LSD 1.5 bu/ac

CV 5.00

P value 0.016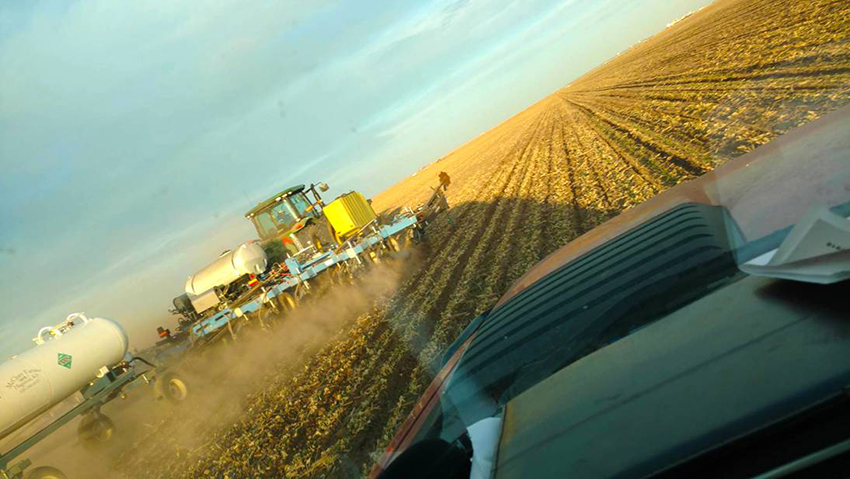 Plots were Mustang P-51C applied with Exactrix TAPPS and TAPPKTS in side-dress mode at 10 to 12 mph. Application depth was 7 to 8 inches.

The Exactrix Uniform equivalent of 116 lbs. N with old fashioned NH3 systems. The Exactrix equivalent of 36 lbs. P with older equipment or techniques to apply phosphate.

Applying 70 lbs. N total in the plots, NH3 varied from 51 to 65 lbs. N as NH3 depending on the Thio-sul rate.

No other nitrogen sources such as 32-0-0 were used. The crop prefers ammonic nitrogen, NH4.

Applying 18 lbs of P as 10-34-0 in all plots.

Applying Sulfur as Thio-sul® at 0,10,20 and 30 lbs S and also 30 lbs S as KTS. Zinc was included.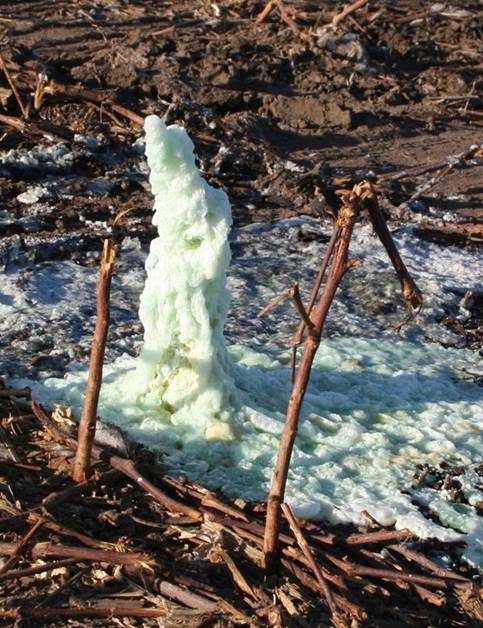 Crystallized TAPPS and TAPPKTS applied side dress with Mustang P-1C openers at 7 to 8 inch depths, McClure.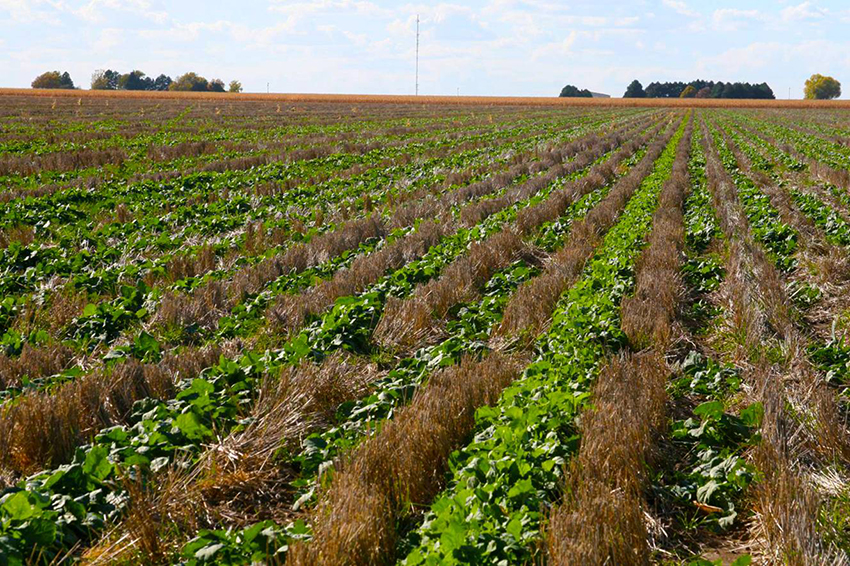 An irrigated 62 bushel per acre average at Goodland, KS, Hornet produced 39% oil content, Plant population was too high in some rows. Winter survival was a 2 rating. Naked strip tillage was required to provide light to the seedling winter canola plant. Mustang banded with TAPPS. Looking forward to an acreage increase of 4 times at Goodland, KS…expanding into dryland using Chemfallow in the rotation.

More information to come Aug 16, 2017 at Hugoton.
AJ Foster will make the presentation.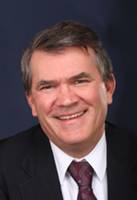 Your Great Plains Reporter,
Guy J Swanson.
---
Guy J Swanson Announces
Two Exactrix Meetings and Seminars.
Aug. 16, 2017. Winter Canola.
September 13, 2017 Corn, Husker Harvest Days, Grand Island.
Winter Canola Planting Seminar With SRS Technology.
A review of 2017 Winter Canola production techniques.
Flea Flicker Option in Winter Canola.
Get the Correct Information.
SEE YOU THERE!
Winter Canola Planting Seminar With SRS Technology.
A review of 2017 Winter Canola production techniques.
You must call 509 535 9925 to sign-up.

Demonstration of SRS in Winter Canola Planting.

The acres are moving upward at exponential trends in Kansas.

Time to reflect and get the top producers on the front burner for answers.

No story left untold…Get Answers fast and improve profitability.
Coffee and donuts at 8:30 AM…find your spot and bring your note book.

Aug 16, 2017, Hugoton, Kansas, Hugoton Country Club and Golf Course.
8:30 AM door prize from Rubisco and Exactrix.
9:00 AM to 1:00 PM with hosted lunch.
Planting Winter Canola for Maximum Yields.
Seed Row Saturation Explained.
Side Dressing of Irrigated Winter Canola. Changes and plans.

Winter Canola Insurance Programs Explained.
Setting Yield Goals in Irrigated Production of Winter Canola.
What are the limiting factors?
Leaders and Presentations.
Leadoff discussion and presentations.

9:00, Emanuel Williams, Channel, Reviews 97 day corn leading into Irrigated Winter Canola. Rotation with Winter Wheat is not the only choice in irrigated Winter Canola production. We will also discuss dryland production of Winter Canola and Chemfallow techniques with SRS.
9:30 AJ Foster Reviews KSU/TKI test plots with Rubisco Winter Canola…Conclusion of 2017 crop
Roundtable discussions with screen projections.
10:00 SRS reviewed, Developing a 99% stand with planted winter Canola. Joel McClure, No-till Producer with SRS technology.
10:15 Winter Canola, irrigated and dryland insurance programs.
10:30 Brian Caldbeck, Rubisco Seeds, Agronomist. New releases and propagation updates on Winter Canola on the Great Plains.
11:00 Demonstration of Deere 1710 SRS water Seed Row Saturation. Field Demonstration, Guy Swanson, Exactrix, Seed Row Saturation, Engineer.
1:00 Back from the field and demonstration… Lunch Served.

Other subjects in the Round Table.
RRV Canola Metering Plates and new developments.
Seed Row Saturation Delivery, Deere 1710, Orders for tubes.
Sulfur and Micro-nutrients in Winter Canola production.
Zn Sulfate,
Hydrogen Peroxide.
Merchant Grade Phosphoric Acid.
KMag.
KTS and Thio-sul increase protein and oil in TAPPS and TAPPKTS.

Lunch at 1:00 PM.
Who will attend.
Lance and Ronnie Helberg from Lohn, Texas.
Andy and Cody Cover from Dalhart, Texas,
Aaron and Howard Bartel from Weatherford, OK.
Greg and Blaine Sederstrom from Goodland, KS.
Dale Bathurst and Dr. Lawrence Stoskoph, Talmage (Abilene), KS.
Dick Sterret, Quinter, KS.
Larry Murphy, Manhattan.
---
Husker Harvest Days, Grand Island, Nebraska.

Exactrix 40 foot, 7x7 tool bar on display.
Sept. 12, 13, 14, 2017.

Get a special introduction of the Positive Down-pressure, TC bar with lift assist, 40 to 45 feet, with 2KC Series 3 and 2KM TAPPS formulators.

Mustang P-51 openers meet or exceed producer expectations at 7 inch banding depths.



---