Return To Main Page
See all our previous broadcasts
Alfalfa Maintained To Maximum Production.
Alfalfa Recovery from old 7 year stands.
July 17, 19, Ulysses, KS, On the Arkansas River Flood Plain at Bear Lake.
Alfalfa for the Kansas dairies.
An ideal business opportunity to save old stands.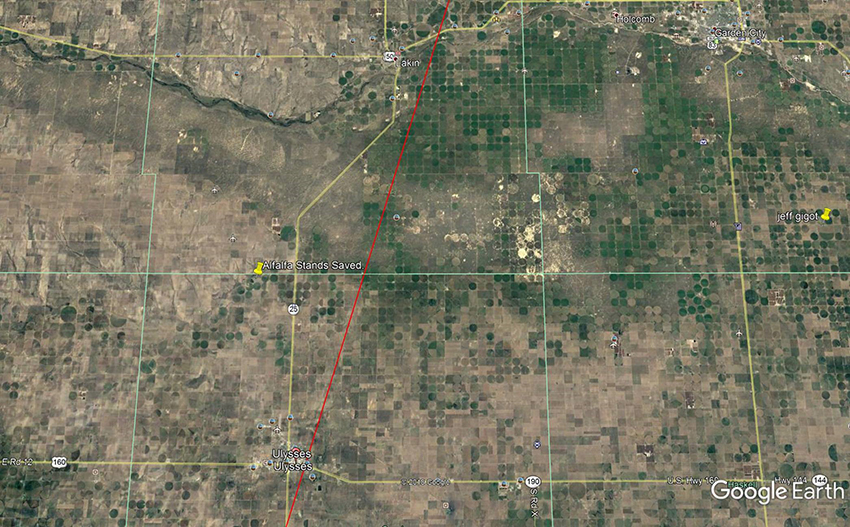 1
Overcoming Alfalfa Decline In Kansas Conditions., After four cuttings at September 3, 2019.
Banding very deep in established Alfalfa stands with Mustang Openers.
What happened to old Alfalfa stands in production decline?
A vermiculated band of concentrated 1% CV, crystalized chemistry of TAPPKTS plus Micros

was applied.

TAPPKTS

is combined with 8 inch deep banding with Exactrix Mustangs

openers.

The Mustangs and Exactrix TAPPKTS plus micros and Fulvic acid

did stimulate a

n

Alfalfa stand to regenerate.
Why Band with TAPPKTS and Mustangs? The Alfalfa stand was no longer economical to keep in production.
Evidently the manure applications were no longer working.

Compaction must be considered.

The soils were depleted of vital nutrients in the root zone.

Too much manure may have been applied on sandy soils of Arkansas River, geological event.
Gary Dick, an outstanding production agronomist, formulated a plan with Kevin Shapland in 2019.
How to bring back old stands of Alfalfa using Mustang Openers and TAPPKTS with Micros and Fulvic Acid.
The soil is basically blow sand of the southern sand hills of the Arkansas River in Grant County, Kansas and not too far from Garden City, KS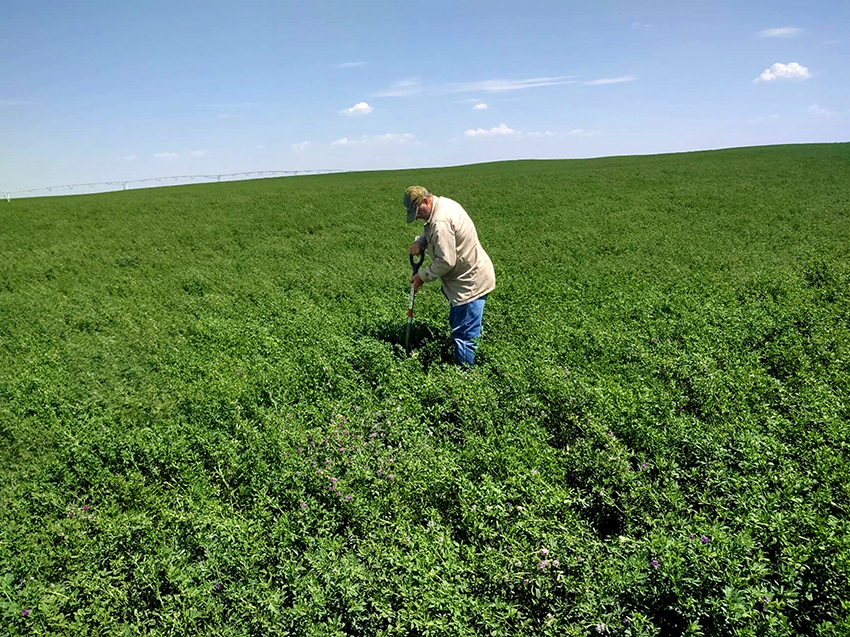 2
Gary Dick of Tri-Rotor inspects old alfalfa stands at 3rd cutting.
3
Headed for Green Chop in about 5 days.
Yields will be available in 30 days.
One more cutting for sure….the 4th cutting will be measured closely.
Gary does not recommend a 5th cutting typically to maintain a better plant recovery going into the winter.
Fall or 5th cutting might be a really good time to band TAPPKTS into the crop….leaving plenty of time for the roots to re-develop.
The heavy chopper traffic compaction can also be reduced by banding to 8 inch depth.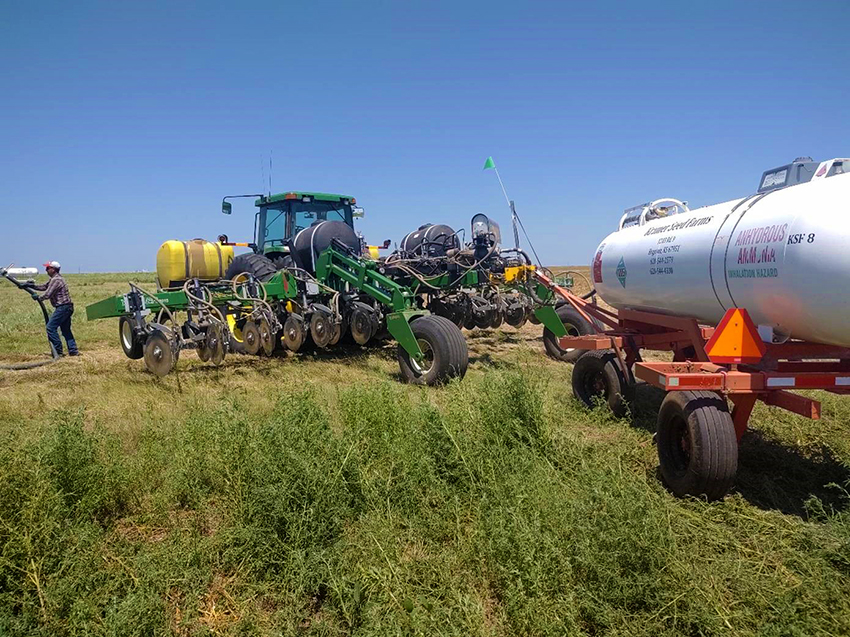 4
Mustang Recovery of Alfalfa….Banded with Exactrix Tool Bar using TAPPKTS, micros and Fulvic acid into old stands of take-out Alfalfa. Set up 15 inch band spacing.
"Mustang Openers banding 8 inches deep on 15 inch centers also altered surface compaction. Harvesting Machinery and Manure Application Machinery had set up surface compaction which may have slowed soil movement and uniformity of irrigation water.: GJS
Here is a video.
Recovery of old Alfalfa stands.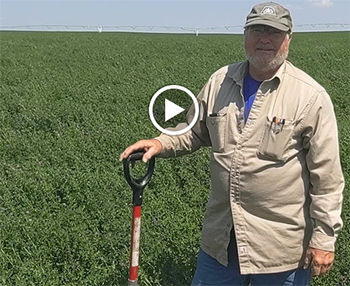 5
Powerful economics on blow sand soils of the Great Plains, South of the Arkansas River and just due north of the Cimarron River in Grant County Kansas.
Manure over the top goes about so far in these very sandy soils of the Arkansas River valley and the Cimarron and right along the Santa Fe Trai. lSupplying the giant dairies of up to 15,000 head of Black and Whites of South Western Kansas.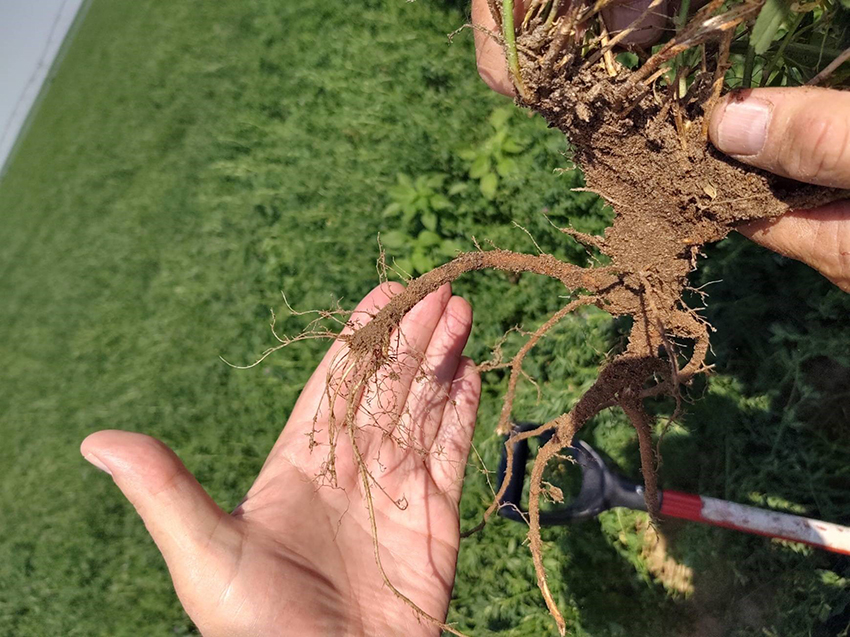 6
New roots develop where the blade has cut the old root. TAPPKTS with Micros and Fulvic in Vermiculated Bands.
The Exactrix Mustang Banding occurred in April of 2019.
The full recovery occurred in the 3rd cutting operations. Recovery of the Alfalfa stand is critical to the overall profitability of forage.
NH3 at 75 lbs. N.
APP and Potassium Thio-sulfate combined at 15 gallons and Micro Max, Micro Nutrients and 50/50 Humic and Fulvic.
The stand is 7 years of age…and was not going into production in 2019 until this new process was discovered.
The combination is required….since manure applications can never make up the difference in Alfalfa.
Gary Dick reports that Alfalfa can only generate about 80% of its nitrogen need in soils around Ulysses, Kansas on the Ogallala aquifer.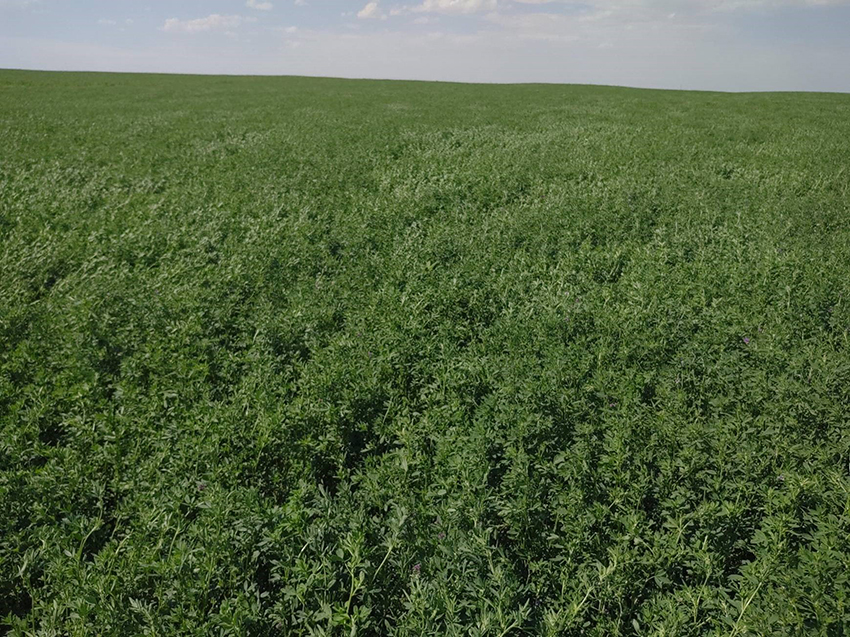 7
Hard to believe that this stand was headed for the alfalfa graveyard.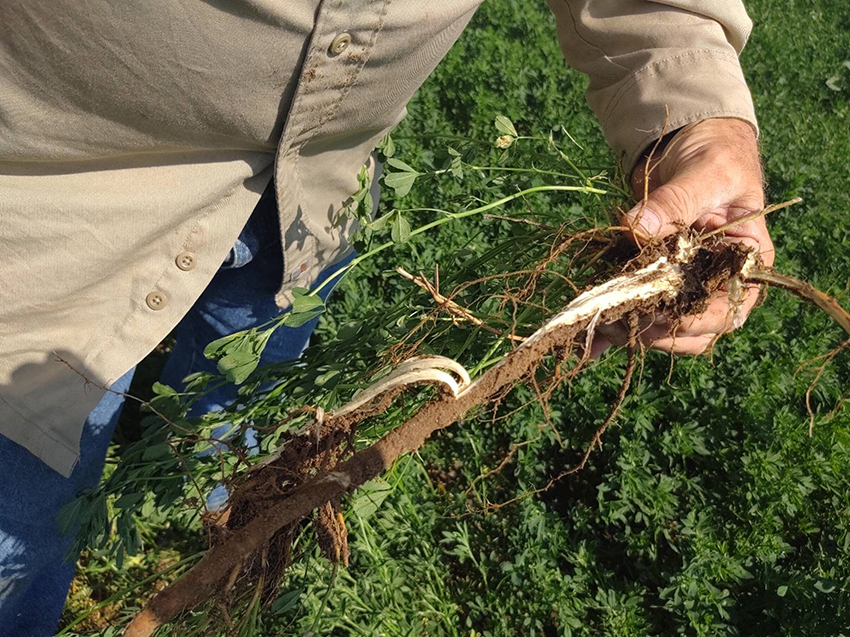 8
Inspection of the 7 year old root systems showed good root health.
The unknown factor is the Rhizobia. The Rhizobia did not appear to be active.
Gary is a plant pathologist and entomologist. Dual degrees from CSU and KSU.
He lives in Longmont, Colorado in the winter months.
Double your pleasure,
Double Cropping SW Kansas,
Banding Deep, Running Fast and doing it No-till.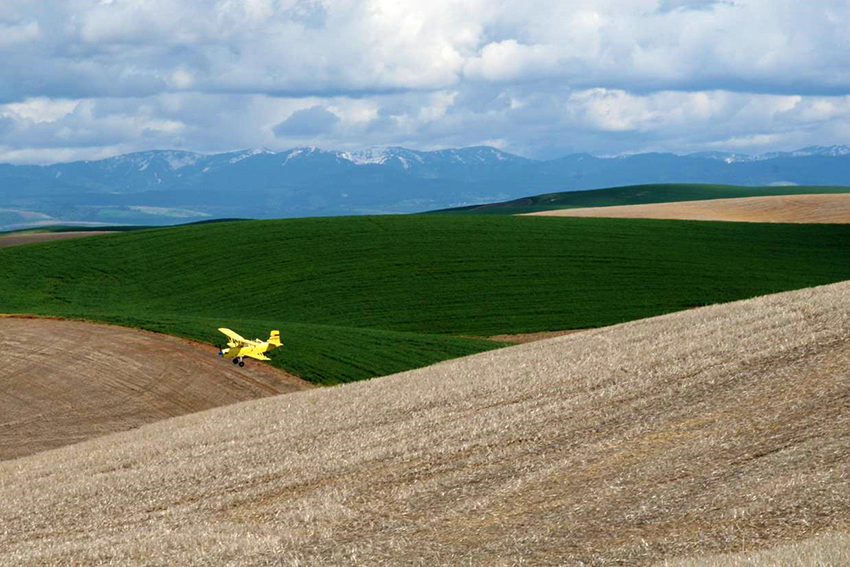 9
At Walla Walla, Washington at the edge of Blue Mountains. Right next to Touchet River. The fishery is about 4 and 15 miles away and always loaded with fall migration of Steelhead in large and small rivers. The Touchet and the Walla Walla Rivers are small compared to the Columbia and Snake which are within 30 miles. These clean running Blue Mountain small rivers are mountain spring fed. They are famous to sportsmen seeking migratory fish.
It is important to conserve.

Every inch of rainfall and snow fall goes into the ground where it falls.

Year after year No-tillage is more and more impressive. Producers report the highest yields at lowest cost per bushel produced.

Stop the soil erosion dead in it's tracks with Exactrix Mustang Banding at 8 inch depth.

Run up and down slope with no erosive events. Fertilizer is on target for present and future crops with deep rooted winter wheat. Rooted deep up to 8 feet deep.

Make sure you have about 35 years of continuous No-till farming with winter wheat, spring wheat and chem fallow rotation.
Check out the TAPPKTS bands, the depth of bands and selected soil movement.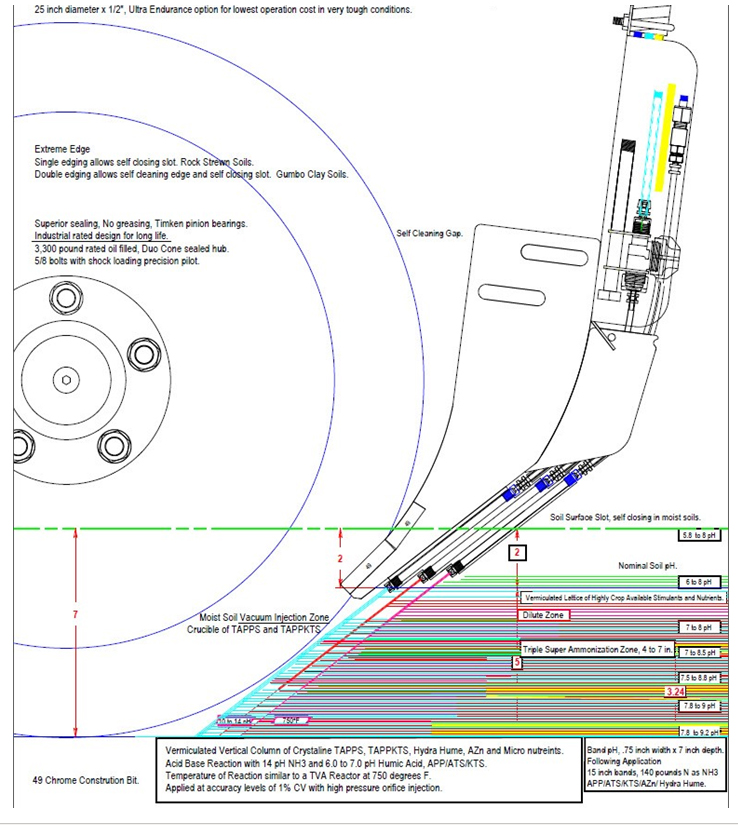 10
Go Deep, Go Fast, In No-till at 1% CV levels of uniformity. Less is truly More.
A video camera installed at the injector of the opener provides constant feedback to the operator as to the band placement. . The bottom of the P-51C slot is 7 to 8 inches. This is the negative pressure area and is normally visible in most soil types.
At set up…The injector foot should rub the od of the blade edge at the 2.5 inch depth of the injector. A blade and injector gap of 3/8 to ½ inch is acceptable. This means the rocker block should be reset every 1 inch of blade Diameter wear. If wear is excessive a ½ inch blade can be used.
Several pictures have been included in previous Exactrix and Bumper Times reports showing very wide gaps between the Yielder® blade and the Exactrix® injector foot.
These very wide opener gap positions are not approved by Exactrix in Corn production….but tolerated in dryland wheat production when the machine must be stretched to 20,000 acres in tough conditions. Whereby deadlines are imminent and the wear of the unprotected Injector feet are destroyed in the salvage operation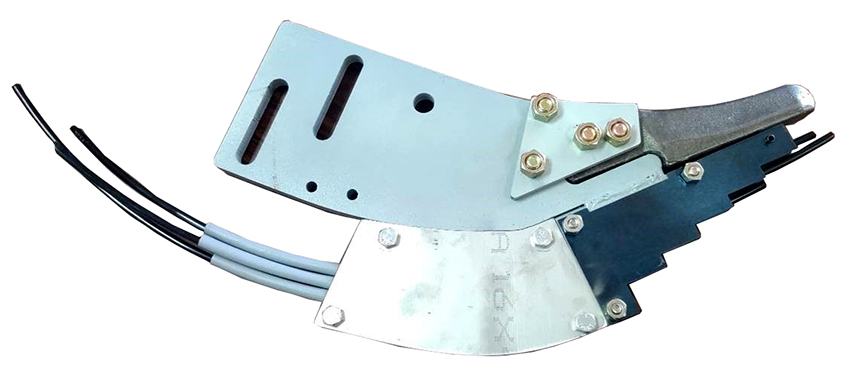 11
Gyros are most likely removed when banding to 8 inch depths.….unless the producer desires to run at 10 to 12 mph at 45 feet on 15 inch spacing.
The Mustang Tool Bar shown below at Munday, Texas averaged 9.5 mph over 20,000 acres based on the controller. This is a 4515, positive down pressure, 7 x 7 tool bar.
The machine was not set up correctly at end of the season….the Gyros should be removed to provide much deeper banding for future crops….and the injector foot should have been moved forward to reduce wear. The Injector foot must operate in the shadow of the blade…….by repining the tool holder to the forward position.
The Mustang injector feet were badly worn since they were outside the wear protection zone of the blade….and replaceable bit design was installed.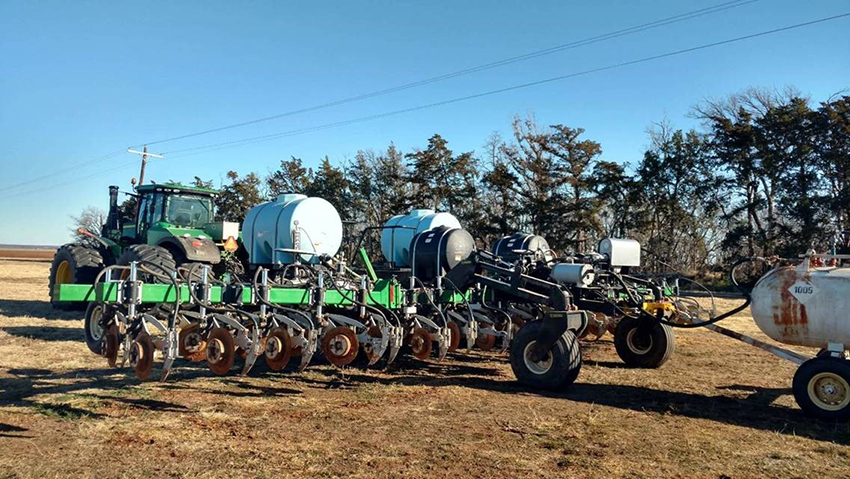 12
These very wide opener injector foot gap positions are not approved by Exactrix in Corn production….but tolerated in Texas dryland wheat production at 50 to 75 lbs. N and 8 gallons APP/ATS or KTS when the machine must be stretched to 20,000 acres in tough fall and winter conditions.
Spacing the Injector Foot further back is not going to meet the needs of Rotational Band Loading, long term with bands at 7 to 8 inch depths being most desirable in Texas conditions.
Advanced and early wear begins to occur on the Injector Foot when spaced further back. This wear can be avoided if the Injector foot rubs the blade at initial set up…and the gap becomes no greater than 3/8 inch. If the blade is wearing faster than 1,000 acres per adjustment or 2,000 acres per adjustment is preferred…then a ½ inch blade can be installed at ½ x 24.9 x Elliptical Extreme Double edge.
An Exactrix Yielder single edge blade offers the most wear life, protection of the injector foot and will make some compromise in soil movement as shown below. A single edge blades should be tested on each new machine…they must be set up in match sets to cancel each other. Qty. 2, one set up left and one set up right.
Many producers prefer Yielder single edge blades with some soil movement. There are two types of single edge… standard 2.5 and extreme 4 inch single edge The edge is blunt at .060 to .090 width to with stand rocks.
It comes down to soil type, conditions and depth of band and the crop. Cover crop also changes the soil movement.
Here is a good picture of Extreme Single Edge, 26.5 diameter, CUE on the steepest farmland in the world at Walla Walla in Chemfallow Winter Wheat/Spring Wheat Rotation.
13
An interesting pattern, This is not 15 inch band spacing of the Great Plains.
This is 12 inch band spacing running at 8 inch depth with single edge openers with opposed edges facing each pair.
Save Millions of Dollars over your career by running straight AB lines in steep slopes.

The practice of hill climbing is not erosive in winter wheat of Palouse/Walla Walla soils with a Chemfallow, Spring Wheat and Winter Wheat rotation. In most cases producers prefer to go to maximum depth of 8 inches. TAPPS and TAPPKTS can to perform at highest efficiency with Rotational Band Loading for many future crops.


The science is more like a CNC machine tool that must handle different types of steel, different feeding speeds, with different types of finish. The correct tool option includes several type of injector feet and several types of blade edging in several diameters. The machine tool must handle all different scenarios.
As conditions and crops change the tooling can be changed. The same machine will work in all soil types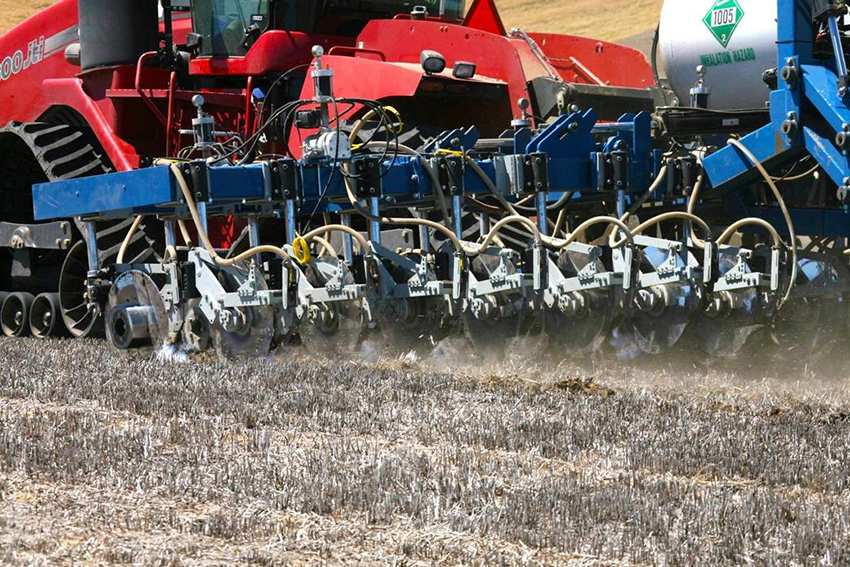 14
P-51CUE. Extreme Single Edge. Standard Injector Foot. ½ x 26.5 single edge.
Raising up the tool bar in Chemfallow with 26.5 inch diameter x ½ blades banding at depths of 8 inches.

Rotational Band Loading for high and technically exceptional root targeting in Winter Wheat and all future crops.
The TAPPKTS and TAPPS Bands must be deep.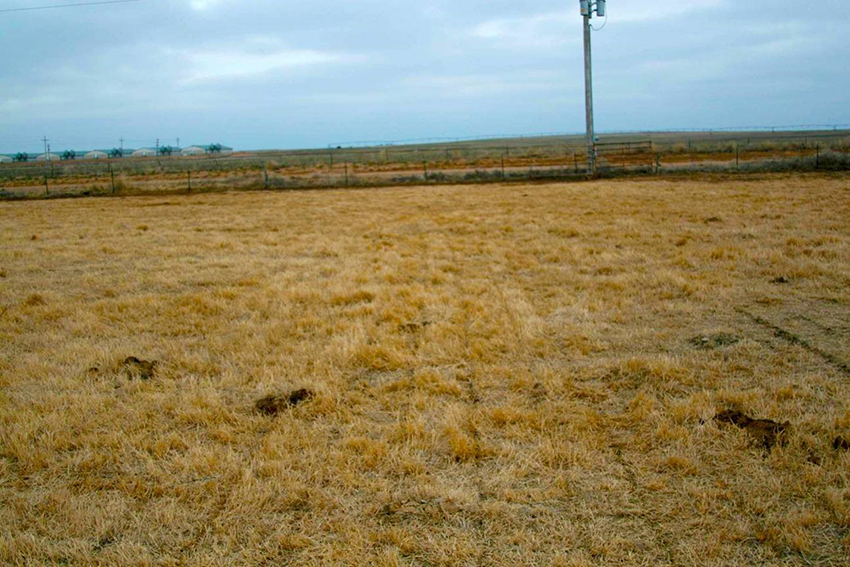 15
Banding Deep in Sod…..Coastal Bermuda Grass has big need for KTS and NH3 or ammonium and not nitrate.
The crop prefers ammonium in the deck in the root zone.

The crop is an exceptional performer with KTS banded deep.

TAPPKTS deletes 250 lbs. to 500 lbs. per acre of top dressed KCL from the mix.

Chloride of KCL is avoided with 10 gallons of KTS.

TAPPKTS provides banded crop available K and two types of S and performance goes up 500% as compared to KCL top dressed.

Keeping top dressed nutrients away from grazing and feeding is a priority.

The forage yield goal is 16 tons per acre of 16.5 per cent protein.

The demonstration Mustang tool bar 3015 is set up with two types of injectors, 1. Standard and 2. Replaceable Bit Threaded Carbide.
Also the demonstration tool bar is set up with 3 different types of blades including single edge.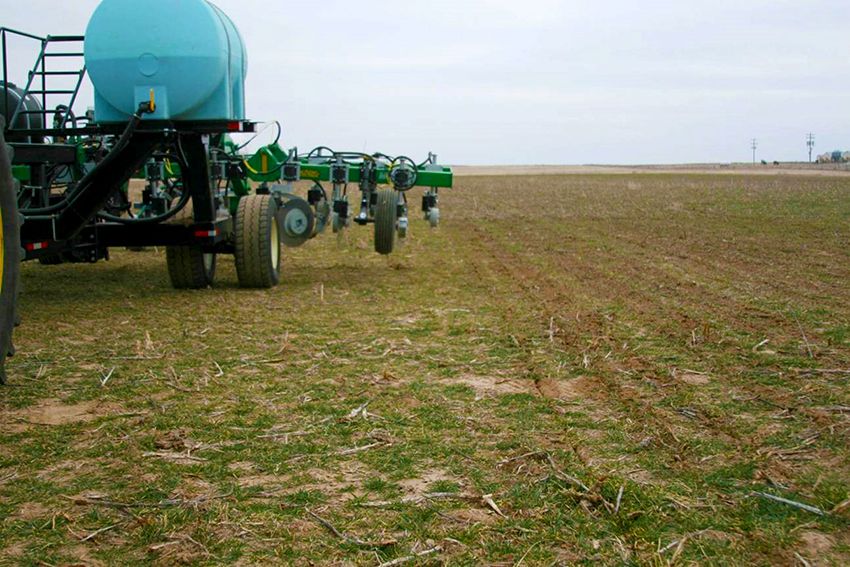 16
The Demonstration Machine Feb. 14, 2019 at Hugoton with different blades and different injectors.
Two blades are single edge.
The winter wheat is a TAM 212…designed for grazing and grain. The wheat crop had a record performance for carrying stocker feeders. The crop broke dormancy on time. The following double crop at this pivot was planted to Sudan Sorghum for Feed and further grazing.
---
Banding into wheat stubble for double crop soybeans. A twelve row Deere planter running on top of 15 inch bands of TAPPKTS…within 45 minutes of each machine pass.
40 lbs. N as NH3, 5 gallons of KTS and 5 gallons of APP. Hugoton KS. July 16, 19. A goal of 45 bushel following a good winter wheat crop of 100 bushel.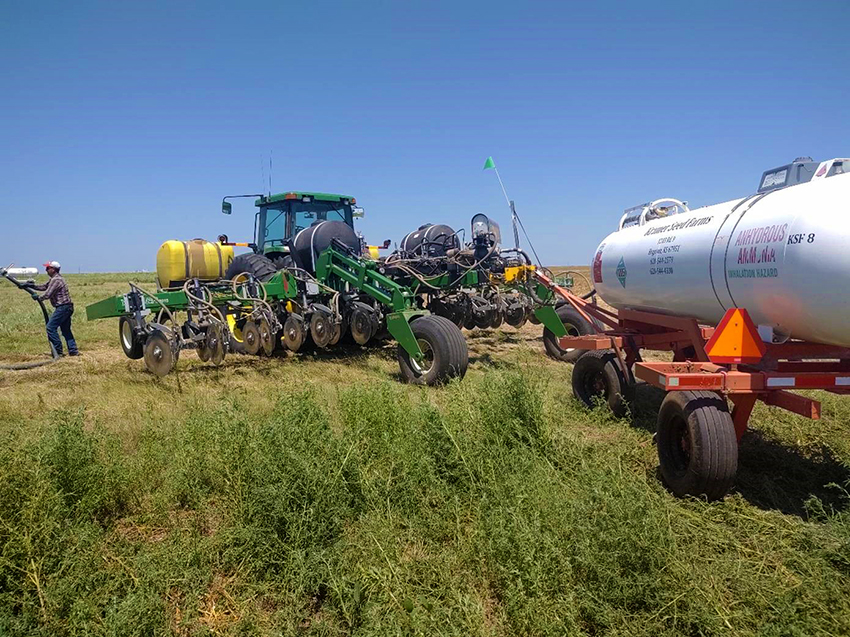 17
A quick fill-up of APP/KTS to form Tri-Ammonium Poly Phosphate Potassium Sulfate.
Micros must be included as noted. Zn, Mn, Fe, Cu and B especially when Roundup applications are in the system.

Fulvic acid works well in low CEC soil when ammoniated.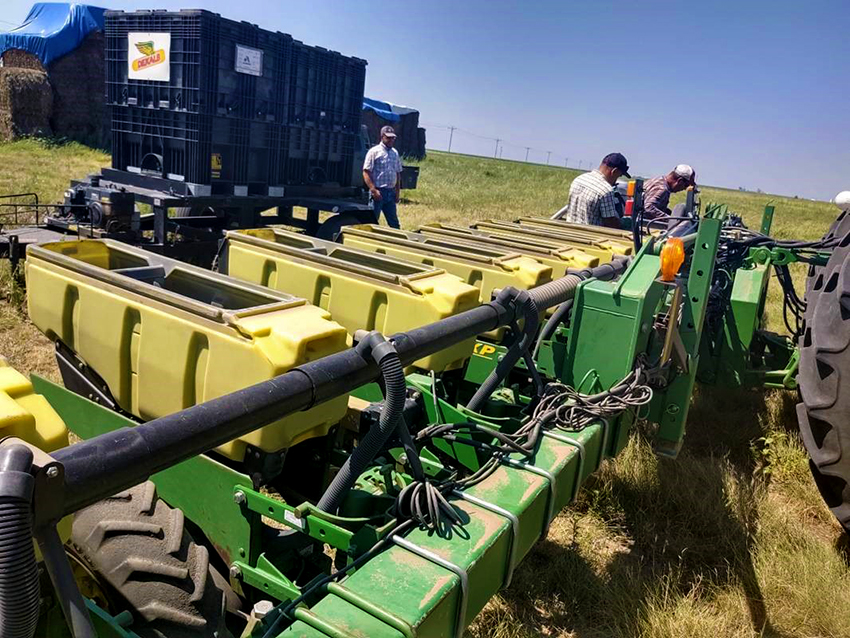 18
Planting Double Crop Soybeans, July 16 requires a frost free period to October 1 to 10 at Hugoton, KS.
Pivots and TAPPKTS nutrients move the emerging soybean ahead in maturity.

Back up nitrogen (46 lbs. N) is required since the wheat crop has absorbed most the available N from the soil.

A goal of 45 bushel per acre is normal which combines with 100 bushel per acre Certified seed wheat.


19
Inoculant goes in the seed box as the planter heads back to field.
The planter lays down seed on top of 7 inch TAPPKTS deep bands.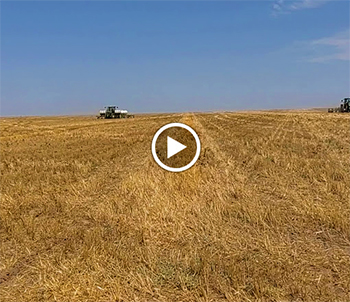 20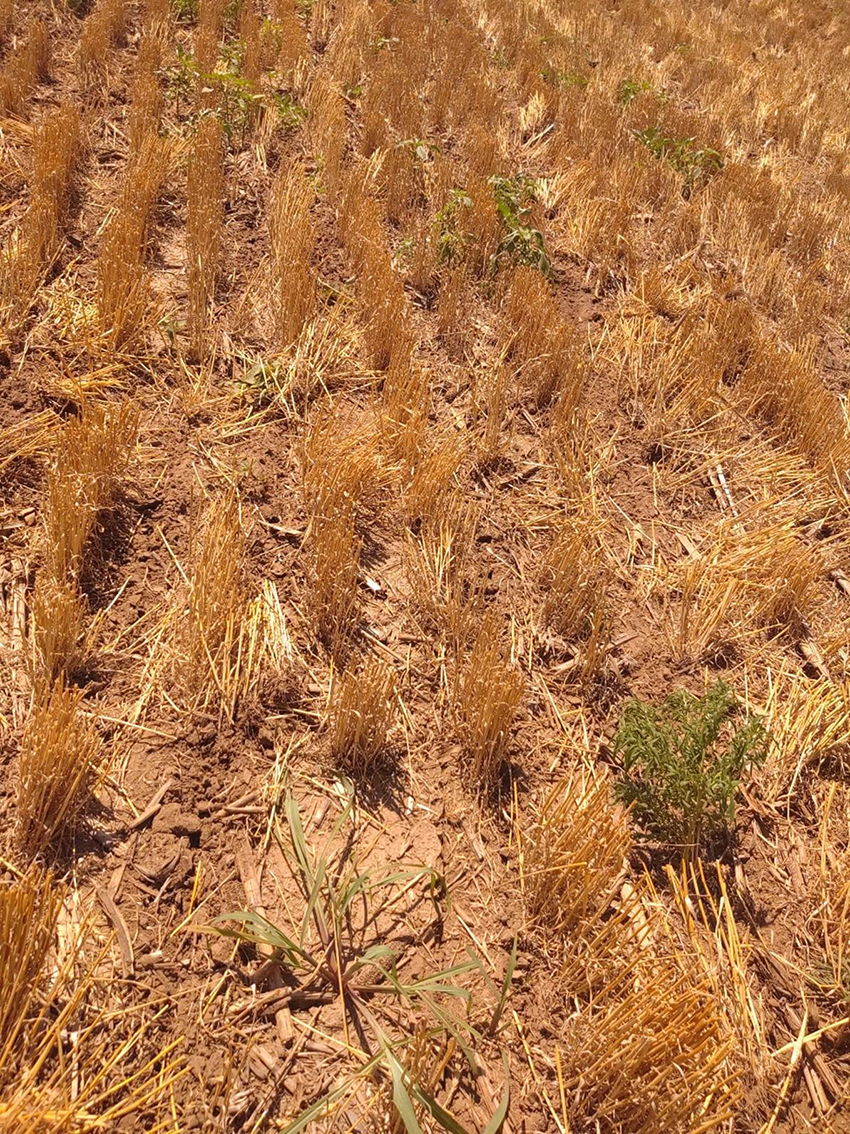 21
Planting 30 inch directly on top of one dedicated 15 inch TAPPKTS vermiculated bands at Hugoton July 16, 2019.
Using a very simple Deere 30 inch planter.

Planting soybeans into moisture.
Maturity typically moves ahead by 10 days with bands directly under the row with TAPPKTS.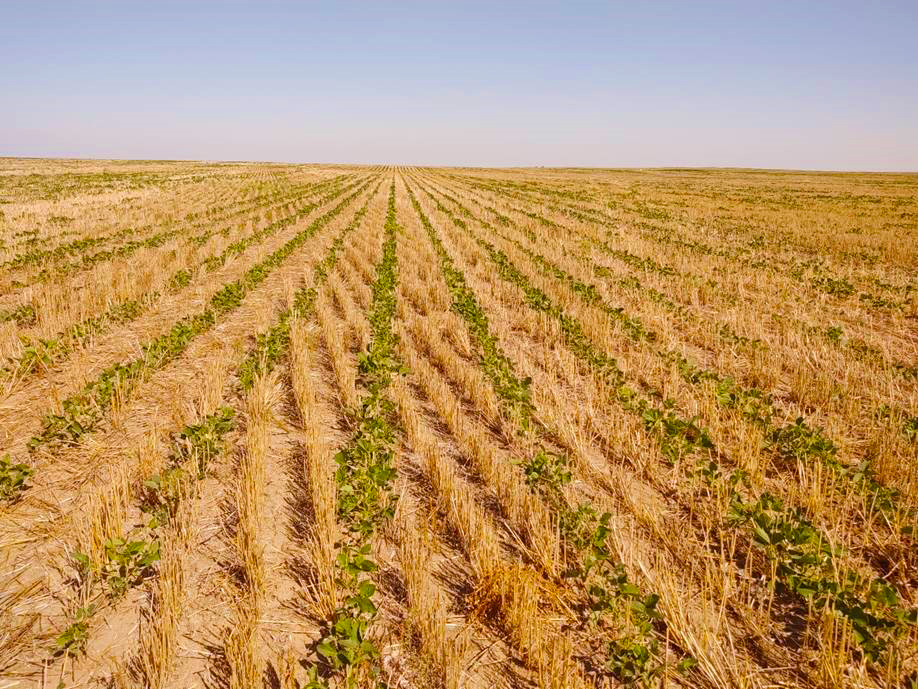 22
August 25, 2019, Double crop Soybeans just starting to bloom at Hugoton, KS, Kramer Seed. Ben McClure running with marginal water that is dedicated to corn pivots. First 40 days it is a dryland crop…followed by a finish with irrigation, It appears that this Mid July seeding date should be about 2 weeks earlier. But maybe not…considering a 40 bushel crop is the goal and water sharing with corn is a critical part of the mystery of double crop Soybeans.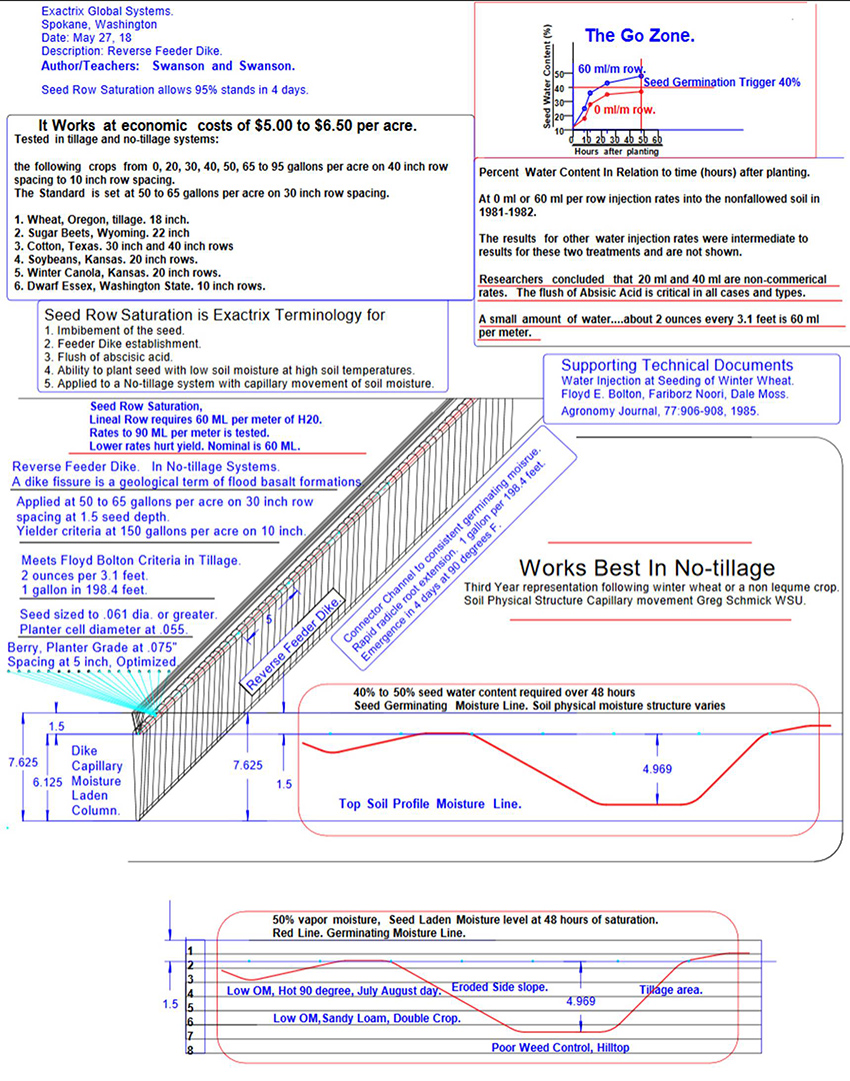 23
SRS in combination with Ferralene® can make a gigantic difference when double cropping in the summer months.
Soybean, and Sunflower double crop….and winter canola and winter wheat must have 50 to 80 gallons in the row for a great start under irrigation.
The SRS project is an absolute winner for
30 inch rows at 50 gallons H20,

20 inch rows at 100 gallons per acre and

10 inch rows at 150 gallons per acre.

Ferralene can be used.
The cost is about $6.50 per acre to get a guaranteed stand with no fertilizer bill.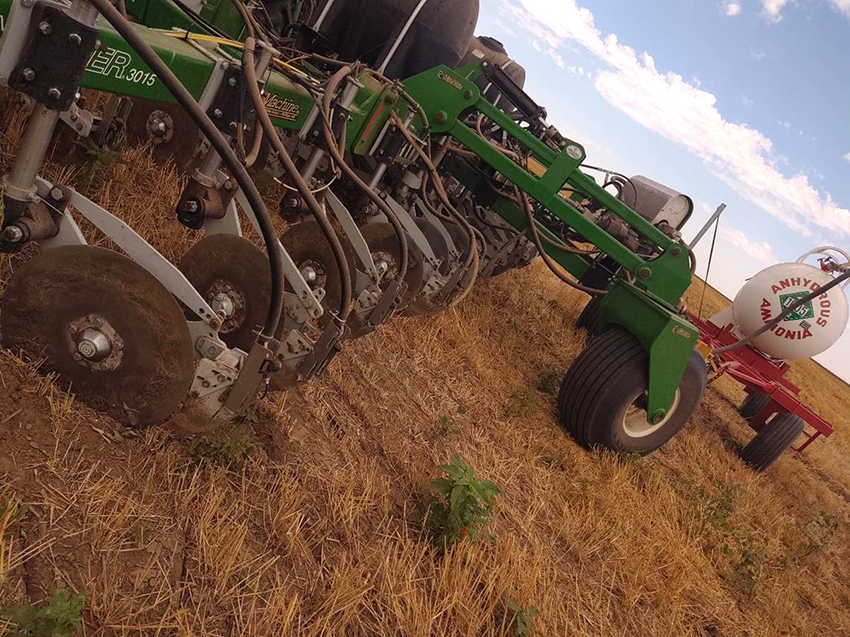 24
Gyros Removed and banding as deep as the tool will go….about 8 inches in depth and directly under the row and to the side 15 inches.
KTS® banded deep, allows the soybean plant to build drought stress tolerance under center pivot prouction at 100 degrees F.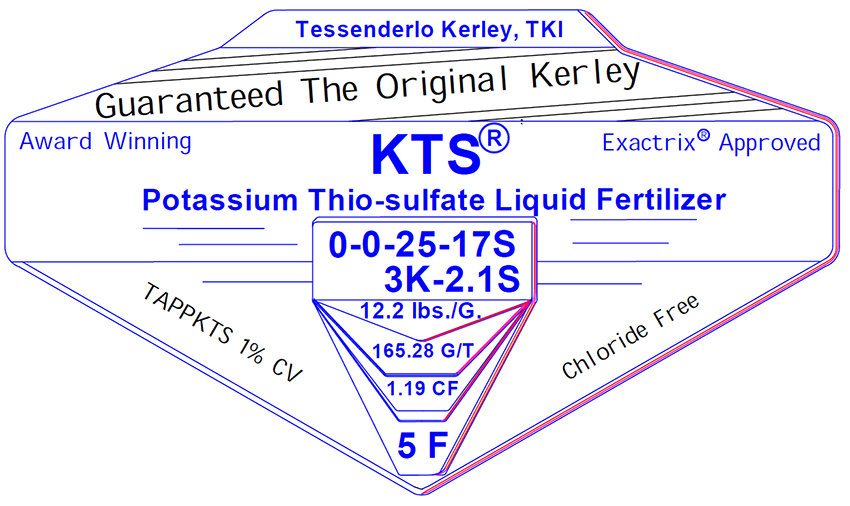 25
KTS® is a very big deal, as big as Shell and TVA's development of APP, 10-34-0.
TKI has made, the greatest single development in the fertilizer industry in 30 plus years.
For sure KTS is so significant that the highest awards have been granted to the scientists that developed the material at TKI.
Sulfur makes potassium work better in all crops.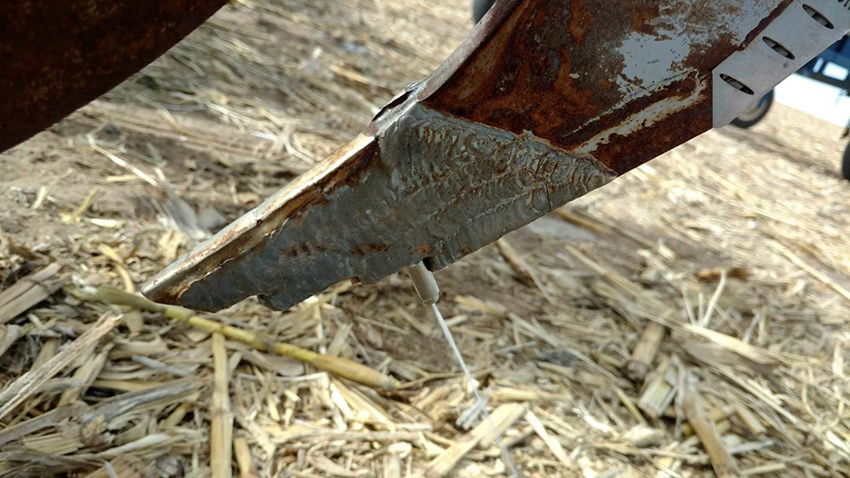 26
For sure Feralene® should be applied site specific in Soybean Production.
Using Looking Glass Manifolds or applied with SRS systems.
With VRT-Site specific and the 2KP third product injection overcomes Iron Chlorosis of Soybean, Milo and Corn.
A Site specific or pocket application of Third Product, seed row zone injection of Ferrilene® has powerful economics on 20 million acres.
Typically this exclusive Exactrix technique reduces Iron Chlorosis cost from $60 per acre across the entire field to $5 per acre on average.
Using high yielding soybean seed the yield function goes from zero bushels per acre on 20% of the land to 100% of the yield on all acres on 100% of the land using NH3, APP, KTS and Metals Micros plus 3rd product Ferrilene® with Binary Banding. Fulvic acid can be considered in the depleted soils of the Great Plains.
Soybeans can now be raised on another 20 million acres on the metals deficient soils of the Great Plains.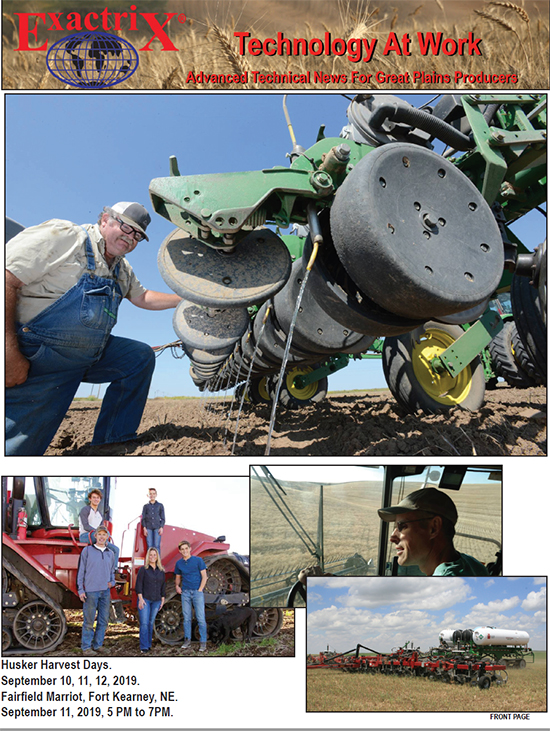 Click on image to see full PDF file.
Alfalfa Soil & Plant Health Analysis Click Here

Your Great Plains Reporter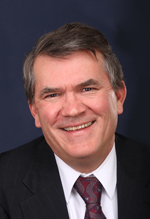 Guy J Swanson