Top Soybean Yields, Corn Yields.
Exactrix Makes a Historical Jump (300 bu. a.) with Binary Banding, Deep and Vermiculated.
New Mustang Tool Bar has Great Plains and Hillside Features.
In 2017 Exactrix® owners applying TAPPS have $60 per acre advantage in dryland corn production and $150 per acre advantage in irrigated corn production.

Exactrix owners begin to challenge and exceed 300 bushels per acre of irrigated corn using $64.00 per acre of nutrients.

The Net Margin is improved 12% by investing 6% and no more than 12% of the gross income in nutrients using VRT-Site Specific application in 5 management zones.

In 2017 Soybean yields in SW Kansas were increased 45 bushels per acre with a $75 per acre investment in TAPPKTS with Ferrilene®.

Exactrix TAPPS and TAPPKTS formulators in Corn, Wheat , Soybeans and Cotton have giant production cost advantages with Yielder® Technology of 37 years.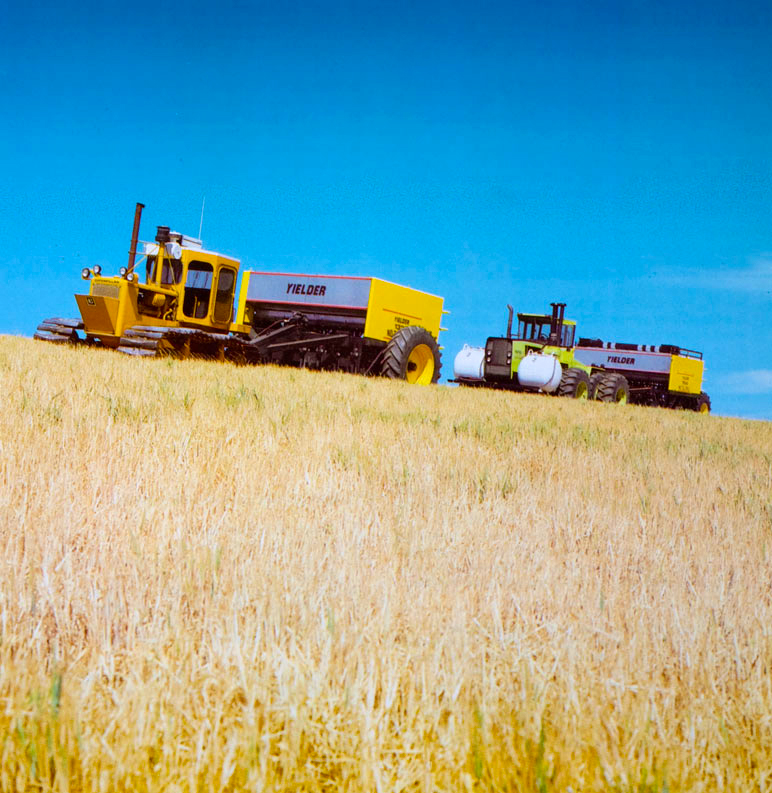 In 1983, A $40 per acre advantage, No-tillage farming in the 80's and 90's was a powerful promise for families making profitable gains with Fertilizer Placement in Yielder® Paired Row.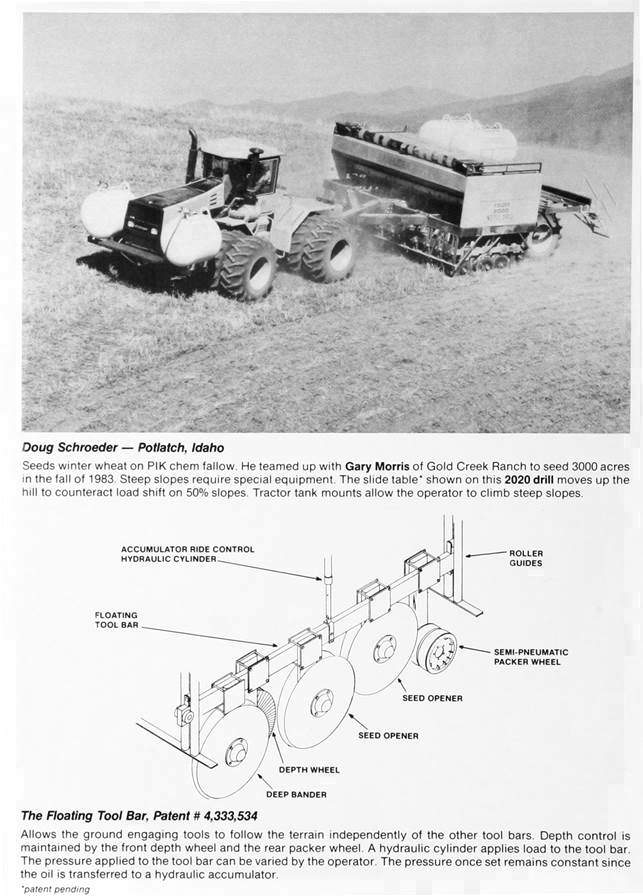 "No Surprise, 35 years ago NH3 was the preferred form of nitrogen for farmers large and small."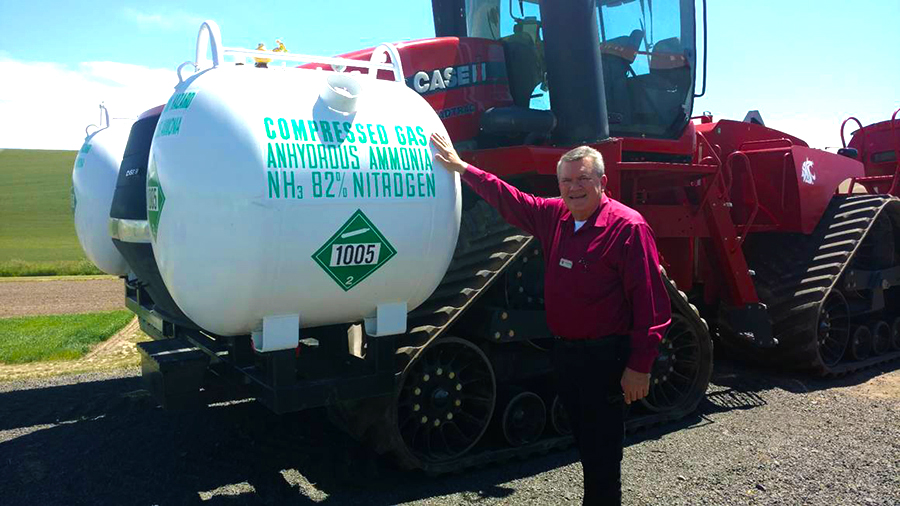 Good Old NH3, Remains the lowest cost and most crop available form of Nitrogen.

The early No-tillage years with the Yielder Drills and a technology focus on Anhydrous Ammonia made it happen.

Today in the 2018 production year single pass farming can be improved with Exactrix® Mustang Opener application.

Each seed row gets its own No-tillage vermiculated band, or two Binary Bands of nutrients in preplant and in the growing season.

Single Pass or Two Pass Exactrix TAPPS is much more powerful than planned with several serendipitous discoveries in 2017.

Two major points were discovered, fertilizing Soybeans and Winter Canola and stopping Iron Chlorosis.

Mustang Openers with Exactrix® TAPPKTS formulators made the difference along with some good engineers and producers.

When you go looking for answers Exactrix will change your whole outlook on how to make nutrients efficient in No-tillage saving soil and moisture.

Yields jump and less is required with Rotational Band Loading in only No-tillage.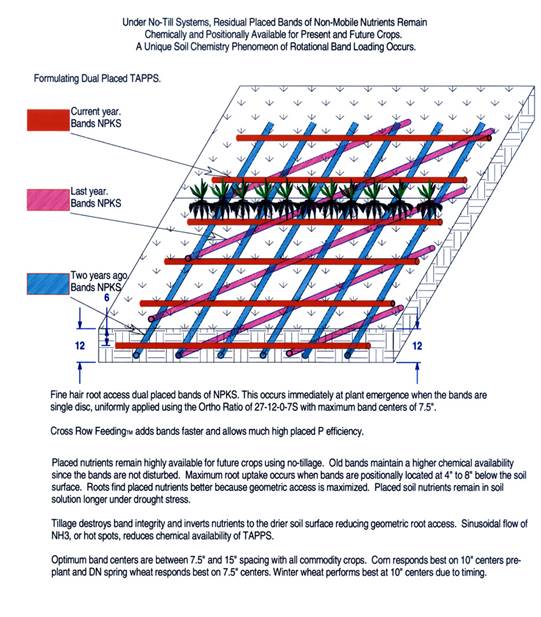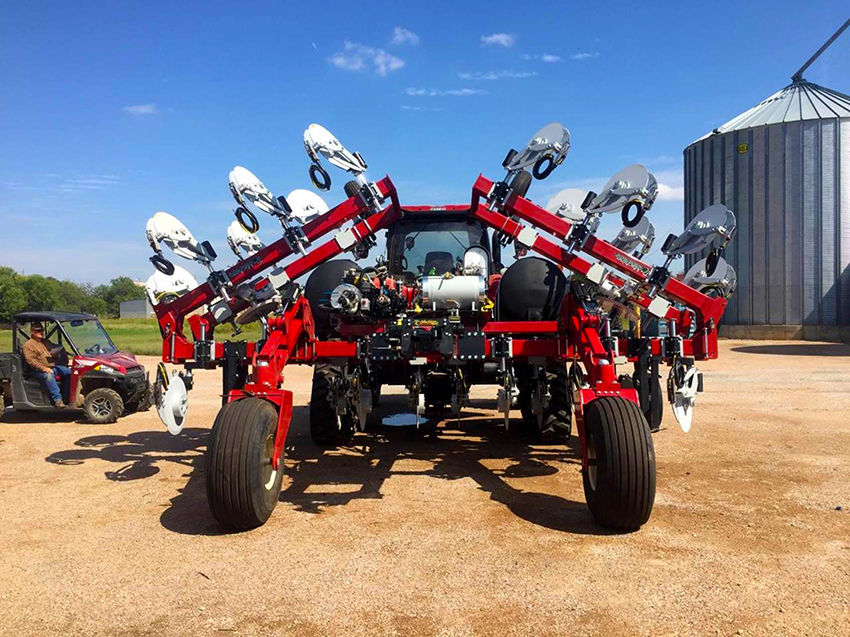 No-tillage Mustang Tool Bars have Yielder® Technology with each seed row receiving a liquid streaming flow at 1% CV application of nutrients at 7 to 8 inch depths.

Roots develop deep and fast in Binary Banding and get a jump start at depths of 7 to 8 inches.

The developments at Exactrix® are most significant and in fact beyond the planned calculations in efficiency of nutrients.

In 2017 Great Plains producers will reach yield level 300 average bushels per acre with less than .5 lbs. N required to produce a bushel of corn.

Exactrix TAPPS, Binary Banding, Micro-nutrients and Vermiculation at 1%CV is promoting top performance.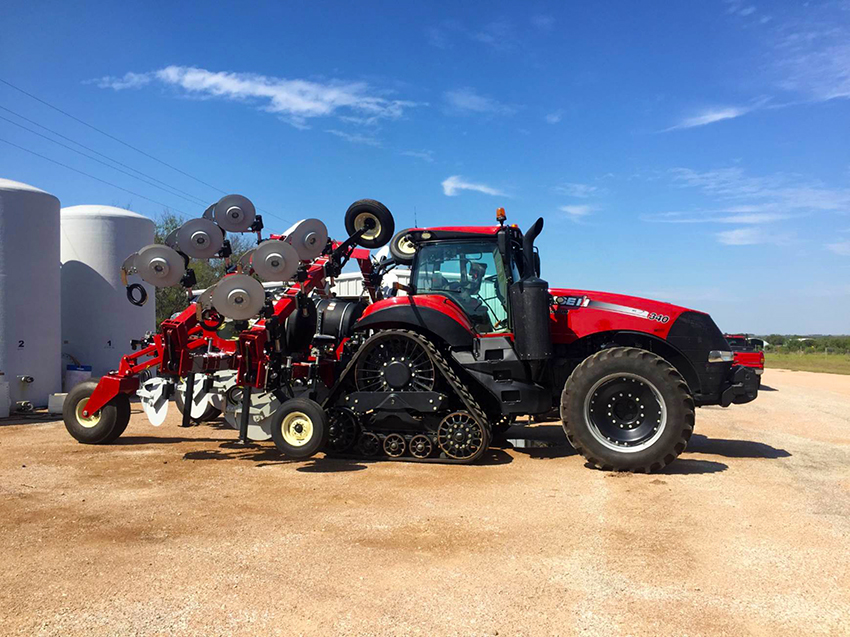 Boss Approved by GJS in Series 3 TAPPS Formulator systems for 3 and 4 product delivery in VRT-Site Specific application.

The 7 x 7 dual rank, three section design allows for high speeds to 12 mph with Auto-boom. Placement of TAPPS and TAPPKTS at 12 mph by Exactrix high pressure injection systems.
Banding Depth to 8.25 inch with No-tillage.

P-51CUE Mustang openers with 3/8 x 26.5 inch diameter blades extreme double edged with threaded TIO's and 3 product capability using 85 lb. Gyro Counter Weights is $4,417 each.


Banding Depth to 7 inch with No-tillage.

P-51C Mustang openers with 3/8 x 24 inch blades, single edged, Press-in TIO's and 3 product capability with 65 lb. Gyro Counter Weight is $3,829 each.

Here is a good video. https://vimeo.com/bandbvideo/review/162609745/b8a4c47ab2
P-51 Mustangs with Mustang high speed, positive down-pressure, tool bar work corn on corn at Shelton, NE.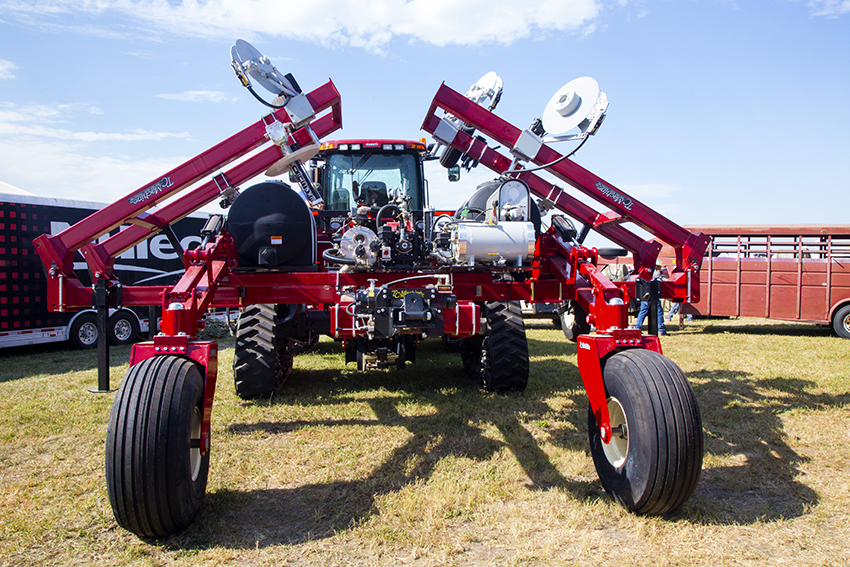 This Mustang PD tool bar is ready from 120 to 160 inch gauge. The gauge is adjustable width lift assist to match up for specialty crops. Cradle mount clamps allow adjustment.

Super wide gauge for dryland hillside at 160 inches in combination with a modified Center of Gravity slide table. Step Center Mustang openers allow in line mounting with no frame set-backs.

Row widths of 20, 22, 30, 34, 36, 38, 40. Wing extensions can be installed for 35 feet widths using the 30 foot frame. And 45 foot widths using the 40 foot frame.

Binary Banding in band widths of 10, 11, 15, 17, 18, 19 and 20.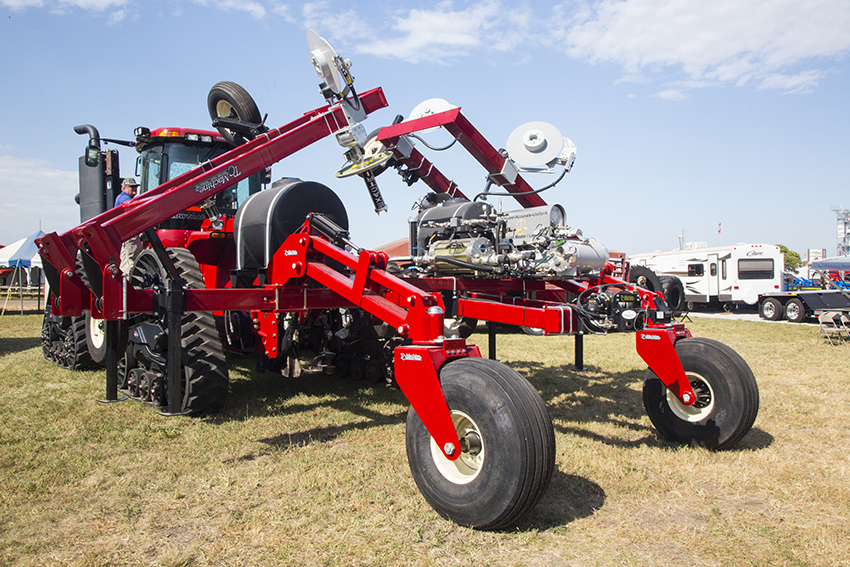 Held on the planet with a Steiger 420 Row Track at 50,000 lbs. utilizing a 20,000 lb. 3 point. Great Plains B design allows functional performance to 45 feet in 3 section. Hillside A design is function to 35 feet.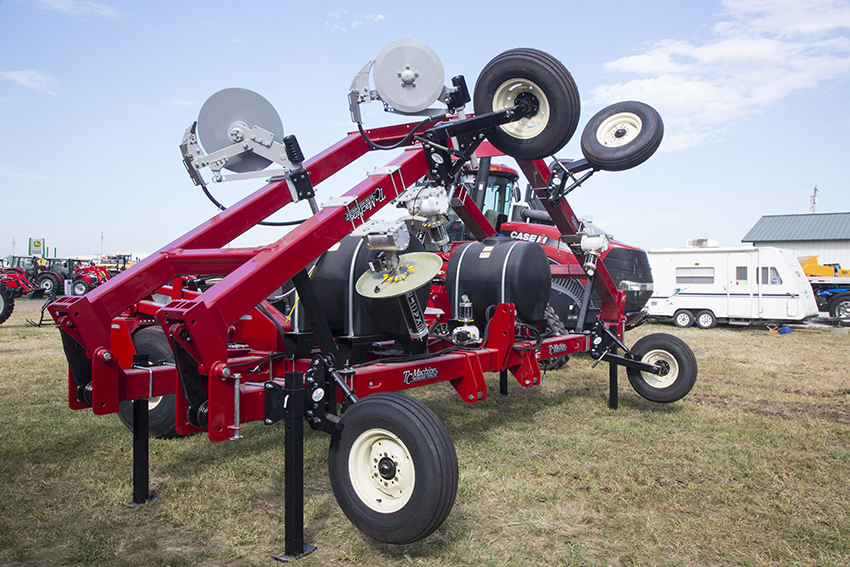 Mustang 3 section tool bars with Positive Down-pressure. Parking position shown supporting up to 20,000 lbs. on the adjustable stands. Hydraulic wing cylinders are in frame mounted for open tool bar positions.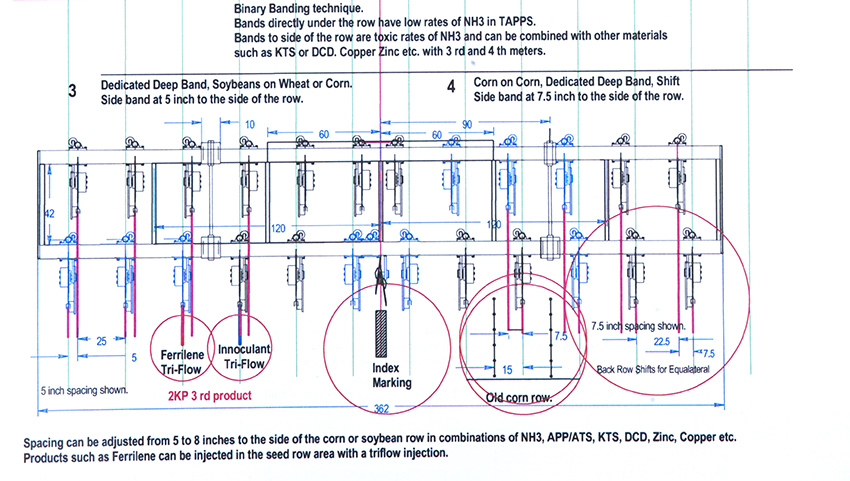 http://www.exactrix.com/Broadcast_09_08_2017.htm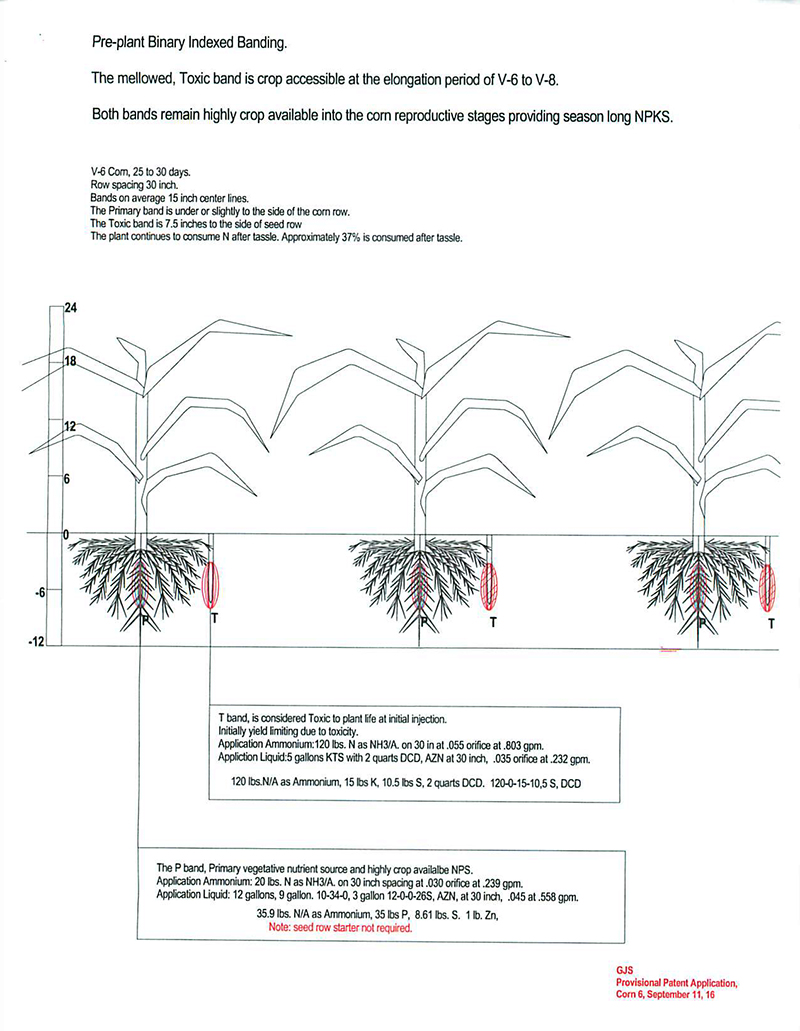 Binary Banding results in 100% access of Corn and Soybean roots at emergence. Immediate access to deep bands of TAPPS, TAPPKTS, and TAPPKTS with Ferrilene.

Previous approaches allows 15% of all corn and soybean roots access on 5 degree askew treatments at emergence.

Nutrients are trapped by growing roots. Adjoining T bands allow root access at V-6 and this positional availability is similar to side dressing treatment to further stimulate the corn plant.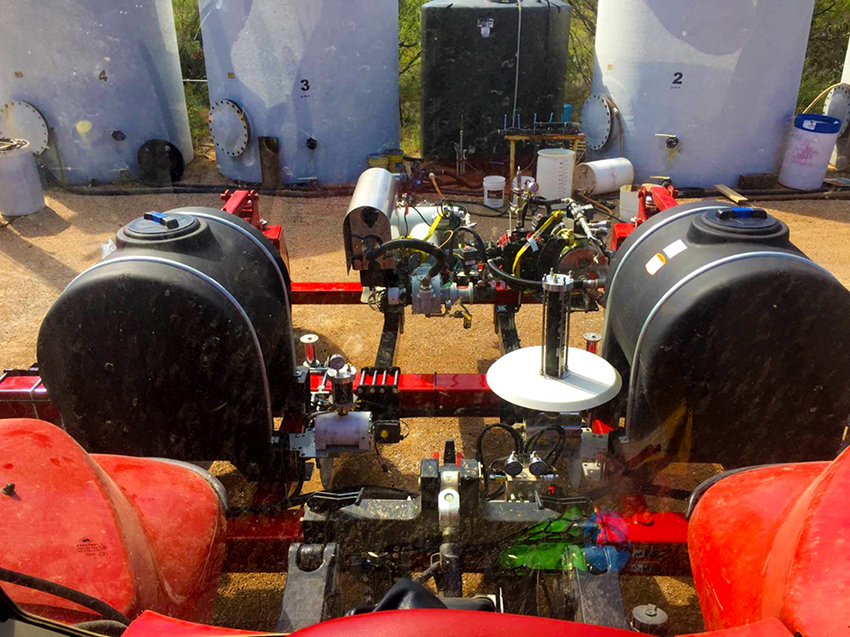 The Open Center.

Top notch visibility of the tools, the engines and the NH3 trailer group is provided by Exactrix designers will multiple inputs from producers.

The Positive Down-pressure wings and good visibility of the openers allows operating speeds to 12 mph.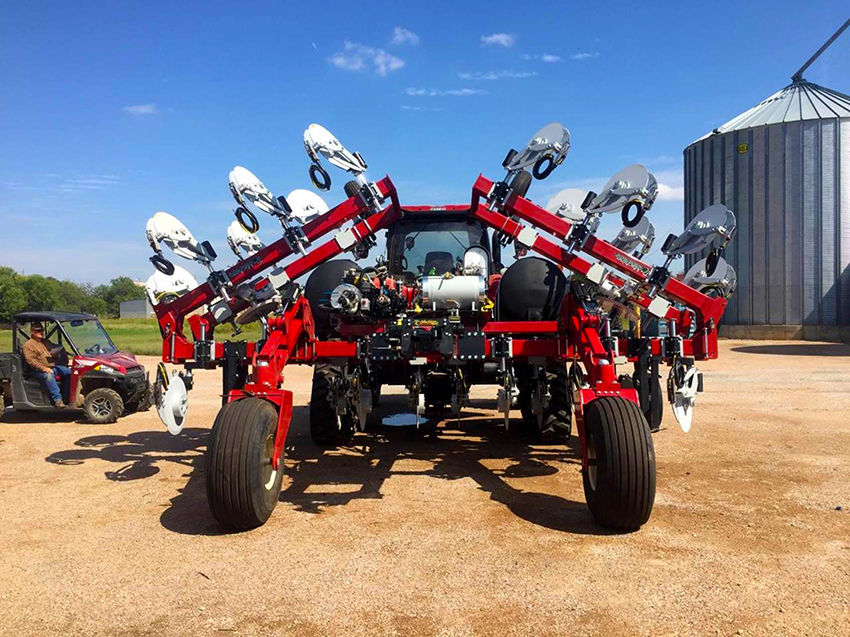 Swivel Hips of the Great Plains.

The true tracking design assures big corn side dress and pre-plant index banding of TAPPS and TAPPKTS with Ferrilene. The swiveling Mustang opener is super accurate mounted to the 7 x 7 tool bar.

The tractor steerage is indifferent to the opener since the Exactrix Mustang opener swivels.

Straight Frame, Articulated, Wheels or Tracks, A great chance for all tractor types to lay down bands in a GPS line control by auto steerage with this Mustang swiveling opener banding to 7 to 8 inch depths.

This Exactrix design is especially powerful in rolling compound angle slopes.

A Row Crop Dream Machine.

This swiveling design allows the planter to plant directly on top of Mustang Exactrix TAPPS Binary Bands…and also to side dress with an opener adjustment.

The tool bar sets the field wide pattern with programmed offsets of previous corn rows in true No-tillage residue management.

A typical Exactrix Mustang tool bar will accurately lay down bands for the planter in double widths.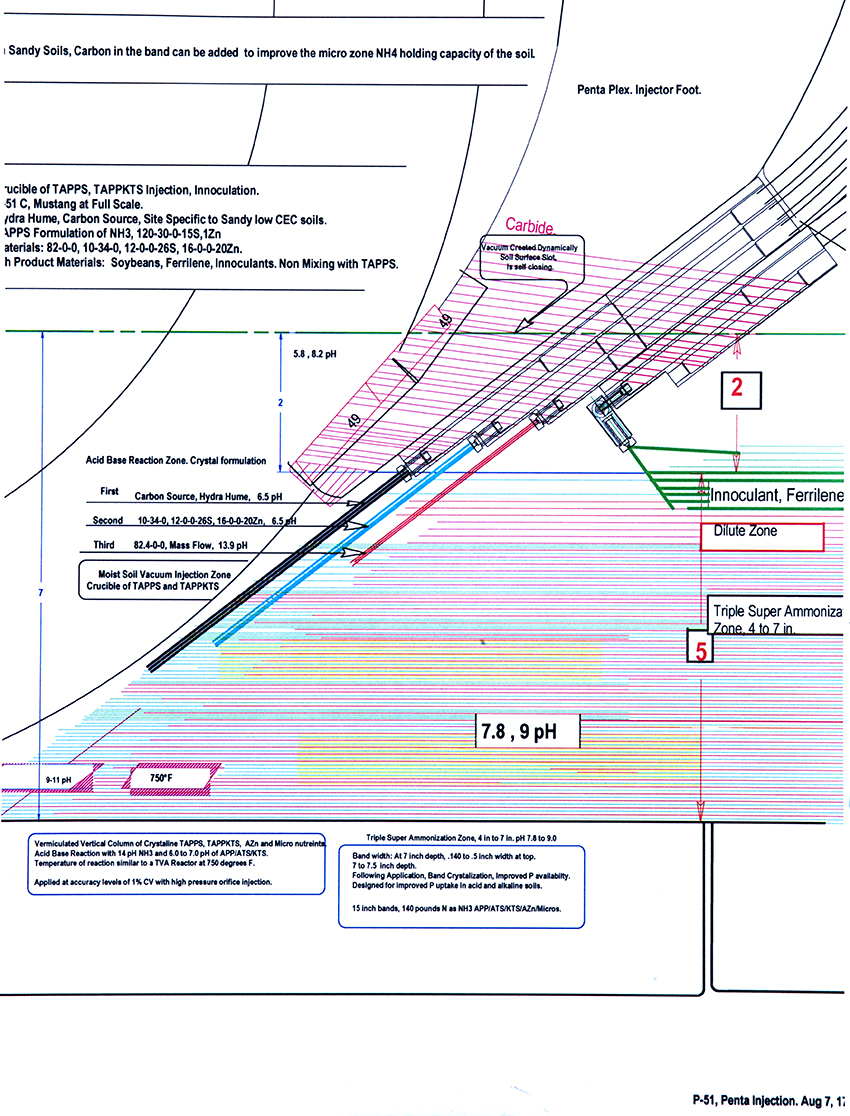 Ferrilene® can be injected with Binary Banding to assure early and later season access to chelated iron by corn, soybeans, and milo.

A first real chance to increase soybean yields substantially and fertilize soybeans correctly.

In fact one of the most dramatic changes for want to be Soybean producers on the Great Plains.

The Ferrilene access by the roots is superior over planter applied.

Rhizobia can be placed in the seed row without damage from the Ferrilene.

Ferrilene® is available primarily from Italy and made available by Helena Chemical Company, Scott City, KS.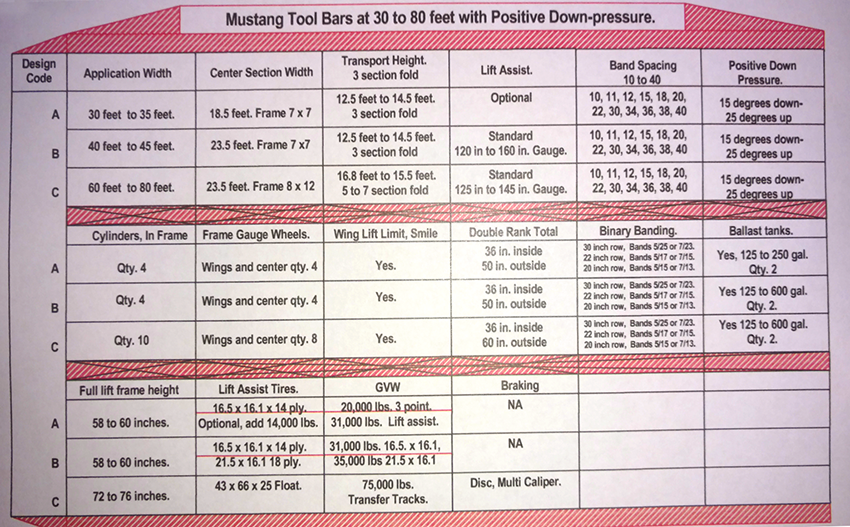 Kevin Medow at Seward Nebraska. A good Mustang video. https://www.youtube.com/watch?v=QuCAeCfBUnQ&fmt=37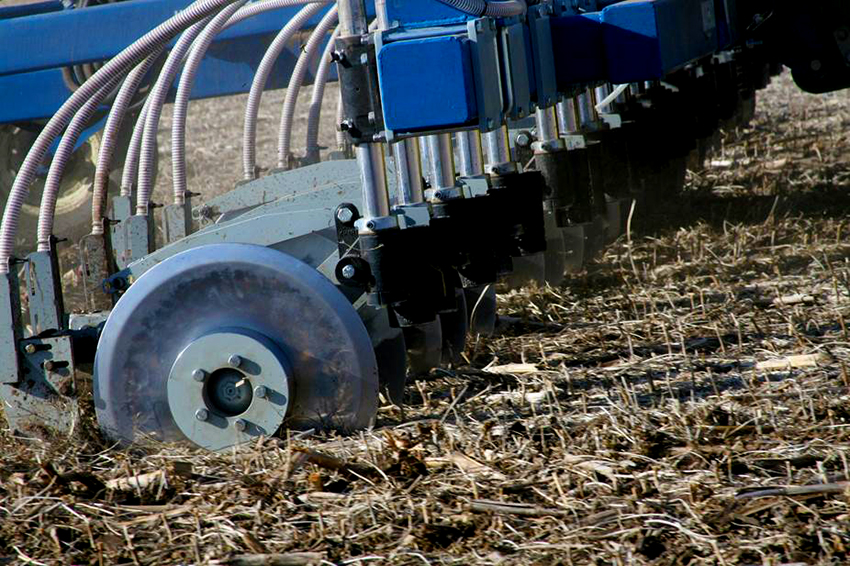 What out competes N-serve® every time? It is No-tillage with TAPPS and TAPPKTS. It is No-tillage at Seward, NE.

Get the facts. http://www.exactrix.com/Broadcast_03_11_16.htm

Fall November banding with Thio-sul® and KTS® stabilizing nitrogen in liquid streaming flows at 1% CV.

Micro-nutrients in Exactrix TAPPS and TAPPKTS bands assure anti-biological activity of Nitro-bacteria and Nitro-ammonias.

These two bacteria are in charge of converting positive valence NH3 to mobile nitrite NO2 and nitrate NO3.

Avoiding nitrite release into the atmosphere is very important. It is about 200 times more technical than CO2.

You make it pretty tough on the non-functional bacterial bloomers by subtracting out a suitable environment in a very tight nutrient TAPPKS band.

Exactrix vermiculated bands assure highest level of nitrogen stability using Thio-Sul®, KTS®, Ammoniated Zinc and Copper Sulfate all of which are reasonably priced to the commodity.

Thio-sul® is the George Blanda of Crop Nutrients. The Grand-daddy of all nitrogen stabilizers when uniformly applied by Exactrix.

These common crop nutrients S, Zn, Cu are dual and triple purpose and are not overpriced to the cost of side dress like N-serve.

N-serve is tough on machinery and tough on people. Don't get started with this nasty material, N-serve.

A big Dow marketing rip off for a very poor and unsafe product.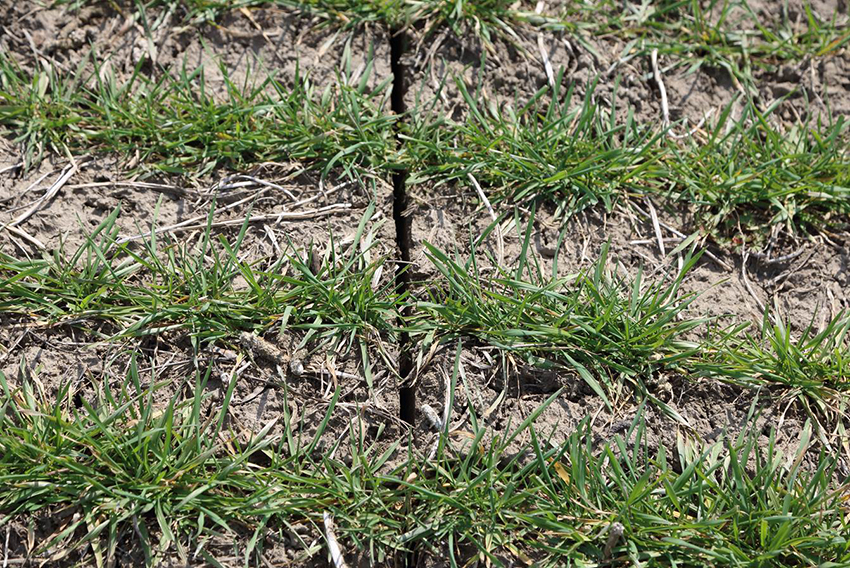 Surgical Cuts, Crop Safe, Vacuum Injection of TAPPS deep into growing roots of winter wheat at Marshall, MO.

What is liquid streaming flow and why is it so important?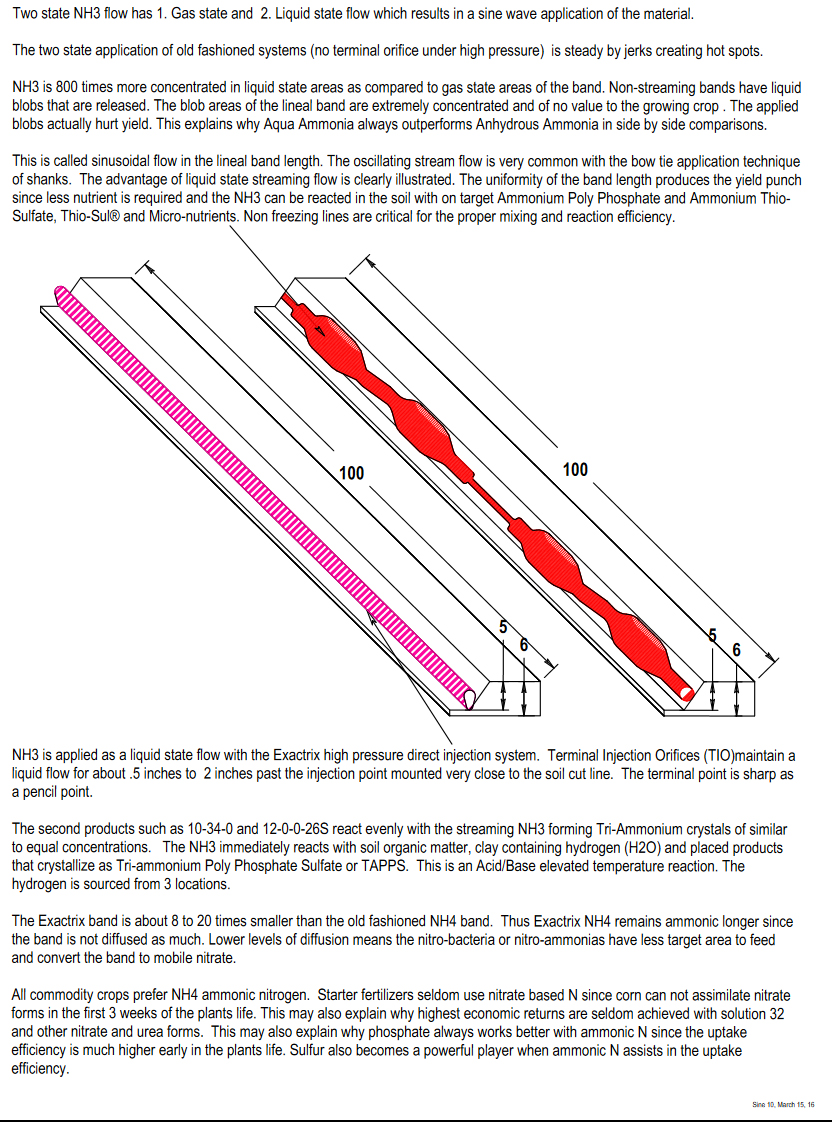 ---
Liquid Rhizobia, http://agproducts.basf.us/products/vault-np-soybean-liquid-inoculant.html
Ferrilene, http://www.helenachemical.com/products/micronutrients-specialized-nutrition/ferrilene/
DeKalb, Iron Chlorosis Tolerant Beans. http://www.dekalb.ca/soybeans/varieties
Exactrix TAPPS and TAPPKTS formulators. www.exactrix.com/EPM.htm
Exactrix Mustang Openers, www.exactrix.com/mustang.htm
Exactrix SRS. http://www.exactrix.com/Broadcast_08_09_2017.html
KMS, https://www.diamondkgypsum.com/pdf/Diamond%20K%20KMS%20Potassium%20Magnesium%20Sulfate.pdf
Single Super Phosphate, http://www.cropnutrition.com/single-superphosphate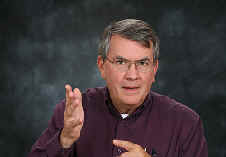 Your Great Plains Reporter.
GJS