Return To Main Page
See all our previous broadcasts
Exactrix Certified Rebuild. ZHX3200 pump, Ranger Series, and Mass Flow.
The cost to do a Certified Rebuild for a 2KC Series 3 system is $7,500 with full 1 year warranty.

This has great value and keeps you in the tractor seat and not talking with our service support group.

A video is included that shows how the laminator works.

The Engine is now rated to 150% more boost and double the life of initial Corken and Exactrix Designs.

Here is an advanced program to get your premier 2KC Series 3 up to 2021 Specifications.
One item you may like is the complete repainting and decaling of the system with the current logos on the Weather Shield.
All rubber and ANSI gaskets are replaced allowing another 10 years or more of great performance.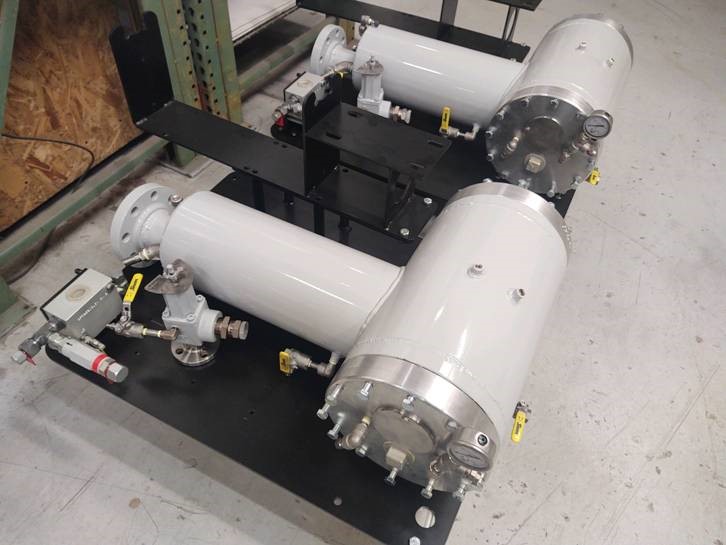 1
2021 Meeting and exceeding all known values for accuracy and band accuracy from liquid streaming flows.

Applying at 20 lbs. per 10,000 lbs. applied at 1% CV or less than 1 pound of nutrient wasted using liquid streaming flows to 450 psi of NH3.

Ranger Series.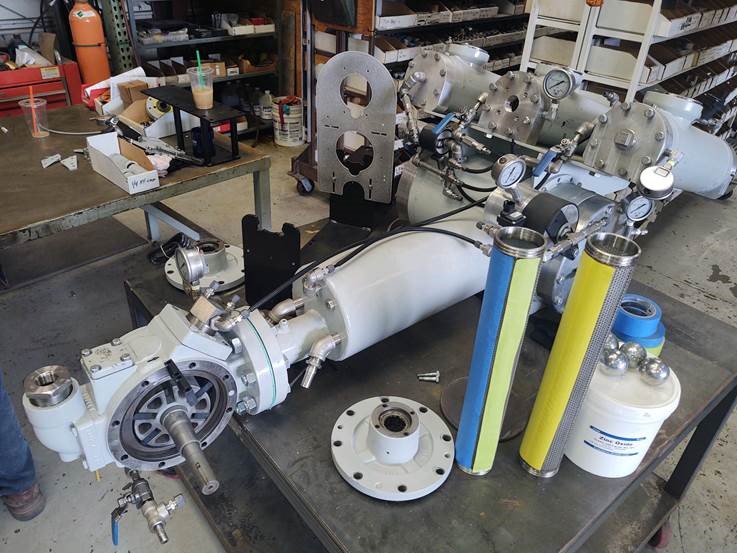 2
2020 , The ZHX3200, goes to 250 psi boost.

Previously set at 120 to 180 psi depending on date.
The pump goes through remanufacture and several features that were developed over the last 6 years are added.

The features improve pump life and lower the pump RPM.

The additional features come from Corken and primarily Exactrix® which allows the technical accomplishments to move into production fast.

The boost feature requires the ZHX3200 Sliding Vane Corken pump to have several changes added to the flow inline.
Included are date stamped articles of the certified rebuild historical buildup. What will I get for my hard earned money?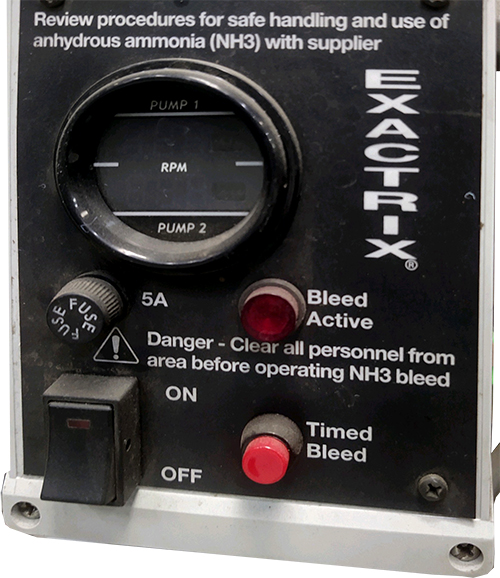 3A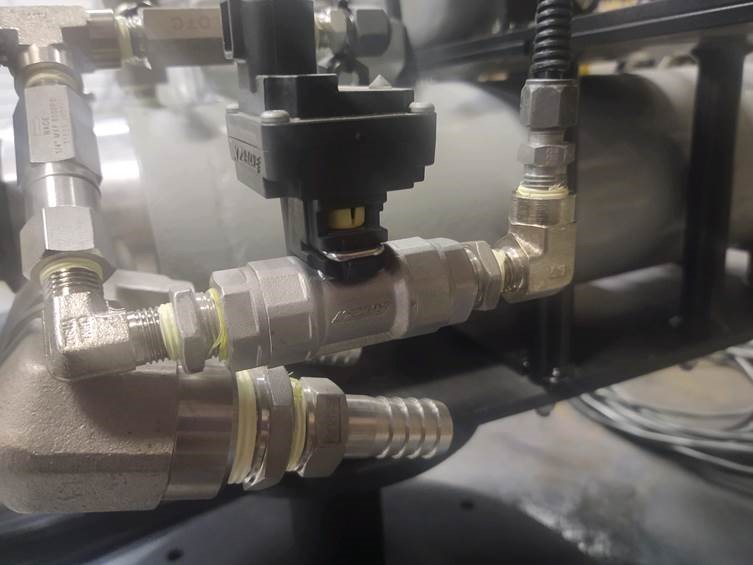 3
2020, The Timed Bleed feature was finalized with the stainless steel body and smaller back flow checks

.
The Timed Bleed is also a powerful feature for big 72 to 84 inch DOT, MC-330, bulkhead tank systems in making a start during the initial fill with a single tank valve.

The previous arrangement was a solenoid valve.

The stainless body of the valve was implemented in 2020. In 2018-2019 a poly body was used.

The solenoid valve was a replacement part that required a better valve.

T1000 control panel.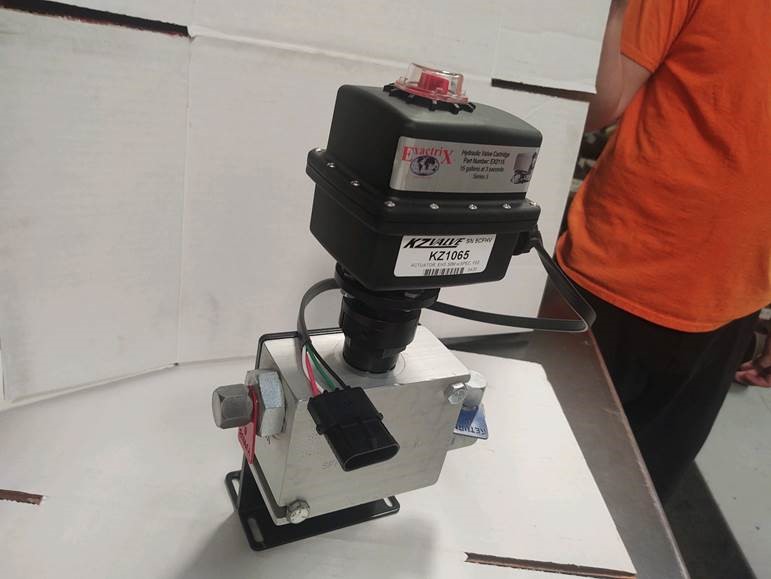 4
2016, The series 5, hydraulic power head for the hydraulic flow control valve was changed to total solid state design.

This power head series 5 replaces a series 4 which had a mechanical microswitch which could become sticky.

Exactrix systems uses this industry standard design to control the speed of pump…or limit the top speed to 400 rpm.

This hydraulic design allows multiple systems to be used from one, 20 gallon SCV in the cab.

The true pressure compensated, load sensing system improves pump life, saves oil and is much easier to trouble shoot than a PWM system .

Remember to always use the priority first, 1, 2 or 3 circuits in a six stack. The priority SCV's are the first three circuits and have been special designed for motors.

Remember to always return the 3/4 hydraulic blue return line to the dump valve port and not to the SCV.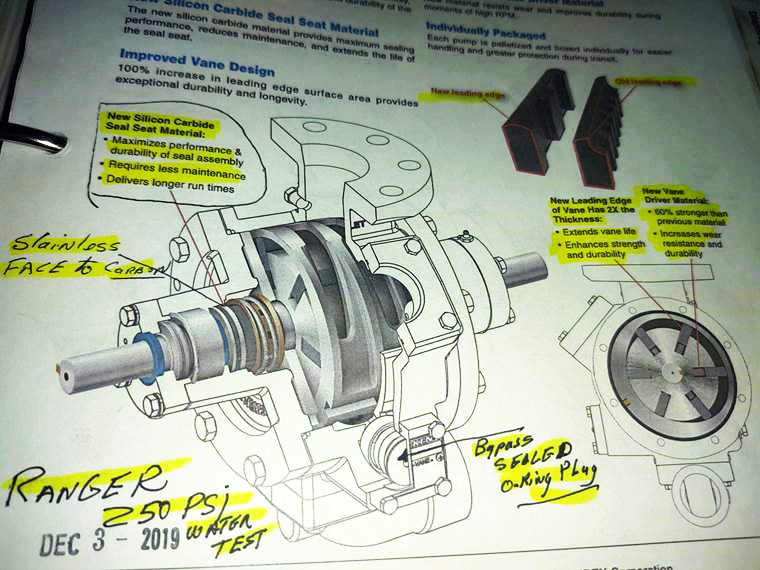 5
2017 to 2018, Corken made a major change in all Z series pumps.

The 3 inch pump is shown here. Exactrix then moved ahead with advance designs.
The transfer pump then became a metering pump by cutting RPM in half and half again.….The pump is no longer a transfer pump. The pump using Exactrix® designs was greatly changed and the results are improved pump life and hydraulic oil performance.
A. The stainless face of the seal was replaced with a full carbon face. Much better sealing and better season starts resulted.
B. The vanes and drivers were improved with a stronger material for much longer life.
C. Exactrix raised the pressure of the pump by sealing the internal bypass and controlling pressure relief with hydraulic drive pressure relief.
D. Exactrix lowered the pump rpm and raised pressure by going to neodymium magnetic drive vanes.
E. Exactrix then increased the torque of the Danfoss hydraulic motor so that the pump builds pressure to 250 psi above the tank pressure at 350 to 375 rpm.
F. This Ranger feature also requires additional changes on the supply side using a Vortex Breaker.
G. In some cases when operating at 250 psi boost it may be necessary to keep the Laminator frost on all the time by setting the time bleed feature for longer durations.
H. Several changes now allow the pump to generate pressurized flows at much lower initial rpms. Operators will notice that ZHX3200 pump goes PD at RPM's of 90 rather than the previous 180 rpm step up. So higher injection pressures can be achieved at slower pump rpm's which raises the life the polymer sliding vanes and the cylindrical drivers.
I. The highest rpm allowed in the Exactrix tighter metering design is 400 rpm which stops the 800 rpm previous high rpm.
J. The highest observed pressure is now 450 psi at 250 psi boost at 200 psi tank pressure at 400 rpm at flows of no more than 55 gallons per minute.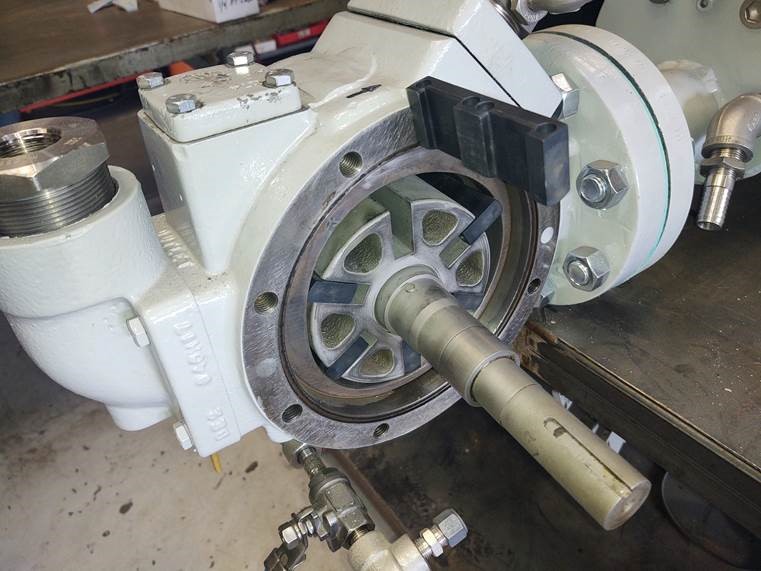 6
2021 Magnetic Drive or Mag Drive™.

Powerful neodymium magnets are used with a minor gap to allow the vane to hug to cam housing.
A. The cam hugging feature decreases pump chatter and keeps the pump engaged at very low rpms.
B. The drivers therefore do not need to push as hard or as many times to make a good flow of NH3.
C. Exactrix Mag Drive™ is major solution to increasing pump life with marginal supply NH3 tank valves.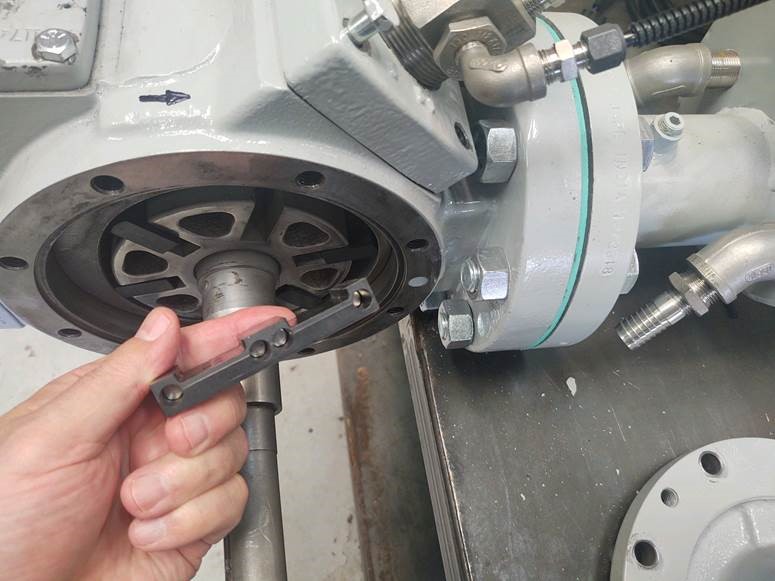 7
2021 .The magnetic drive feature is new and is very low risk since the pump cannot overspeed above 400 rpm.
A. Magnetic drive allows a much lower rpm to make pressure and flow with a hydraulic motor change to limit rpm to 405 to 415 rpm.
B. Mag Drive ™ is adaptable to all systems built since 2020 using 3 inch ZHX3200 pumps. Mag Drive is not planned for the ZHX2000 until 2025.
C. As a minor point, always make sure the pump is turning based on the arrow located on top of the casting. It has been determined that even with a directional flow check installed in the hydraulic system that operators can connect the hydraulic lines incorrectly. This happens with one line line change going into the pump hydraulic motor from the hydraulic flow control valve. This reversed rotation kills the pump efficiency but it still seems to work at low pressures. Do not turn the pump backwards.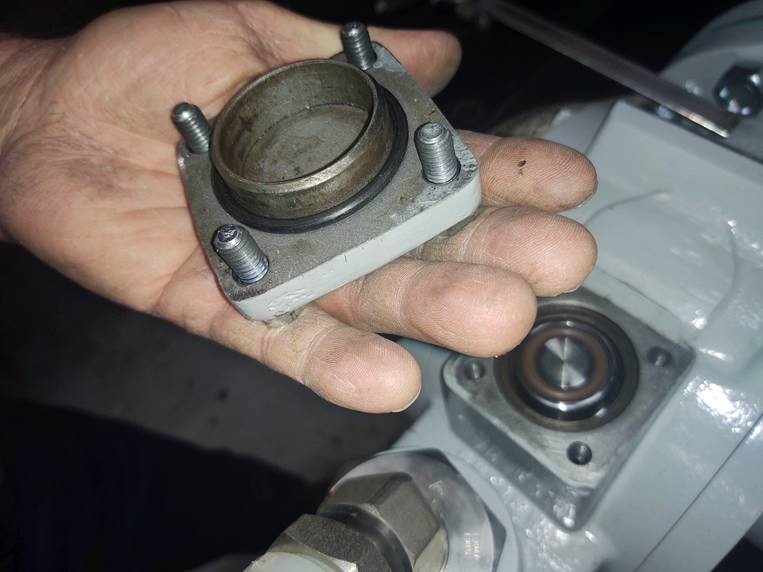 8
2021, Internal Relief Valve is now set at 250 psi boost.

The improved sealing is the key. The sealing of the leakage flow and allowing the hydraulic system to relieve pressure.
A. The hydraulic motor now controls the NH3 pressure internally in the pump.
The relief valve plugged position is not spring loaded. It does not move. It does not leak internally.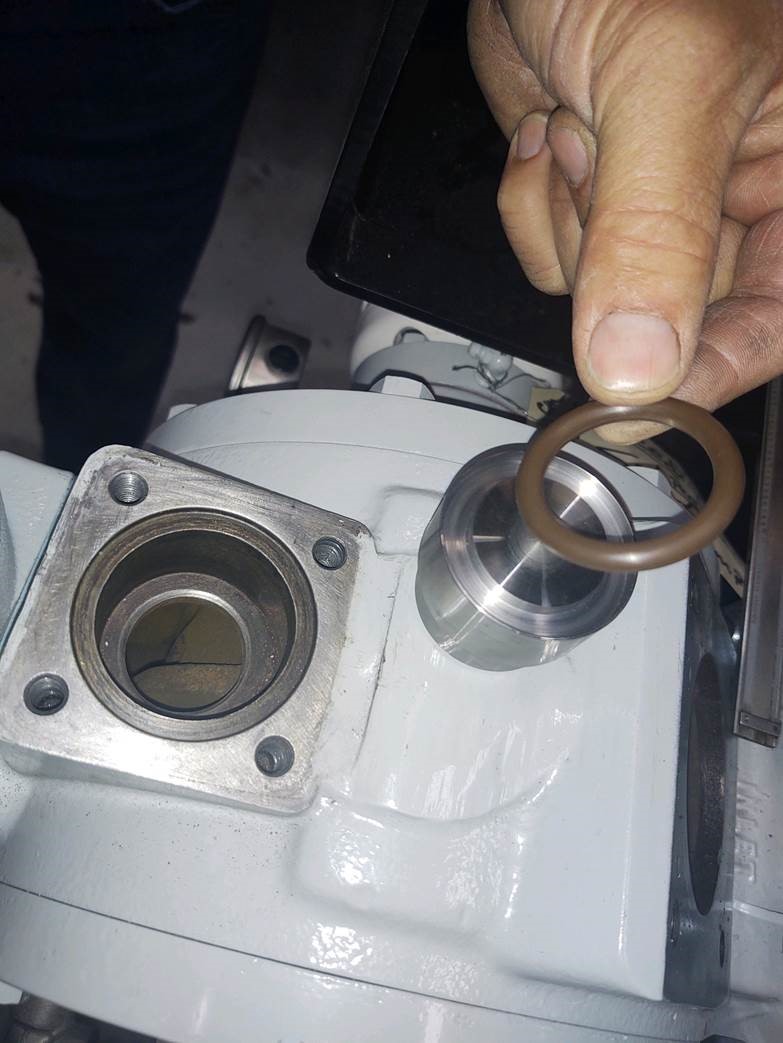 9
2021 Ranger,

All previous ZHX3200 systems are adaptable when the Ranger 250 psi boost feature is added.
A. For sure these features can be added in a Certified rebuild with full scale testing to 250 psi boost.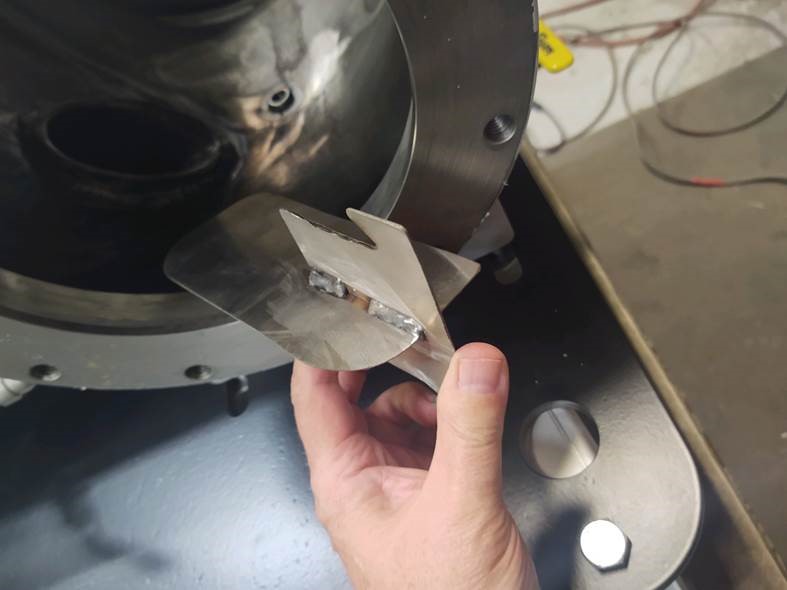 10
See how the laminator improves flow to 55 gpm, Video Presentation
2020 Laminator Improvements, Anti-Vortex breaker.

Stops the NH3 from spinning or creating a negative pressure vacuum into the optimized 28 inch long x 3 inch delivery tube. The Vortex Breaker allows the 3 inch wide ZHX3200 pump to full width flood and totally fill the pump reducing cavitation potential or stretched ammonia.
A. The optimized long length of the Laminator 3 inch mechanical tube allows the NH3 bubbles to not form or to stretch the NH3 prior to the inlet into the pump. The ammonia remains compressed at the inlet. The NH3 bubbles is caused by stretching of the ammonia into a lower pressure pocket. This can be avoided.
B. Simply stated "a true laminar homogenous flow of single state liquid material".
C. If the tank valves goes exponential the laminator cannot overcome flow problems with small tank valves or tanks that are going empty.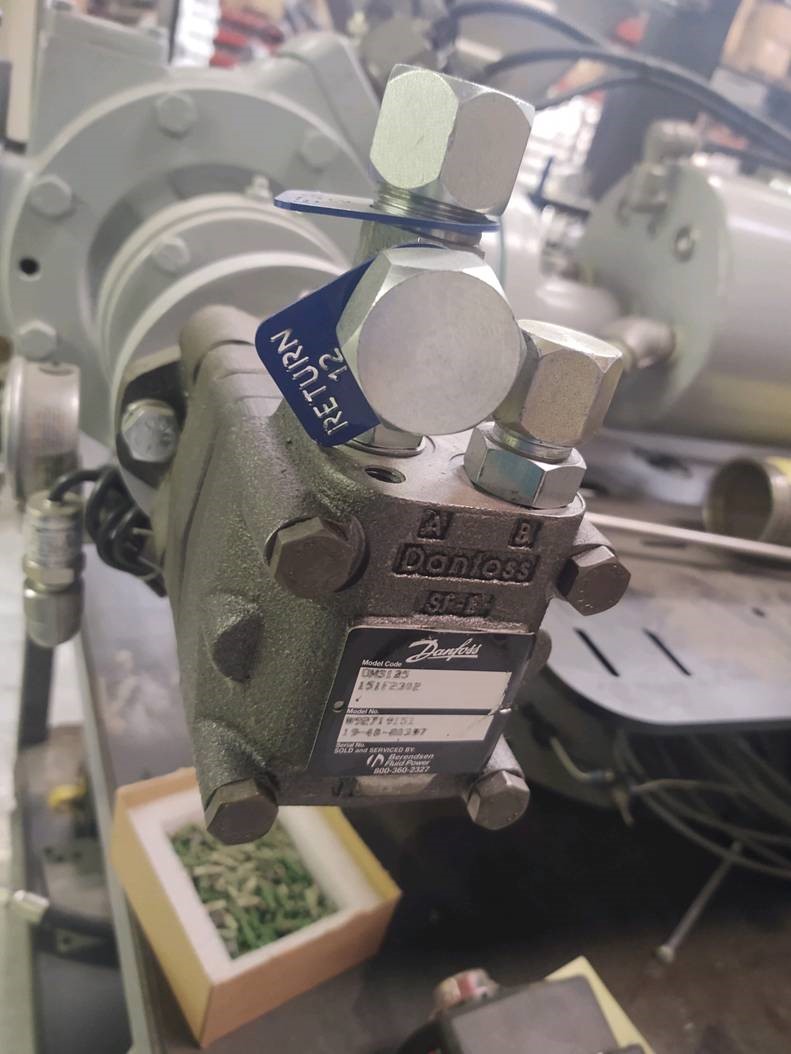 11
Ranger High Pressure, 250 psi boost. OMS Sauer Danfoss motors are proprietary to the Exactrix design.

An OMS 125 as shown at 42 gallons per minute NH3 a 15 gallon valve cartridge is required to reach out for ample torque of 3,230 lb./in. at 300 rpm.

An OMS 100 will hit 34 gallons per minute NH3 with an 11 gallon valve cartridge. This is required to reach ample torque of 2,700 lb./in at 380 rpm.

Maximized flow are found in irrigated corn typically. Wide and Fast, A 60 foot and 90 foot Mustang Tool bars running a high servicing ground speeds of 10 to 12 mph at 1.2 to 1.75acres per minute is challenging. The OMS 160 is required.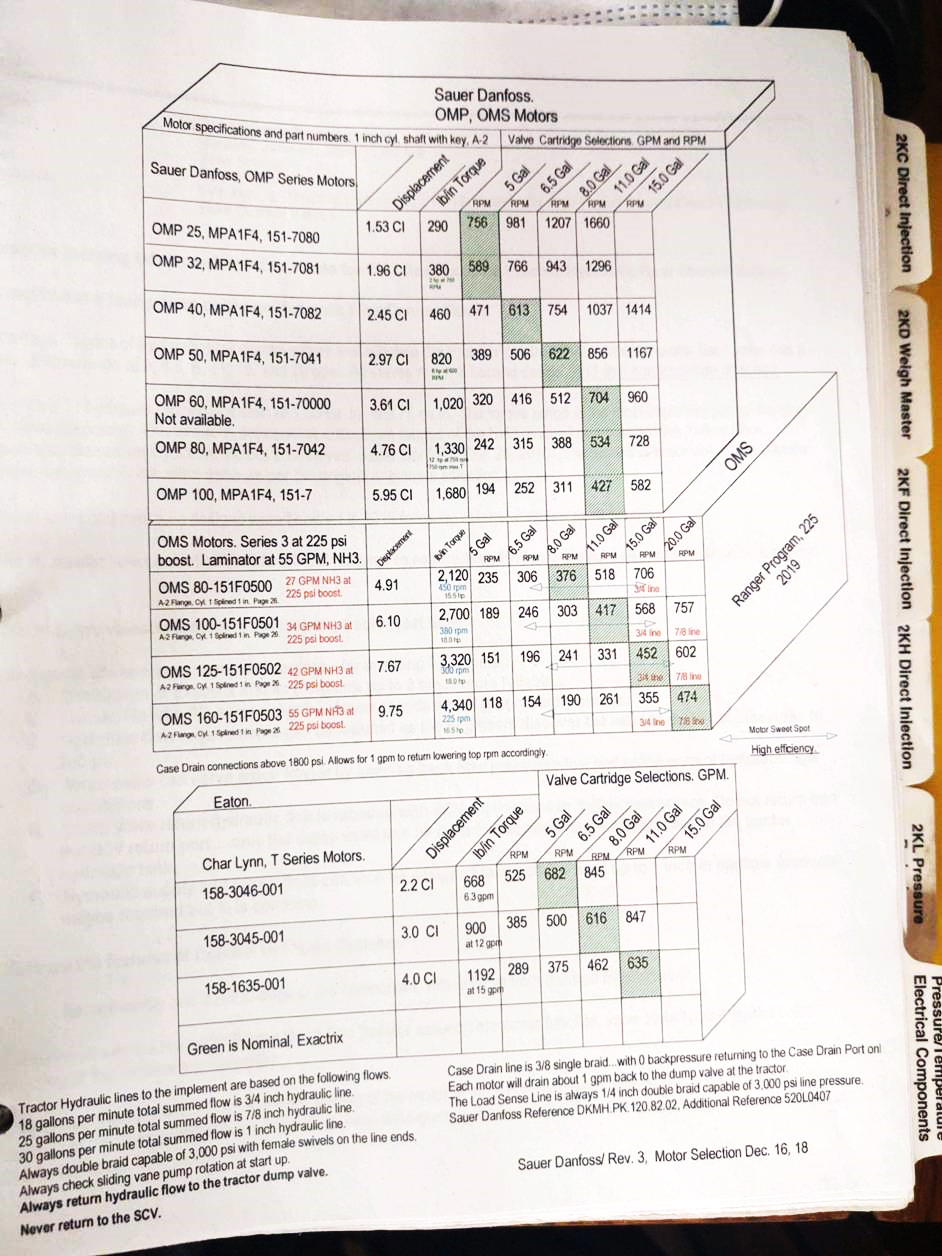 12
2018, Ranger Torque Chart,

Make sure that you utilize the correct valve cartridge with the correct motor. The operator must calculate the NH3 flow in gallons per minute. It is critical to operate the Ranger Series pump in the 350 to 375 rpm range at Maximum.
In the Certified Rebuild program all of the above items are included with a total pump rebuild including the bearings and seals. All elastomeres are replaced. No stone is left unturned.
The Certified Rebuild program has a 1 year warranty.

Rules of Engagement is included and your old Yellow Book is Updated when you send your Yellow Book in.

We also go through the mass meter and check the software looking for any previous alarm codes.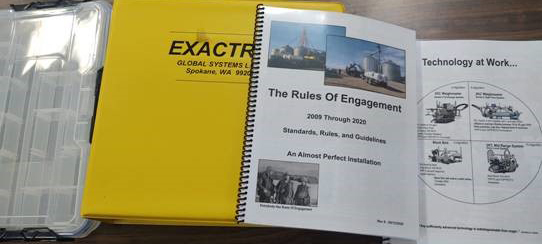 13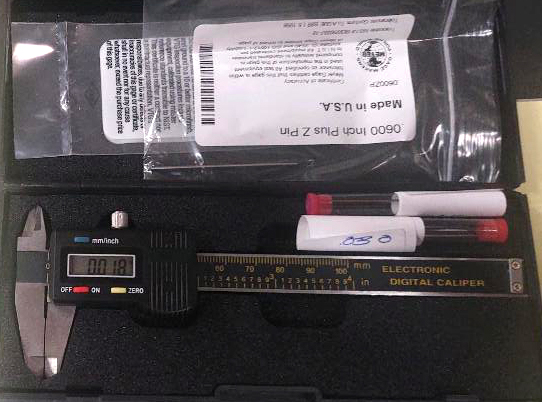 13.1
Pin and Price Check Kit
Make sure you send in your Exactrix Tackle Box and the Exactrix Yellow Book for an update with current drawings and specifications.
You can also use Vermont Minus pins to check orifices. If you have misplaced your original calipers and pins please order new with your rebuild.
They will be included.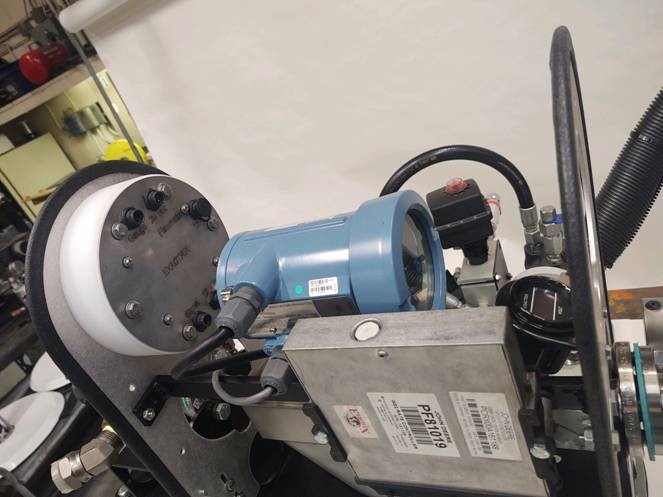 14
2016 The Exactrix, Micro Motion Mass Meter is removed and tested on the bench.

The Transmitter is disassembled and inspected for any mechanical failure.

The Mass Meter is reviewed for software quality and any error codes that would indicated a need for a processor change.

Once the Mass Meter is past testing and approval it is warranted again for 1 year.

We typically find problems with Mass Meters in software setting about 50% of the time…there is also a serial range that requires that a new core processor must be installed. This core processor is a latent or intermittent problem and it is installed in participation with Micro Motion. We let Micro Motion know for their file updates.

Here are some additional features that can be added at the time of the Certified Rebuild.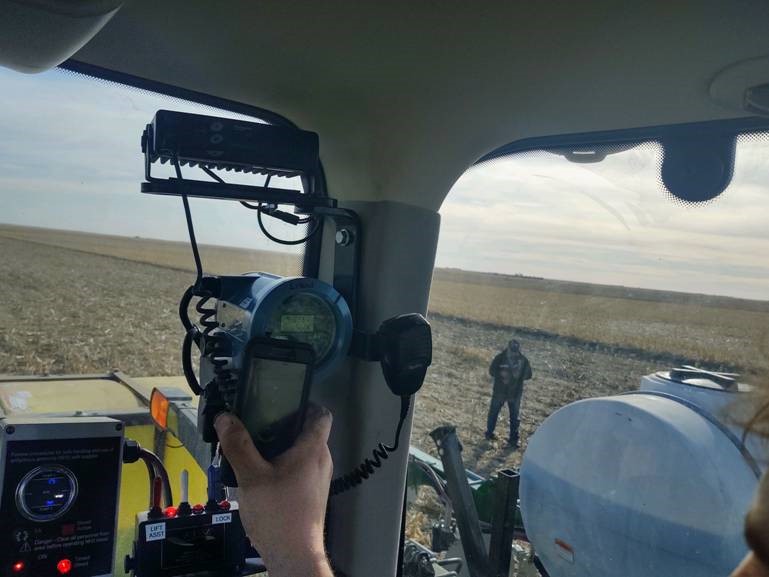 15
2020, You can move the Micro Motion Transmitter into the cab.

$2,750 additional per transmitter. Best Money Return in 2020 if you cover massive acres, have lots of landlords or do not trust the Coop Scales. This is great leap ahead for all producers that want to know what is going on with the tanks and the error codes in both 2KC and 2KM as shown.

No connection is required at the hitch. The transmitter is connected directly to the flow sensor and is stored outside the cab.

The Transmitter in The Cab is a very powerful feature when custom applying, working with several landlords or changing fields without weighing ammonia tanks.

The Transmitter in The Cab is now standard in 2021.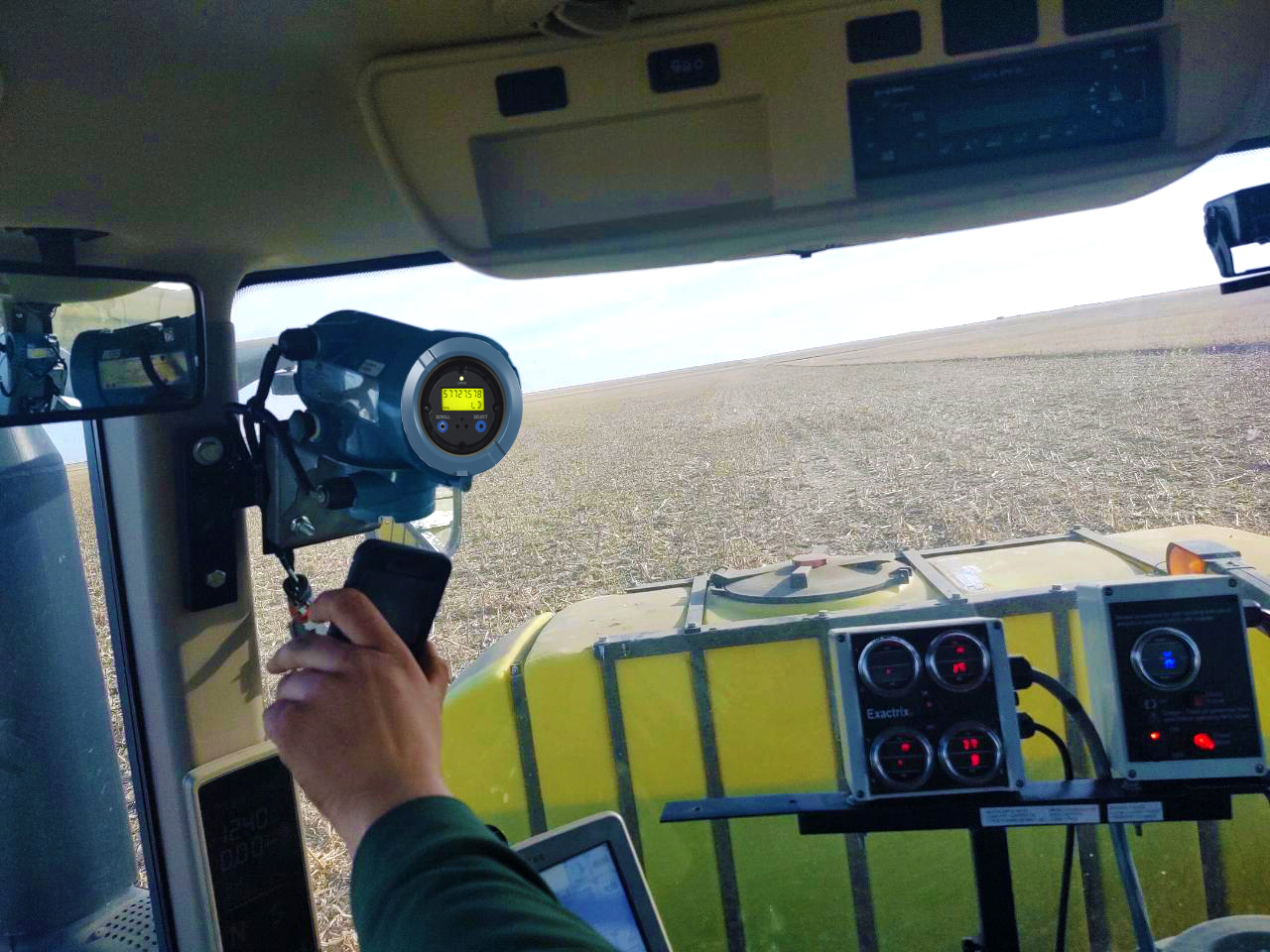 16
2020 when you do the certified rebuild it also includes the gauge panels and sensors.

The sensors have life time guarantees. Normally the problem is broken electrical leads.

The tachometers are normally out of adjustment.

The Timer in the Timed Bleed circuit may need to be adjusted.

All the above is inclusive.

If you need to add more pressure gauges to your panel this is the time to do it and it will be priced separately.
17
2019 If you have a 2KM system that is Mass Flow with Bulk Density Readout,

the same program is offered with complete pump rebuild and Mass Meter review at $7,500 and the Transmitter can be moved to the cab for $2,750.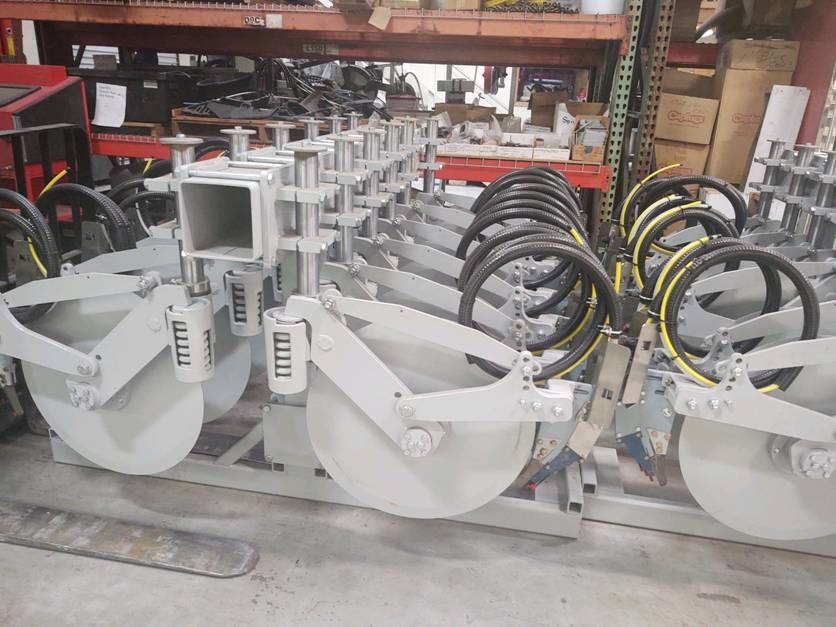 18
2020, P51CD series, Endurance to 25,000 acres at 60 feet before blade service.

If you would like to build up your Mustang openers with Electronic Ball Valves and meet the new 2020 criteria for deep banding to 9 inches. The rebuild project is bid based on the cost estimates, model year, etc. We will do a bid and hold to it. Most likely a Certified Rebuild of your Mustang Openers will make very good sense with a 1 year warranty with the latest 52 injection allow openers to operate to 18 inch diameter further reducing banding costs and still going very deep to 8 inch depths. Chrome inserts and six shooter designs are in play for Binary Banding.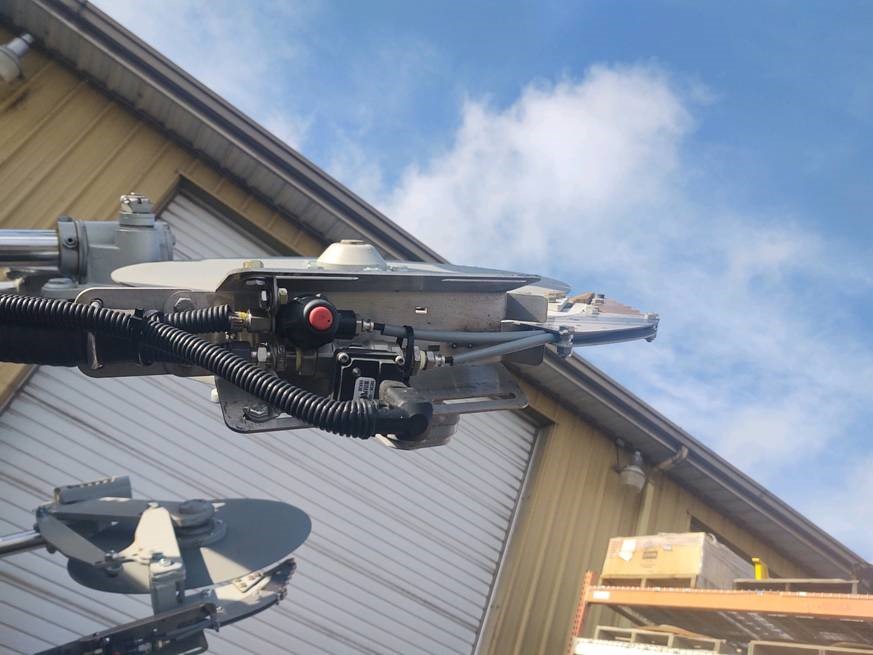 19
Mustang P-51CE, 2021 production with electronic ball valves at each opener and 52 degree injection.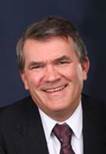 Guy J Swanson