Edmondson Liberty Farms
Edmondson's Side Dressing, X-calibar

J.B.
Edmondson
, Clayton, IN, 317 446 3652
Edmondson's Clayton, IN No-till farm is located west of Indianapolis. Their goal was to eliminate shank application of NH3 and apply NH3 very accurately at high speed. Accurate application of NH3 means that each corn row feeds on a uniform even application band of NH3. Exactrix applied NH3 improves nitrogen efficiency 30% to 50%. Now corn can be fertilized with Nitrogen with optimum use of the material and improved corn yields of 7% to 10%. Side dressing also improves timing of nitrogen to placement only when the crop needs it. Remember "the soil is a lousy place to store nitrogen" Jim Schepers, USDA-ARS, Lincoln. Timing of nitrogen is critical to top yields.
Specifications
Trailer Tanks: Qty. 3 (6,000 gallons), twin 1,000 NH3 tanks on DMI steer axle trailers, 120 inch gauge width, surge brakes. Bottom outlet valves with Exactrix bottom outlet valve kit and safety shut down. Tanks tilted 3* for complete emptying.
Folding Tool Bar: Friesen, 40 foot, set up in side dressing format, 4 wheel set up on 30" gauge centers. 17 openers mounted for side dressing to match 16 row corn planter at 40 feet. Guess Row openers are converted to full rate at 42.5 feet for preplant application of NH3.
Exactrix: 2KD 'Weigh Master", Dual Manifold supplying 17 single disc openers, orifice selection .090" orifices on 30" centers, applying NH3 at 10 mph in side dressing or pre plant application. Coriolis Mass flow system with applied accuracy of .006 or less (60 lbs. in 10,000 lbs. applied) and port to port accuracy of 1%CV. Guess Row Return openers set up for ˝ rates with .064" orifices.
Openers: DMI TruTraker and Yetter Maverick with modified closing wheels.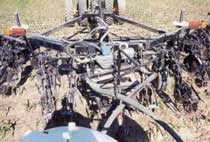 Exactrix 2KD "Weigh Master" with turntable mount. Dual bottom outlet tanks supply NH3 through 1.25" bottom outlet valves with safety shut downs and Smarthose Breakaways. A Coriolis mass meter weighs the NH3 dynamically in all flow ranges. Mid-Tech 6100 TASC controller receives NH3 weight information and determines correct speed of the sliding vane pump. Application rate is within .006 or less of field target application rate. Exactrix primary and final filters clean the NH3 prior to injection. Filter size allows season long application without service.
Dual Exactrix manifolds proved to be a valuable feature with point rows. Applicators of 40 feet or greater width normally use dual manifolds. Dual manifolds are balanced for even application.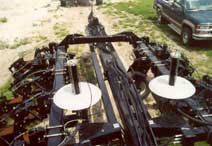 The Friesen Tool Bar folds in 1 minute to a 14 foot transport width. The Friesen Tool Bar is commonly used with Exactrix single disc opener applications. The Friesen Bar is known for its durability as a corn planter tool bar. Go www.exactrix.com/Friesen.htm.
Single disc openers allow the Edmondson's to No-till their 3,000 acre farm. Corn on corn can be practiced with absolute No-tillage. Two single disc openers were utilized. The DMI TruTraker was modified and improved. The Yetter Maverick was also modified and improved with closing wheels. Other types of single disc openers can be observed at www.exactrix.com/X16.htm and www.exactrix.com/BGO.htm.
An exceptionally wet spring in Indiana prevented preplant application of NH3. Side dressing rates were applied in the 100 lb. to 120 lbs.N/A range. Side dressing is considered less risky since less nitrogen is required and timing of NH3 application is ideal for maximum take up of the critical corn nutrient.
Several combinations of DMI and Yetter openers were utilized. Either opener was considered exceptionally good in side dressing NH3. The closing wheels developed by the Edmondson's were ideal for side dressing immediate closure requirement.
Bottom outlet valves were installed on six tanks. Go to www.exactrix.com/tanks.htm for complete information. Used DMI steer axle trailers were converted to 120" gauge centers. The surge brakes were reworked and improved so a ˝ ton pickup trucks could deliver the twin trailer tanks to the field. Tank hookup normally takes 10 minutes using an extendable towing tongue.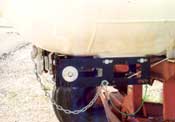 Test Plot Design Drawing.
The Edmondson's implemented test plots. The 100 lb. N/A proved to optimum for the 2002 crop year using the Exactrix 2KD "Weigh Master". Go to www.exactrix.com/2KD.htm.