Progression Of Discovery
Andy Cover, Manganese and Boron deficiency. Dalhart Texas,
2017, May. 23 emergence Review, June 19 to June 24 elongation review.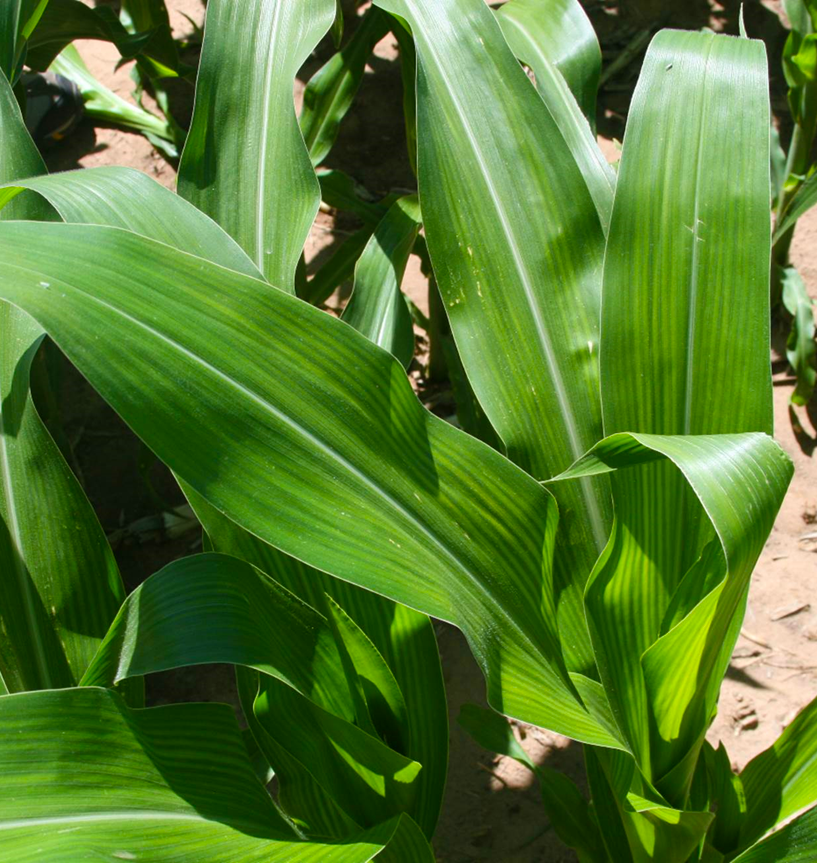 A very good field on June 19, 2017, with pockets of stripping, Dalhart, Texas. Dustbowl soils.
Sandy 1.2% OM.

White freckles in the corn veins is Boron deficiency. Stripping in leaf is Manganese deficiency. Tight whorls and irregular leaf unfolding is Boron deficiency.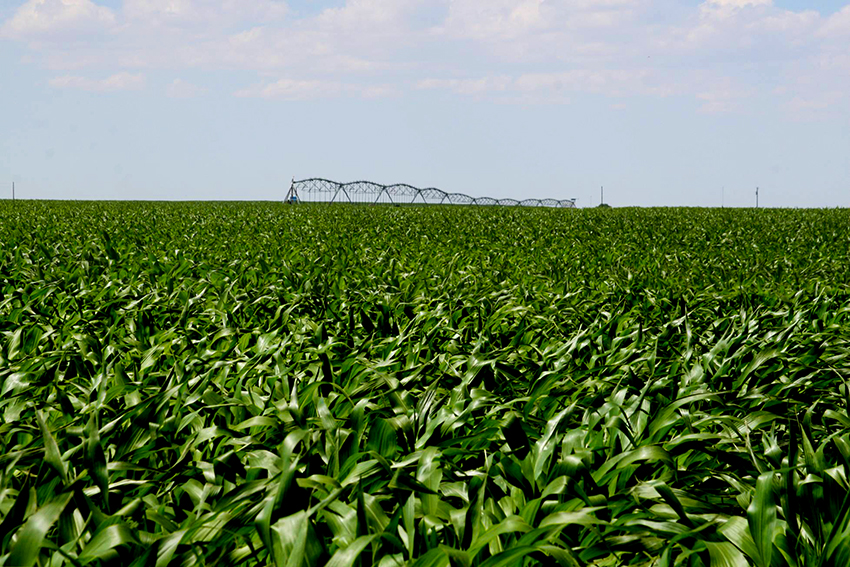 Elevation seems to make a difference, lower parts of the horizon indicated the stripping of corn. Good corn shown on the upper half of the corn, lower half is stripped and shortened. 25% shorter and stripped leaves, metals deficiency.

Checked with tissue samples. Manganese and Boron deficient in the tissue test. A drone was used to get a good overview of the size of the problem.

Copious and critical nutrients supplied by TAPPS, But No Manganese or Boron supplied, Zinc Tissue Sample, is well above required levels.

Yield goal 250 bushels per acre.

TAPPS formulator 150 lbs. N as NH3 plus 15 lbs. N from liquids, 165 lbs. N, 8 gallons APP or 30 lbs. P and 3 gallons ATS or 8 S. AZn about 1 lb. Seed row starter also supplied.

The Pioneer 1197, 30 inch Corn rows are located directly on top of one 15 inch band of TAPPS with AZn.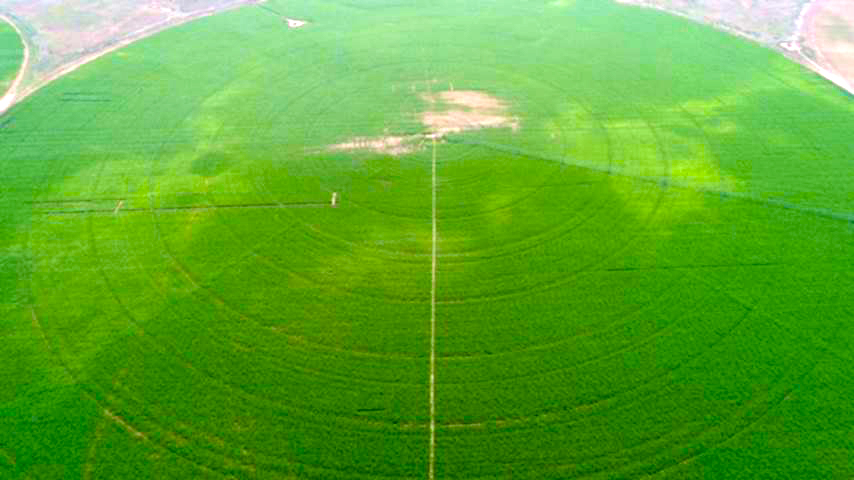 Planted before storm Ursa.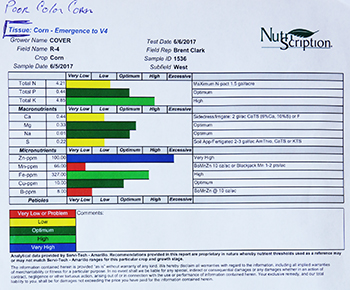 Poor Color Corn. Tissue sample.
---
May 23, 2017,

The manganese deficiency and the boron deficiency showed up early as shown in these pictures.

Field inspection, possible damage from NH3 application was called out the by the agronomist.

Inspection of the field indicated no definable problem. It was not damage from NH3.

Directly placing the corn seed on top of the band was not the problem on other pivot production areas.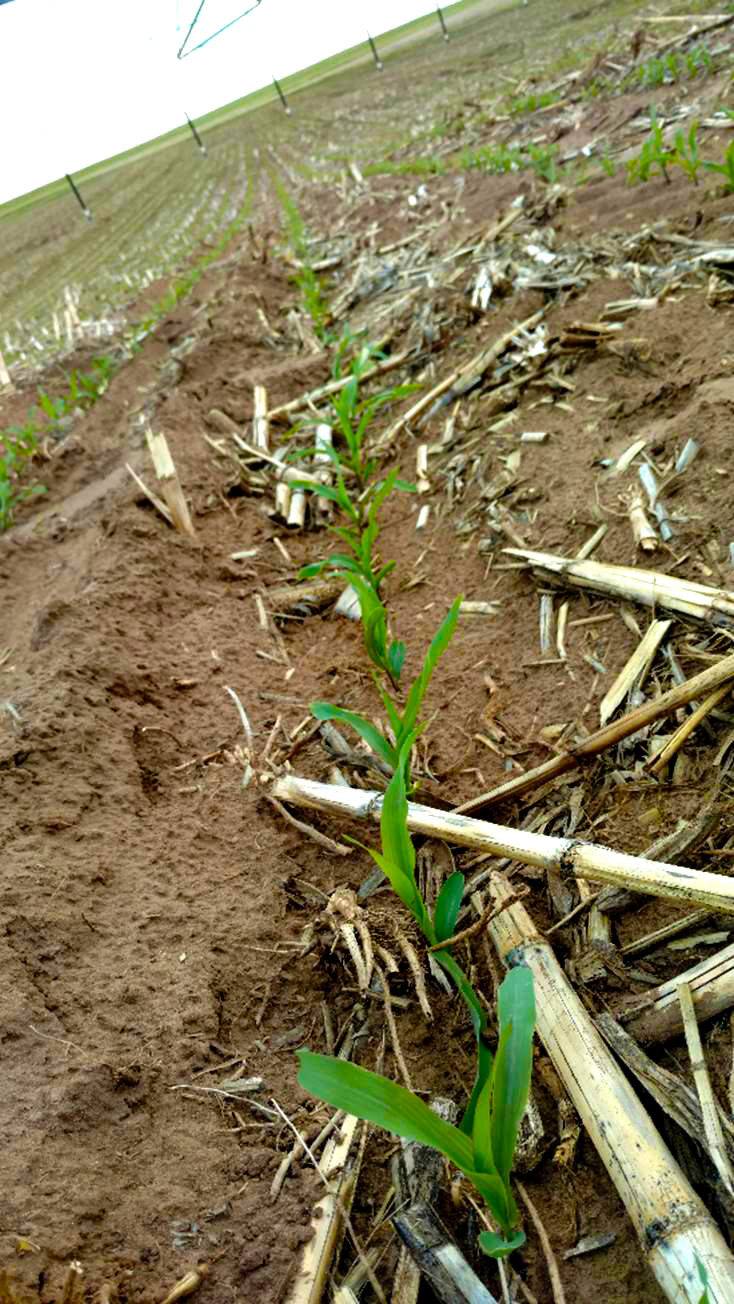 The plant was dwarfed and purple by the cold weather at least that was the theory.

Stripping of the leaves was showing up early. The corn roots have progressed into the band in this picture.

The start was difficult in this picture of May 23, 17.

Planted just before winter storm Ursa, April 28, Ursa was cold and wet.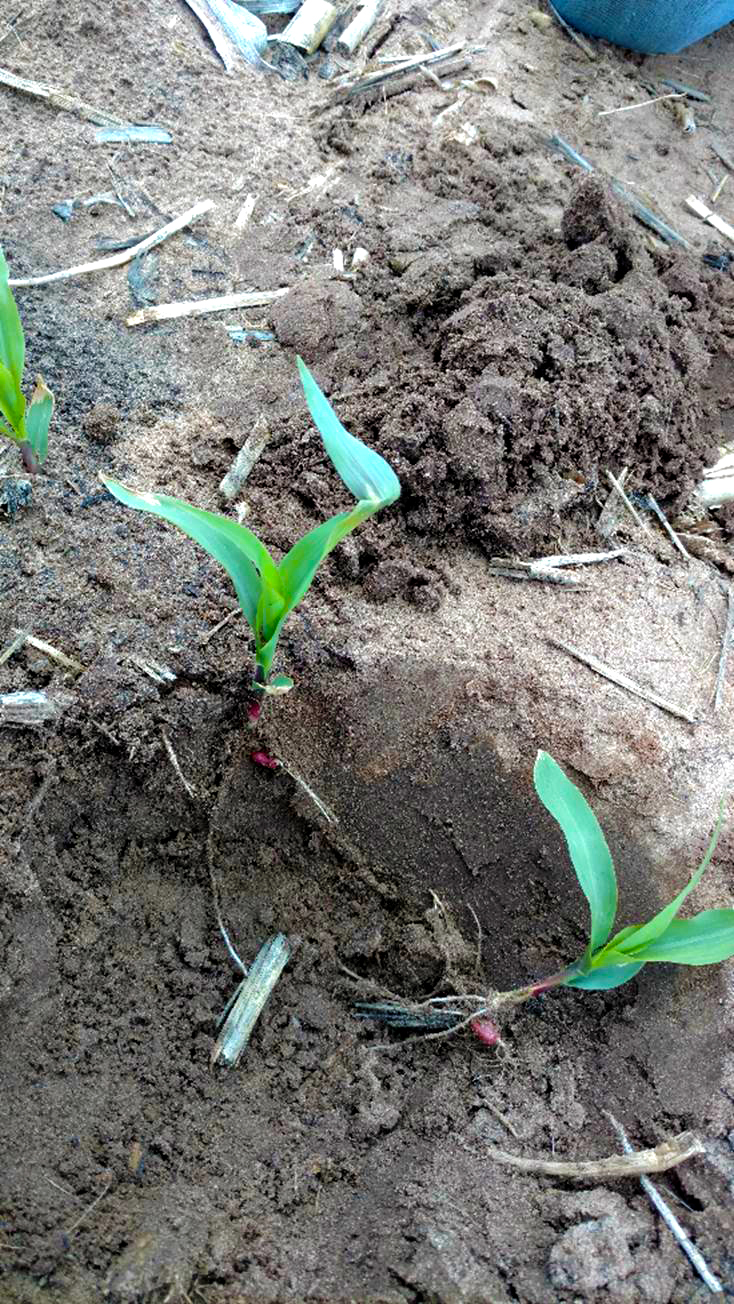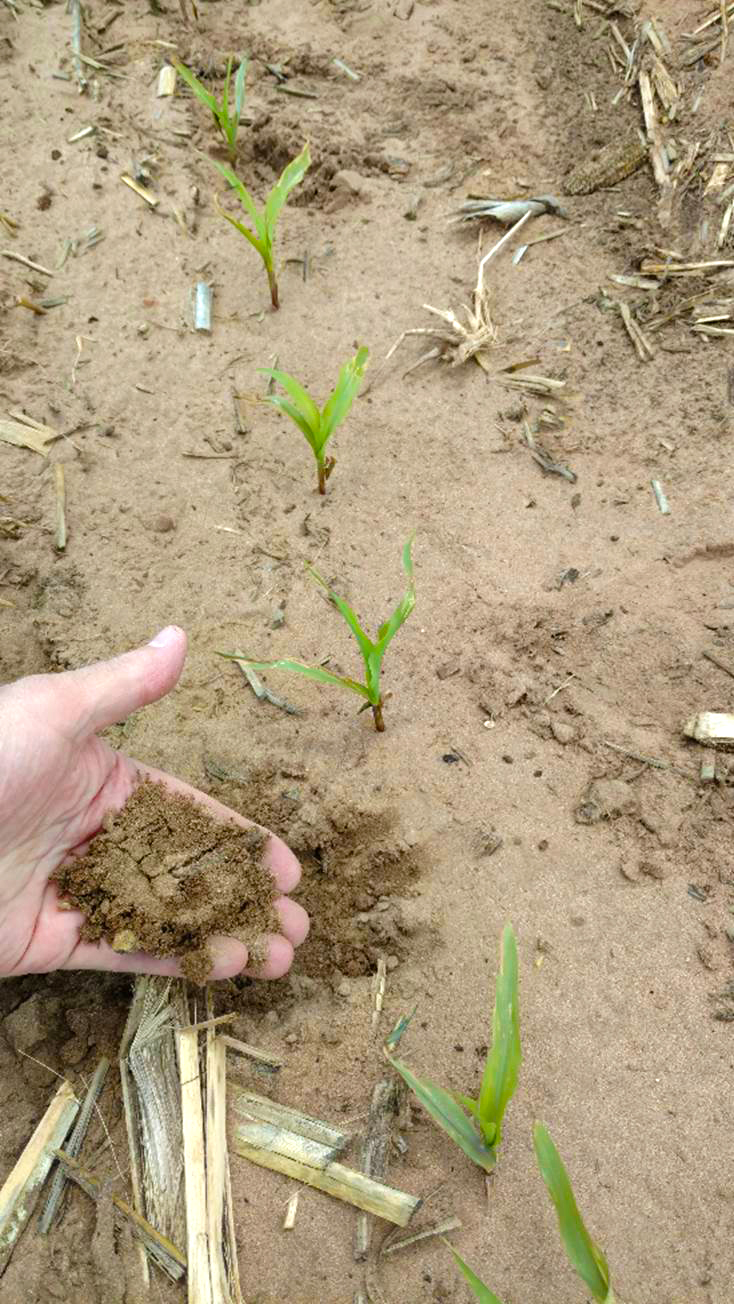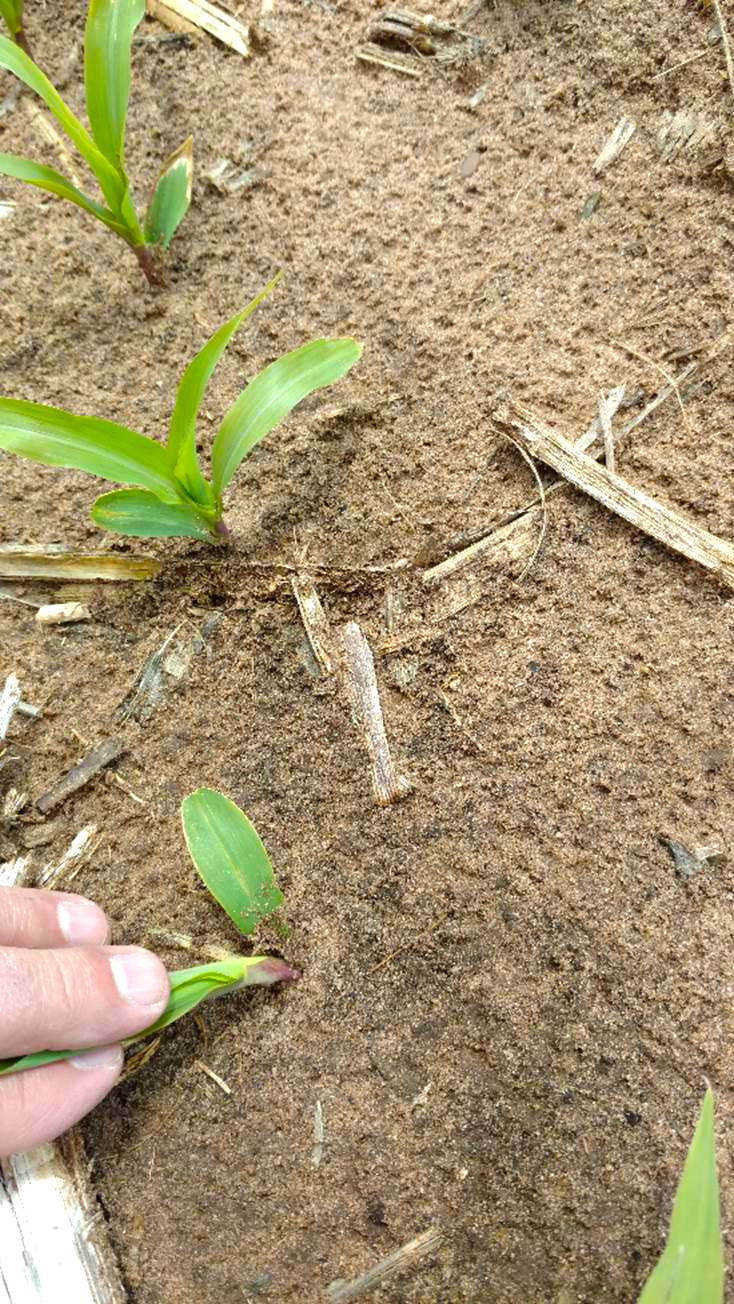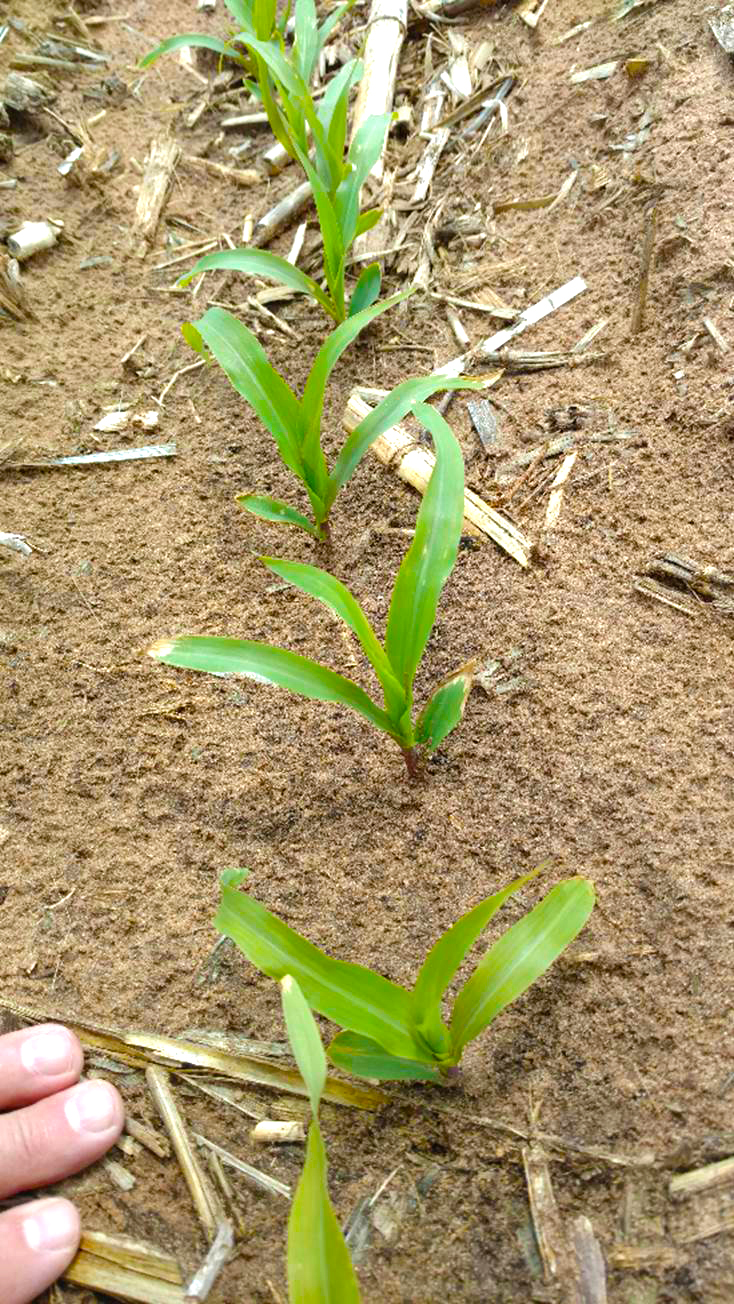 ---
Your Great Plains Reporter.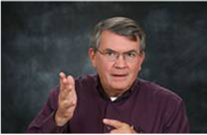 Guy J Swanson